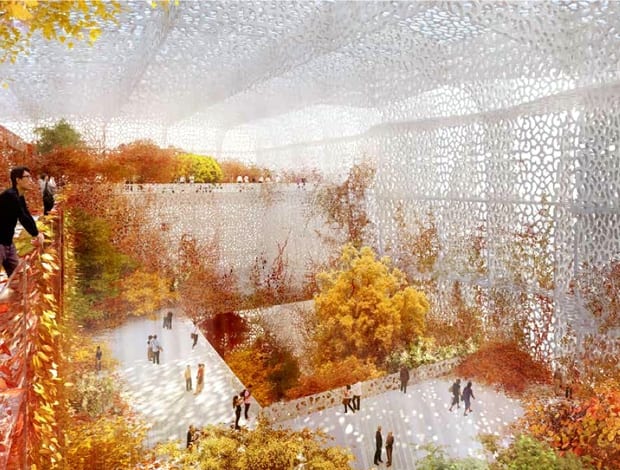 The internal garden brings the outside in|The perforated walls reflect the surrounding landscape, while giving visitors a glimpse of the garden within|Jean Nouvel's design is inspired by a single brushstroke|The rooftop is glass-floored to allow light into the spaces beneath|The Summer Hall sits beneath a gold ceiling||
Jean Nouvel has revealed his designs for the National Art Museum of China (NAMOC), a gargantuan structure that covers 130,000sq m and, at 65m tall, is the height of London's Tower Bridge.
The French architect took inspiration from a quote by a 17th century Chinese artist that describes "a single line" as the "source of everything in existence". He reimagined this concept as "a single brushstroke" and translated it into a three-dimensional structure.
The external walls express the brushstroke variously through a range of materials, including fragile stone screens, and striated and patterned glass. The building appears to float, cloudlike, touching the ground at four points and opening up to a great piazza beneath.
"[NAMOC possesses] both a sense of mastery and voluntary incompleteness; by [lifting] off the ground it imposes itself [on] the sky," said Nouvel. "It thus resists the laws of gravity while asserting its presence."
Despite its size, the museum is sympathetic to its environs. The facades both reflect the surrounding landscape on their shiny surfaces and merge with it as lace-like perforations offer lightly veiled views of the seasonal indoor garden.
"Mountainous horizons, reflections of trees on boulders… sky on sky… we can make out works of art in the middle of a luminous ray of light, colourful images illuminate grey cracks and crevices, yellow lichens suffer on the grey silver-plated stone," said Nouvel.
The Winter Hall on the first floor spans the whole length of the building. Nouvel likens the vast space to the Tate Modern's Turbine Hall. The Summer Hall resides under a shallow glass dome surrounded by a deep blue border patterned with gold leaves.
A roof garden and restaurant cap off the structure, which have glass floors that allow light into the galleries below. The museum includes an auditorium, research and education facilities and a variety of public spaces, and will form the centrepiece of the new cultural district in Beijing's Olympic Park.
Nouvel saw off fellow Pritzker-Prize winners Rem Koolhaas, Zaha Hadid and Frank Gehry in an international competition to design NAMOC, which has been described as one of the "greatest museums of the world" even before construction began.
NAMOC is being created in collaboration with the Beijing Institute of Architectural Design (BIAD), and will hold art and artefacts dating from the Ming Era to today.