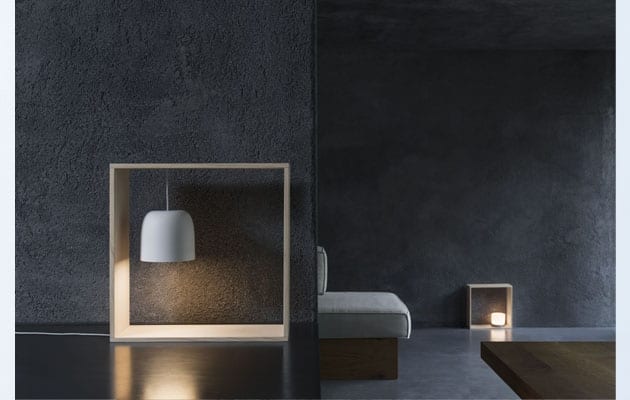 Flos x Nendo collaboration on Gaku|||
Stockholm Design Week is a highlight in the calendar and the most significant collected event for Scandinavian design. This year, hundreds of designers, architects and buyers meet at over 200 events in the Swedish capital as part of the Design Week and Stockholm Furniture and Light Fair.
Here we present a selection of our highlights – from ethereal lighting designs to recycled furniture.
Guest of Honour Exhibition: Neri and Hu
The Shanghai-based furniture designers showcased their work in an usual way at the fair, presenting their products as part of a journey through an exhibition. Entitled The Unfolding Village, the display invites visitors to explore an alleyway created out of Swedish pine, along which their products appear, part of the abstract idea of a village or home. Their work tackles the disappearance of Chinese villages and their culture, with the brand's work specifically centred on nostalgia, family and the collective group. The presentation made for an intriguing and thought-provoking look at their work – but, asked if they were being political, they said, "No, we're being cultural."
Flos
The European firm showed a variety of striking lamps, including the work of several collaborations. Designer Nendo created a Japanese-inspired frame called Gaku, described as "something in between accessories and furniture", created to allow flexibility within a light. The moveable light allows for the placement of light where it is needed, and the wireless version allows for charging functionality that powers the lamp.
The brand also collaborated with Konstantin Grcic Design and Philippe Starck on striking lighting displays, though one of the most intriguing was the work the rand has done with Cypriot designer Michael Anastassiades. His balloon-like lights hang, like iridescent and slightly ethereal clouds, made up of two rings enclosed in a membrane.
Flokk
The Norwegian firm displayed some of its latest chairs alongside the raw materials that go into them, putting a focus on the realities of design and resources. Alongside a wheeled office chair they displayed a pile of materials ready for recyling to highlight their work on that front – according to their stand, they use 95% post-consumer recyled materials in all their aluminium parts, meaning that they use around 10% of the energy they would require if using wholly virgin materials.