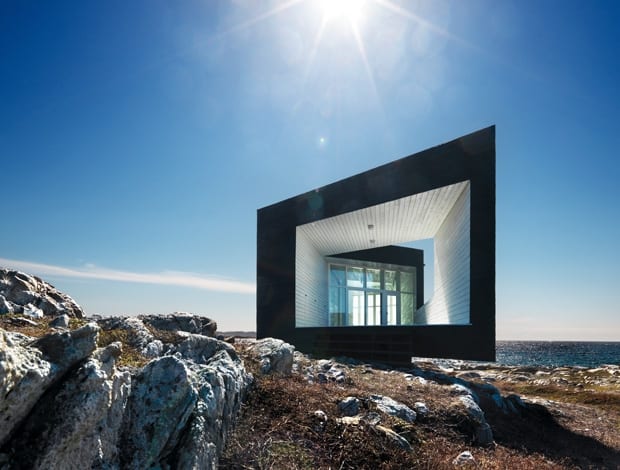 Fogo Island's Long Studio, one of six artist's studios that will help lift the economy|The Long House encourages its artists-in-residence to focus on the wild surrounding landscape|This bright, tunnel-like studio is one of three on site||
A dynamic black object perches on a rocky outcrop in the north Atlantic, its angular form somehow appearing indigenous and otherworldly in equal measures. This is Fogo Island, a windswept archipelago off the north coast of Newfoundland and home to around 3,000 people. Raised up on wooden struts, the structure recalls the architecture of fishermen's houses that scatter the landscape. It is poetic, a fact embellished by the building's function as an artist's studio, but its existence is due to pragmatic rather than romantic urges. The Long Studio (named after its protracted shape) is part of an exhilarating vision for Fogo by returning Newfie millionaire Zita Cobb, who wants to reinvigorate the island's economy following the fishing industry's collapse. At 120sq m, the building is the largest piece of a regenerative puzzle aimed at luring artists, hikers and spirited adventurers.
Fittingly, the Long Studio is designed by another Newfoundland native, Todd Saunders, whose Norwegian practice Saunders Architecture has quietly forged a reputation for well-considered buildings in mouthwatering locations. Possessing a laid-back charm and deep understanding of the people, Saunders was the obvious choice. "She [Cobb] had interviewed about 15 architects, but the island's a bit special. It has this Irish culture and if you are not Irish it is hard to be a part of it," Saunders recalls. "We talked and we hit it off right away. That was about four and a half years ago." Saunders subsequently designed a cluster of five similar buildings (excluding the Long Studio) linked by both form and materials. "It's kind of become my playground," he jokes.
With a landscape worthy of Canadian wilderness painter Bill Mason, one suspects that many architects would be overwhelmed by its expanse. Saunders on the other hand confesses, rather endearingly, that his main concern was simply not to cock up on home turf.
"I really respect the landscape and the culture and I didn't want to be Mr Know-it-all from the big city and mess up in a place I grew up in." The choice of materials was a straightforward decision, with the practice settling on locally sourced blackened pinewood for the exterior and whitewashed spruce for the interior. Sturdy wooden struts hoist the building above the bedrock allowing the winds (which can reach 70mph) to whip underneath the structure. Their girth is a bluff reminder that out here robustness trumps elegance, and they work aesthetically due to the Long Studio's sheer mass. Saunders says that on the smaller buildings that make up the cluster he's designed, wood is replaced by steel, perhaps a concession to the power of nature. The materials are common to fishermen's rough-and-ready clapboard houses, but the radical design ensures this is an acknowledgment rather than an imitation of local architecture.
The Long Studio provides three different working conditions – an inside studio, and sheltered and open-air workspaces – which helps to explain how the building takes shape. "The building is shaped as a reaction to the seasons, but we tried to keep it simple," says Saunders. "Every artist we spoke to said they wanted to get the light from the north and a lot of wall space." To create this mix of interior and exterior space, Saunders sliced a chunk from the building's midriff, opening it up to the elements. The entrance is protected from inclement weather by a roof, while at the far end sits an enclosed trapezoidal box, flooded with light courtesy of two opposing sets of windows and a skylight. The linear form encourages movement away from the nearest town, Joe Batt's Arm, a ten-minute walk away. By severing visual links to the town, Saunders hoped to encourage a true break from the humdrum of everyday life. "We didn't want people going out there and thinking about the washing up."
Aware that the creative process can be torturously slow, Saunders made an effort to provide the Long Studio with as many creature comforts as possible. The practice included a bed, recessed a kitchen into the wall and installed a compost toilet and shower: "You can spend a couple of days out there if you want." The self-sufficiency does not end there. A student of ecological architecture, Saunders designed the Long Studio to be totally off the grid. Heat is produced by solar panels and a small wood stove, rainwater is collected from the roof and supplies the shower and kitchen, and grey water is collected and treated on site. The elements will undoubtedly batter the Long Studio, but with its roughly hewn wooden structure, one suspects the onslaught will probably make the building look even more at home in its landscape. Most gratifying for Saunders must be the reaction from the Fogo islanders, who were open to the scheme from the off. "They are very intelligent, but very down to earth and the more eccentric you are the better. They love it."