At Fresko, a refreshing new lunch spot, an essentialist interior concept built around a freestanding walk-in fridge allows Italian slow food specialities to take centre stage
Large vitrine, expansive counter, over-stacked shelves: the spatial tropes of delicatessen architecture are customary the world over. Yet when reduced to their essence, the element that remains in focus is glass: as a protector, a temperature regulator, a presentation screen.
Glass was the point of departure for the interior concept of Fresko, an Italian delicatessen opened in July 2021 by the owners of the sultry aperitivo spot Bar Milano, just next door on the central thoroughfare of Brunnenstraße in Berlin-Mitte.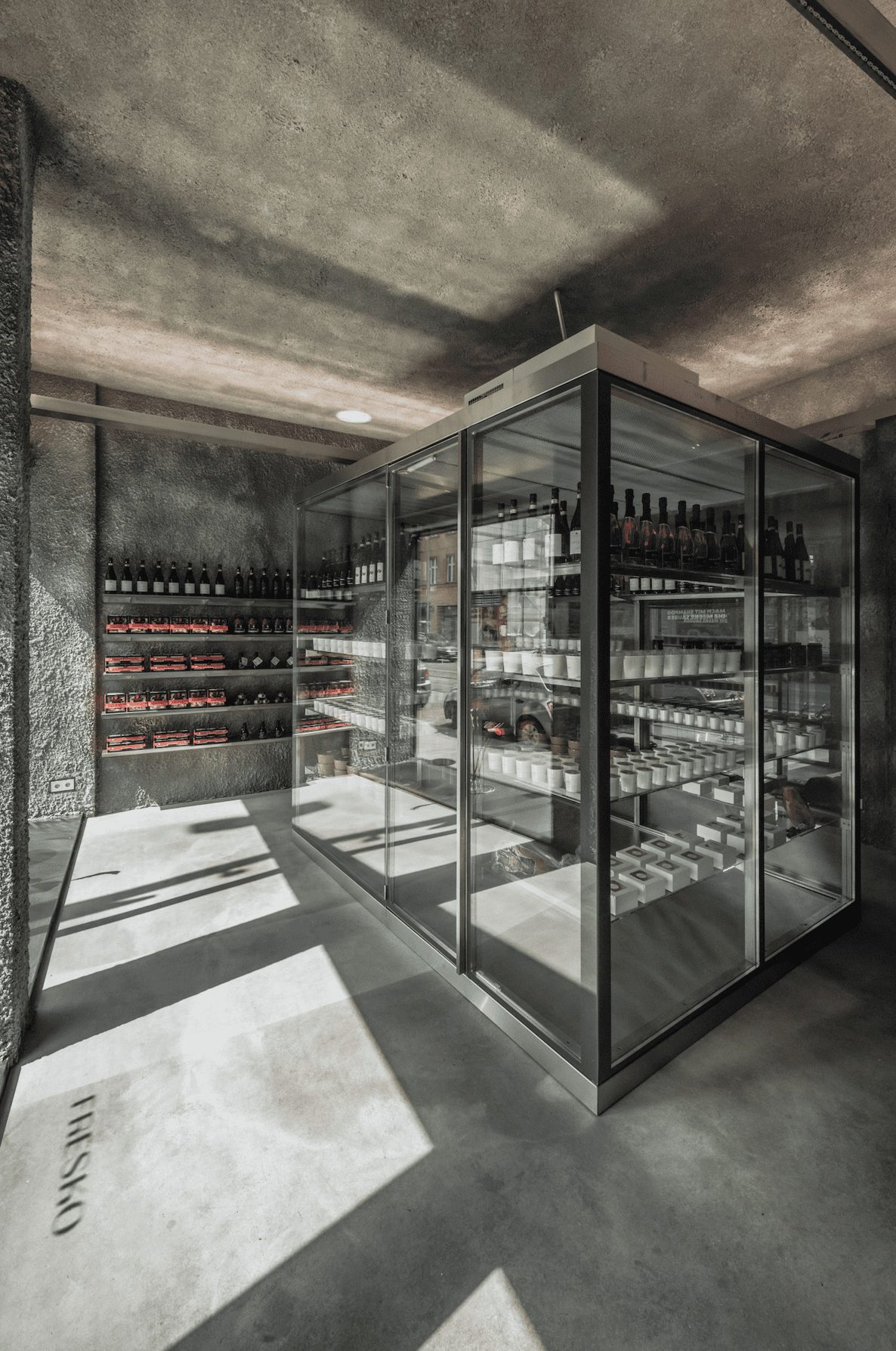 Designed by architects Sam Chermayeff Office and Brandlhuber+, Fresko is unapologetic in its divergence from the standard food store typology. Gone are the concealed counters, the bulging shelves. In their place, transparency comes to the fore, courtesy of a freestanding walk-in fridge that takes up the majority of the compact room.
Custom produced by Ertl und Zull, the box-within-a-box takes its inspiration from its thermal antipode: a see-through cubic sauna developed in 2014 by Chermayeff and Brandlhuber on what used to be their shared rooftop just a few doors down.
Defiantly essentialist, Fresko's material palette offsets the gleaming aura of double-glazed fridge – angular, precise, smooth – with a textured background of sprayed concrete walls.
The contrast emerged from the desire to extend the architectural vernacular of Brunnenstraße: a steely, loud thoroughfare spliced by double tram tracks. As Chermayeff notes, "Our particular block is not fancy… It doesn't have trees. [The concrete] came out of the desire to continue that roughness."
True to its name, the deli foregrounds fresh and freshly preserved produce. Arranged on its fridge's generous shelves with the reverence of prized artworks are hand-selected organic and slow food specialities from all over Italy: organic Burrata from Puglia, Mortadella from Bologna, jars of plump sun-ripened olives, and glossy bottles of Prosecco are joined by house-made lunch staples ready to elevate a break taken on the slopes of the nearby Weinbergspark.
Gracefully packaged pantry provisions – stone-milled pasta from Gragnano, hand-dried Sicilian sea salt – continue the arrangement on industrially inflected wall shelves by New Tendency, while a gridded lighting system by Gonzalez Haase AAS sets a tone more evocative of a gallery than a grocery.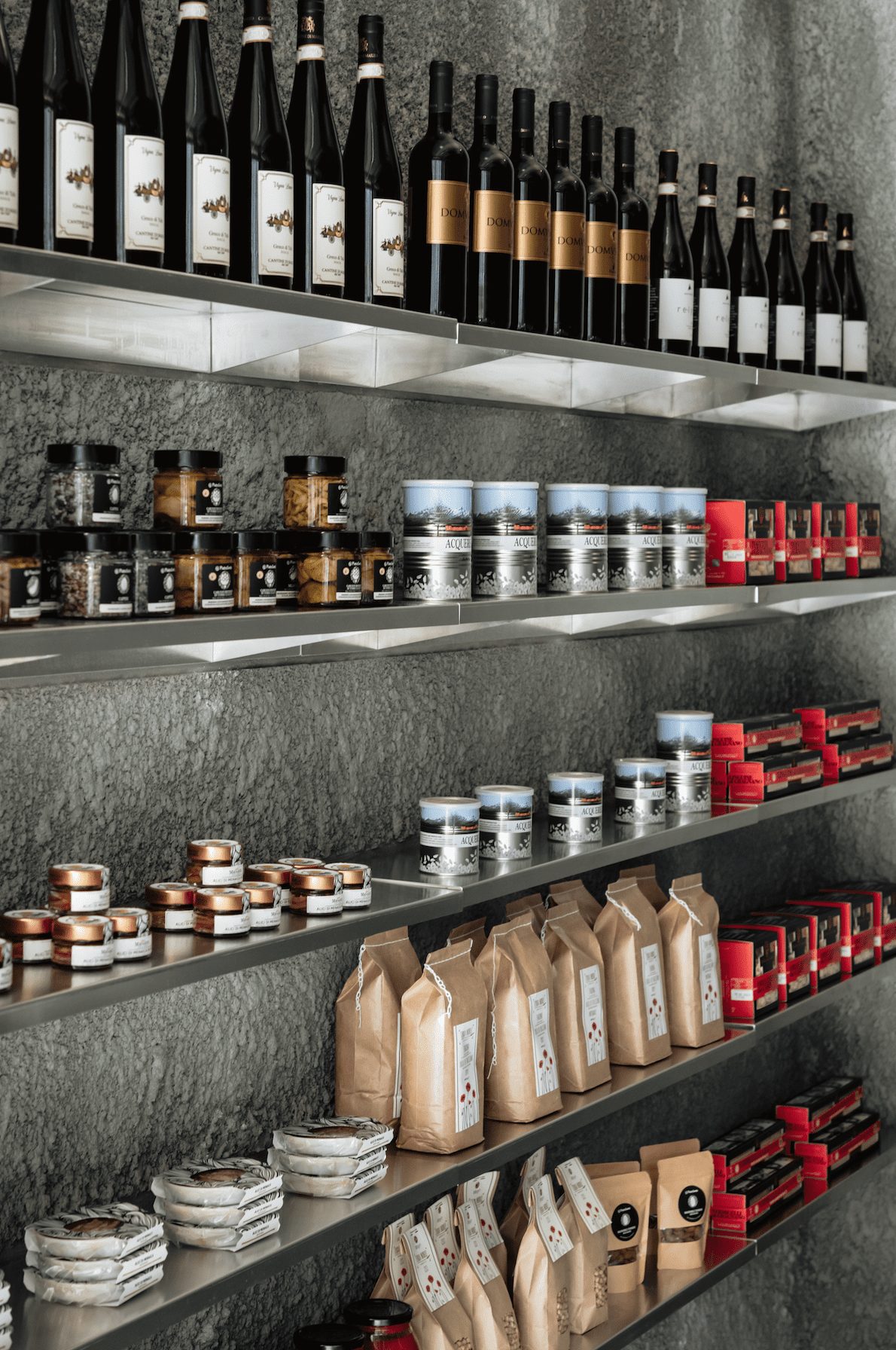 Given that the only nod to its identity – which was designed by local studio Cee Cee Creative – takes the form of modest white lettering on the window, passers-by would be forgiven for assuming it was the latter; allowing this trove of aesthetic and gastronomic superlatives to remain concealed in plain sight.
Address
Brunnenstraße 11
10119 Berlin
Opening Hours
Mon – Sat 10.00–19.00
Images by Oliver Helbig