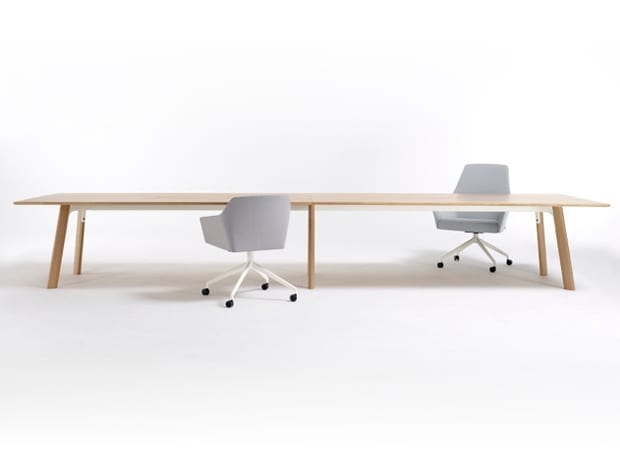 ||||
London-based designer Jonathan Prestwich talks to onoffice about his new multi-purpose Grid table for Arco, which he will launch at Design Post in Cologne
What are you launching at Design Post?
Jon Prestwich: We are launching the Grid table for Arco, which is a bench-desking or collaborative table. It could be a dining room table. It is one of these new types of table that can go pretty much anywhere. It has wooden legs so it has a very nice residential feel, but it has all the structure underneath that can carry all the cable management requirements and any sockets you need.
Onoffice: This seems like an extra step forward though. You have tables that you would use in the office or at home but it is not often they incorporate cable management.
What you find is with a lot of architects, I think they are more savvy now, but there has been a time when an architect or an interior designer will spec a table because they like it and then work with an AV company who then fit all the cable management.
Onoffice: How damaging is this retrofit approach?
Jon Prestwich: You would be amazed. Everyone is saying everything will be wireless but not yet. In fact, far from it. The boxes you have to put under a table are getting bigger and bigger. They are taking up so much space if you don't think of that before, all you do is make a beautiful table that gets ruined in the installation process.
Onoffice: What material is the tabletop made from? Will there be different options?
It is going to be solid oak with a softened edge. And there is a Corian version, which will be a 3.6m-long table with four legs. We have created an aluminium cast corner piece and mid piece, which is like a Meccano kind of system – you have a leg, an aluminium knuckle and then the extrusions in any length you want. We have got our own softer-edged extrusion, which runs the full length and width spanning the legs, basically.
Onoffice: Who is going to buy it?
Historically, Arco has been residential. There are a lot of people who will maybe use this to work from home. People don't always have a home office but they might work at the dining room table with a cable coming across. Now you can have your beautiful dining room table where you can plug in if the moment comes. And of course, it will be for the contract market as well.