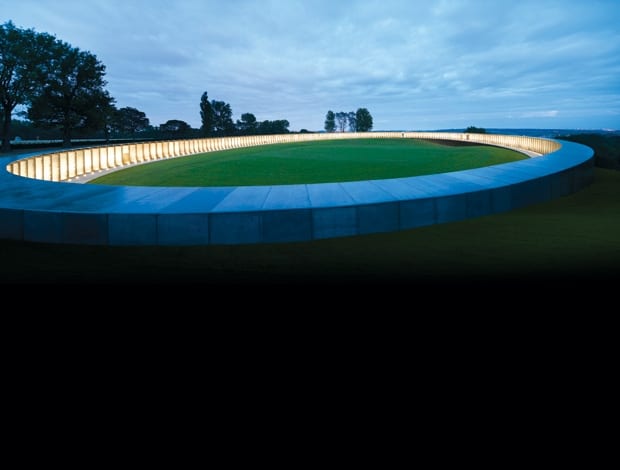 Visitors walk under a cantilevered section to access the inner ring|Nearly 580,000 names are engraved on the coated steel panels|A lateral shape counters the verticality of the adjacent basilica|The memorial sits next to France's largest military cemetery||
Philippe Prost's memorial to those who fell in northern France during the first world war – combatants of all nationalities and ranks – uses its elliptical form to convey a sense of unity
The UK marked the centenary of the first world war with a humbling installation of 888,246 hand-made ceramic poppies at the Tower of London. Across the Channel, a new permanent memorial by French architect Philippe Prost in Ablain St-Nazaire is visually different, yet no less poignant.
The International Memorial of Notre Dame de Lorette is coined the Ring of Remembrance after its elliptical form, a low-rise, minimal structure of concrete and metal, 328m in perimeter. This shape, Prost says, began conceptually as a symbol for brotherhood, a human chain, "like children do in the playground," he says. The inner surface displays 579,606 names of soldiers killed in northern France in the first world war, alphabetically from A to Z, with no distinction of nationality or rank; democratically, this shape allows each name to have equal standing as part of an infinite loop.
Most of the elliptical structure is rooted on the ground, but a 60m section cantilevers over a dip in the landscape. Being such a monolithic form, the way it floats unsupported over this sizable void makes it all the more dramatic. Visitors can walk underneath the loop to reach the lawn inside, and walk over the void when following the path round the memorial. The sound of one's footsteps changes when traversing from the grounded section to the cantilevered section, a subtle reminder of the space just below – which Prost says prompts visitors "to think of the fragility of peace". According to the architect, the construction was only made possible through the use of a new high-performance reinforced concrete, as well as first-rate engineers.
The monument's design is also a response to its location, next to France's largest military cemetery, which is dominated by the more traditional architecture of a Romanesque basilica with a 50m-high lantern tower. Prost saw this new contemporary building as a counterpart to the existing historical site.
"The choice of [something] horizontal is very important," Prost explains. "I didn't want it to be too much in competition with the tower." The low design also considers the rural landscape views, and is discreet enough to allow an austere and boldly dark exterior colour."I wanted the outside to be something very strong, very visible," continues Prost. "It is this thin, dark beam or ribbon. Dark for the colour of war."
Like a book, says Prost, the dark 'cover' also serves to highlight the glimpses of lighter 'pages' within the structure, in this case the golden inner surface of the ellipse. It is lined with 500 panels of stainless steel that have been treated by British metals firm Rimex to have a gold coating, then engraved with the hundreds of thousands of alphabetical names, which stand out in the silver colour of the raw steel. This allows better colour contrast for the names to be easily readable, and also makes the surface highly weather resistant.
Once inside the ellipse, visitors are largely cut off from the surrounding agricultural land, and the enveloping wall of concrete and steel creates a serene, reflective courtyard from which visitors can take in the sheer amount of names. "When you enter, you can just see grass and sky," says Prost. "It's important you are in a quiet place that is speaking of peace."
The €8m memorial was prefabricated and built in nine months, and was inaugurated on 11 November 2014 by French president François Hollande. Summing up the project, Prost says: "We were really a team, which doesn't happen so often with architects. People do not always pull the same way. But a project for peace is something everybody wants to work for."