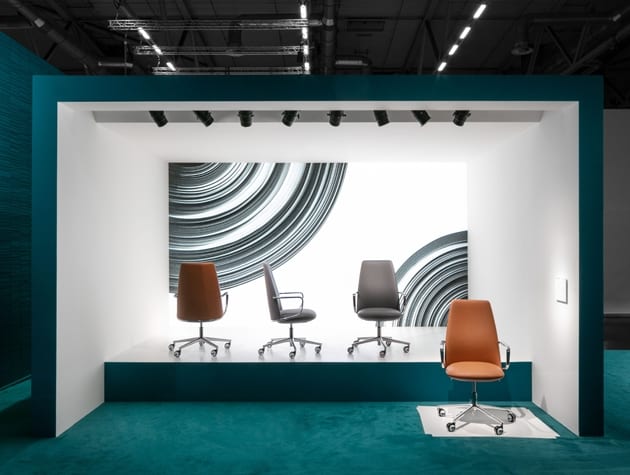 Image: Pedrali Working Spaces Orgatec 2018 Elinor – Nava Rappacchietta|||
At this year's Orgatec, Cologne's leading international trade show in the world of office furniture, Pedrali presented exclusive updates to its expanding portfolio. The 2018 edition was themed around "new visions of work'" and ran from October 23-27. During which, the event saw the all-Italian company showcase Poetry of Elements (Hall 9.1 – Stand B041-A040) – a collection designed by the Milanese architectural Studio Calvi Brambilla, now in its third year of cooperation.
Drawing inspiration from a white sheet of paper, Fabio Calvi and Paolo Brambilla paid tribute to the Italian company with a space that moved between the creation of an art setting and the dramatisation of the product. A blank sheet of paper formed the leitmotif of the entire exhibition, and constituted a poetic icon that transcended into a communicative and architectural element.
Image: Pedrali Working Spaces Orgatec 2018 – Nava Rappacchietta

Besides being a silent and constant element accompanying everyday working life, the white sheet of paper symbolised the birth of new ideas, brimming with evocative and creative significance. Inside the 400sq m stand, superimposed volumes of paper became decorative macro-architectures in which the predominant colour was peacock blue – the iconic shade that has dominated the brand's trade show stands for the last two years. This structure gave life to eight scenes that accommodated Pedrali's spectacular office products, like actors on a theatrical stage. Behind, a back-lit backdrop highlighted a series of artistic photographs created by Filippo Piantanida, interpreting each product and accentuating each unique characteristic.
Pedrali presented a preview of five new products, which through the use of new technologies and the skilful combination of different materials, continued Pedrali's commitment to stylistic research and enhancement of functionality. The Italian company also took this opportunity to launch its new collaboration with Claudio Bellini, a leading designer specialising in contemporary office furnishings. This partnership has given life to Elinor: an executive chair that features a base and armrests in die-cast aluminium, as well as a ergonomic structure, that sees a polyurethane injected foam in both the seat and backrest. Elinor incorporates the different attitudes and approaches to working life by looking to the future, achieved through elegant design and high quality aesthetic. Its visual styling is essential yet distinctive, and offers excellent performance due to its "smart components", as Claudio Bellini puts it, "which make it state-of-the-art yet inconspicuous", as they are integrated into the seat.
Image: Pedrali Working Spaces Orgatec 2018 Temps – Nava Rappacchietta
Jorge Pensi, in his tenth year of partnership with Pedrali, has developed two new products that stem from stylistic research involving shapes and materials. Temps is a multitasking executive chair characterised by a die-casted aluminium base with an elegant, essential design and a comfortable, ergonomic seat. An injection-moulded polypropylene shell fits around the seat hugging the user's lower back, while the padding inserted in the polypropylene shell designs a continuous line. This chair guarantees excellent ergonomics and comfort; its weight-activated, synchro-tilt mechanism is able to regulate the degree of tilting autonomously, according to the user's body weight.
Presented in a new tilting and stackable version, the Ypsilon table is a versatile and dynamic solution for flexible and temporary meeting room solutions and co-working workstations. At the forefront in terms of quality, it conveys both attention to detail and high-tech elements. The bonus feature of this table is a unique mechanism patented by Pedrali, that allows the top to be flipped over and moved from a horizontal to a vertical position through two well-designed release handles – available in red. The top is automatically locked into a vertical position, or working position, which prevents it from opening by error and ensures maximum security. This mechanism, as well as being aesthetically clean and not imposing, guarantees a simple and silent opening.
Image: Pedrali Working Spaces Orgatec 2018 Boxie – Nava Rappacchietta
Boxie is a modular, versatile and colourful storage system – it features wheels designed by Claudio Dondoli and Marco Pocci, comprised of large polypropylene drawers and tops housed in a coated steel frame. It has been designed to fit into the modern office, open spaces and co-working hubs.
An indispensable accessory in any setting, the Ray freestanding coat stand by Pio and Tito Toso flaunts a truly fluid design that accentuates the beauty of a natural material, like ash wood. Ray's elements in wood are FSC-certified and finished with organic water-based paints. The use of raw materials sourced from certified forests and paints made principally from plant-derived resins is a prime example of the company's commitment to sustainability.
This is an advertorial feature.
At this year's annual commercial design event, Pedrali showcased a range of exclusive new products and highlighted a new direction for the modern office