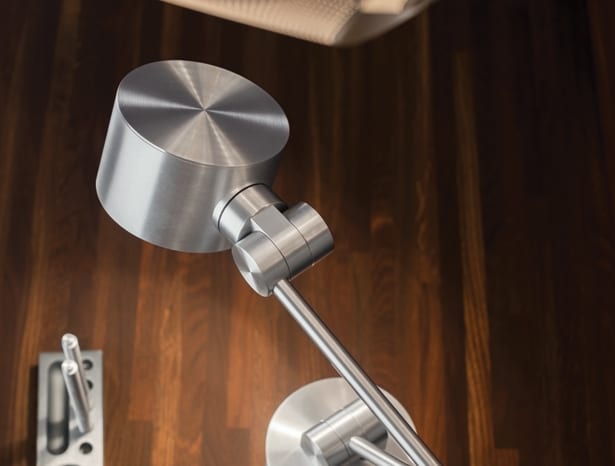 |||
Orgatec comes but once every other year and we can't wait for the innovations in furniture, lighting, flooring, acoustics and technology that await. Manufacturers will doubtless be addressing the issues of mobility, digitalisation and rapid social change that have been on the horizon for a while now. So expect launches aplenty for meeting rooms, breakout spaces, lounges and seminar rooms.
A glimpse in the future of work can be found in the Competence Centre in Hall 11, where Stuttgart-based design studio Ippolito Fleitz Group has come up with an installation entitled 'RE/WORK Moments of Inspiration' while in the Passage between Halls 10 and 11 there will be an exhibition featuring European designers picks' of the best outdoor working solutions from Scandinavia. There is more than a nod to the concept of co-working too, with a special 'Smart Co-working Lobby' curated by Michael O.
Schmutzer, managing director of temporary meeting space provider Design Offices, in cooperation with German interiors specialists brandherm + krumrey. Here is a selection of products that will be on show.
Normann Copenhagen
Journal, by Simon Legald, is a stylish new desk from Normann Copenhagen. With its coloured desktop and light steel frame, the Journal desk could finish a home office, or indeed many modern spaces, thanks to its appealing aesthetics and functionality. Legald created a desk compatible with modern requirements – it is suitably small and features a subtle integrated wire grommet and steel drawer for office supplies. Its simple frame was inspired by old French industrial furniture and is constructed from a combination of steel, with slightly outward sloping legs. The frame and desktop are coloured in the same calm shades: black, white, grey and light blue.
Camira
Camira has been manufacturing recycled fabrics for 20 years and Rivet, its newest fabric, is made from 100% post-consumer recycled polyester. Rivet was designed to marry the aesthetics of luxury woollen apparel with modern performance sportswear, and will be officially launched at the show. The fabric was created with a completely new yarnstring, made from 100% Repreve fibre, created from recycled PET plastic bottles. Rivet's 33-colour palette is made from various combinations of 13 different yarns.
Artek
Finnish producer Artek's offer can be found inside Vitra's gargantuan 'Work' project, which includes dozens of other forward-thinking brands, among them IdeaPaint, Kvadrat and Laufen. For its part, Artek presents the L-leg collection, based on an Alvar Aalto invention, showing how classic designs can still be as flexible today. Among the range on show will be the Stool 60 and Tables 80A and 95, shown here in custom versions with a stone lacquered white frame and various linoleum surfaces.
Interface
The modular flooring specialist presents its latest collection, World Woven, which is inspired by textiles from around the globe. It brings together elements of the past such as Scottish tweed and Saori hand weaving, which originally emanated from Japan, that are given a contemporary spin, courtesy of product designer David Oakey. The company's stand will comprise four zones: design, performance, sustainability and innovation and there will also be a daily presentation on biophilia at 16:00.
Molo
Canadian studio Molo launches a modular system of freestanding partition walls, seating, a table and lighting. All of these elements are fabricated with paper or textiles and the collection uses a flexible honeycomb geometry to expand or contract as required. Each element can function independently or combine with another thanks to magnetic end panels to create instant workplaces or quiet nooks for phone calls.
CBS PARTY IN ASSOCIATION WITH ONOFFICE
It's become something of an institution so we're delighted to announce that, once again, an Orgatec after party will be hosted on the Thursday evening by Colebrook Bosson Saunders (CBS), in association with OnOffice. For details of how to attend, head straight to CBS's stand at the Messe, which can be found at Hall 6.1, Stand A068 or click here to RSVP. A central location has been scouted and expect to party the night away in style.
Orgatec, Cologne, 25-29 October 2016
Orgatec offers a great opportunity to see the best new office products