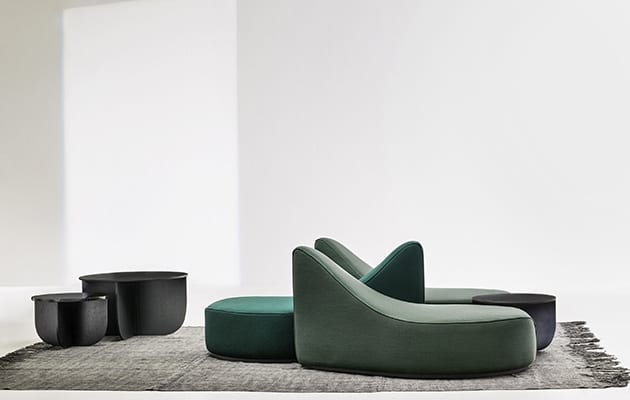 |||
RECEPTION
Set under the timely banner of culture@work, Cologne's very own Orgatec 2018 promises to showcase a flurry of visionary concepts for a new work culture. What kinds of spaces does this new work culture need? Are ideas best explored in offices or coffee lounges? Are meetings physical or virtual? Running from October 23-27, Orgatec will answer these and many more questions. In the meantime, here's a thorough preview of the best brands and products to look out for, neatly divided into four key office areas.
LaCividina – Hall 10.2, Stand: J029
Founded in the North East of Italy, LaCividina (pictured above) has had a quintessentially Italian approach for over 40 years. Among other products showing at Orgatec will be Waves by French designer Constance Guisset, who has injected the piece with her trademark bold shapes and fun colours. Inspired by the paintings of the American artist Georgia O'Keeffe, Guisset has created an organic-shaped seating selection of individual pieces which can be connected through an integrated magnetic system.
True Design – Hall 11.2, Stand: F011
Italian brand True Design will showcase Stone – a collection of interlocking padded pouffes of different shapes and sizes, designed by Baldanzi & Novelli. The individual modules can be combined and reconfigured thanks to a quick coupling system, forming an ever-changing sofa island, ideal for large contract spaces, lofts and areas dedicated to wellness and relaxation. Other featured products will include the Cloud coffee table made up of three round tops of varying diameters and materials, Ehrio – a flexible shelving system, and Sho – a collection of sinuously shaped sofas available in low and high backrest.
Artifort – Hall 10.1, Stand: C011
Dutch brand Artifort will introduce six novelties to the German market, including Moby, an innovative typology of pouffe that fuses craftsmanship with functionality. Designed by industrial designer Tej Chauhan, Moby's playful shape combines character with purpose and comes in a various range of fabrics. The pouffe's virtuosity, however, lies its elegant grip, which doubles as parking space for small items like magazines, making it the perfect addition to a stylish office reception.
Real Piel – Hall 10.2, Stand: N61
Italian company Real Piel will showcase a range of products, from the Nur and Alu chairs, to the elegant Pechè seat (above) – a modern padded pouffe that is currently available in leather, faux leather and fabric. Originally designed by Stefano Bettio for Real Piel, the Pechè seat will soon embody the brand's collaboration with graphic design firm Olivia Wong, whose recent graphic collections will be transferred on fabric made in Italy to create these unique pieces. Interested parties will have to wait a little longer though, as these will first be shown in Italian museum bookshops.
FACILITY EQUIPMENT
Modulyss – Hall 9.1, Stand: A021
Belgian company Modulyss designs, manufactures and supplies carpet tiles to the international market. Among other products, the company will exhibit its Delight collection of shimmering tones and subtle metallics, as well as the Velvet& collection, which boasts an elegant, time-worn velvet enhanced by textural contrast and rich colours like rust, navy, burgundy and jade.
Instyle – Hall 10.1, Stand: F039A
Straight from the land Down Under, Australian brand Instyle will showcase its Ecoustic collection of acoustic panel, screen and tile products, featuring Ecoustic® Intersect (pictured) – a freestanding partition inspired by agile workspaces and designed by Alexander Lotersztain to enhance acoustic and visual privacy. Other products will include a modular cloud-cum-baffle system by the same designer, a sculptural, acoustic pendent light by Tom Fereday, plus several acoustic solutions for walls and ceilings.
Waldmann – Hall 8.1, Stand: B040
Founded in 1928 as an electrical business, family-owned company Waldmann develops and produces light solutions for the workplace and medical industries. Showing at Orgatec will be the company's Light Admin app – an intuitive solution that makes it easy to configure smart lighting, including switch-in, dimming and response thresholds for presence detectors. Waldmann luminaires like Lavigo (above) can be integrated and configured, allowing for a seamless experience; perfect for transmitting individual user settings, and making an inventory list of the lighting system. The luminaires can even be protected with passwords to prevent any unauthorised access.
Smarter Surfaces – Hall 11.2, Stand: E029
World-leading innovative surface solutions provider Smarter Surfaces will launch a brand new product range called Smart Office Films, which can be added to flat surfaces like desks, partitions, lockers and doors. With a product guarantee of five years, these self-adhesive films can be stuck on wood, concrete, plasterboard and any smooth surface, and come in three versions – white, clear and a 2in1 matte white film on which users can project presentations and write on.
MEETING ROOM
Moving Walls – Hall 10.1, Stand: B018
Swiss manufacturer Moving Walls will showcase its comprehensive collection of mobile office tools for the first time at this year's event. Joining the current collection of modular acoustic panels and The Moving Wall, is The Moving Table – a multifunctional writeable tabletop designed by Jorg Boner, which rests on two solid wood, three-leg trestles and also fits on a wall-mounted Moving Rail. Another novelty is The Moving Stool, made from recyclable formfleece which, once turned on its upside, can double as a container or paper waste bin.
Flat by Artis – Hall 10.1, Stand: C001
Spanish company Flat by Artis will present Flat Set, a new system of partitions made up of a single aluminium profile that allows users to configure different screen formats and various material and finish combinations. Designed to optimise the installation and stock storage with a limited range of elements, Flat Set uses a master profile to which different cover profiles can be added. This allows for a single plate wall system with panels to be installed in one of the sides of the profile or in the centre, as well as a double plate wall system.re solid panels can be installed in both sides of the profile.
Vepa – Hall 7.1, Stand: C028
In an effort to help solve the overwhelming plastic wastage, furniture manufacturer Vepa, in collaboration with Dutch organisation Plastic Whale, has made Plastic Whale Circular Furniture – a sustainable collection showing at this year's fair. These high-end office furniture pieces are made from plastic collected from the Amsterdam canals, joining several eco-conscious companies who turn waste into impact. The collection consists of a boardroom table made from recycled PET felt, PET foam and FSC birch wood, a cast iron frame chair with a shape that echoes the majestic whale's tail, a lamp made from pressed recycled PET felt and acoustic panels available with LED backlighting.
Fritz Hansen – Hall 10.2, Stand: K010 J011
Fritz Hansen's Plenum is Spanish designer Jamie Hayon's first piece of contract furniture, and it was designed with the changes in modern work practice in mind. Complete with power plugs, USB ports and mounted or separate tables, this new, high-back sofa system aligns with the agile working trend by offering a different kind of workspace, perfect for ad hoc meetings as well as focused individual work. With its curvaceous, organic form, Plenum moves away from the concept of traditional office furniture and, as the designer himself puts it, "creates a feeling of home".
The leading international trade fair for the modern working world is back and brimming with office products, installations and events