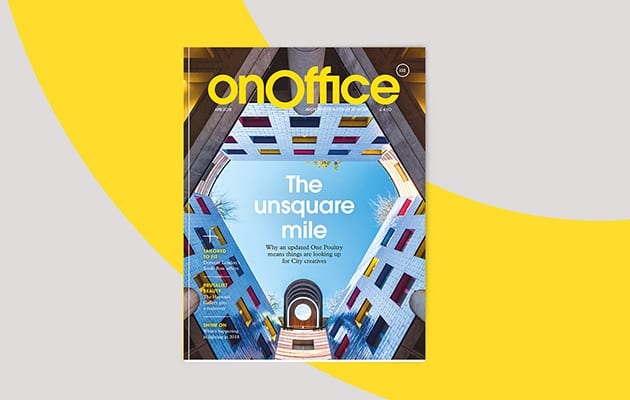 |||
A word from OnOffice editor Helen Parton: Welcome to the April issue – and hopefully by the time you're reading this, spring weather will be in abundance.
As I write, we're over the worst of the Beast from the East but the change of the season still seems a long way off.
It's all change too within the confines of the City of London, which makes up this month's cover story with the repurposing of postmodernist wonder One Poultry to be fit for co-working giant WeWork to open its 30th site within, plus the new much-vaunted Bloomberg building opposite and on the other side The Ned – the hotel, restaurant and members club behemoth that got us media types all of a uster last year.
The intention, according to the City of London Corporation, is to make the Square Mile more a than bit hip and to bring in a much wider demographic – both working there and enjoying the public space and cultural offerings in the evenings and on weekends.
Eager culture vultures will be delighted with the revamped Hayward Gallery on London's South Bank. Finally the iconic pyramid design is repurposed to serve its architects' intention of letting natural light in (which was foiled at the time of its opening by none other than Henry Moore).
Speaking of light, our special report features everything from linear luminaires to LED backlighting to a few of the choicest lighting launches from this year's StockholmFurnitureFair.
The rest of the highlights from the Swedish capital: blush shades and wooden surfaces with a touch of velvet dominated proceedings, with any number of variants on informal seating settings offered and a reassuringly high number of quality launches in a relatively compact show (compared to Milan's 20-odd halls). Everything from the transport infrastructure (ten minutes on a train from town to the exhibition centre) to the friendliness of the people, to the innovation and care taken in presenting new products makes this one of my preferred design shows.
The first announcements of another one of must-visit events, Clerkenwell Design Week (and not just because I used to work on it, honest) are also featured.
And to round things off in April, in our OnOff section this month Sophie Vening a new contributor to OnOffice, gets her teeth into a fascinating workspace interior for a high-end dental firm, which includes a wall of teeth impressions from all those concerned in realising the project.
More from OnOffice April
Scandi noir: Dark timber that echoes traditional Swedish architecture sets the tone for global digital agency AKQA's open-plan HQ, designed in a former Gothenburg warehouse by Amos and Amos.
Derwent London: The London-based property behemoth has suppolied many of the capital's great office spaces but when it outgrew its own, the property firm called in Piercy&Co to rethink its Mayfair home.
Hayward Gallery: After two years the London gallery has reopening with a new roof structure that fills its upper floors with natural light. We have a look around.
Storey time: British Land's timely flexible working brand is showing its design muscle with a branch on the edge of the City of London, designed by Hût.