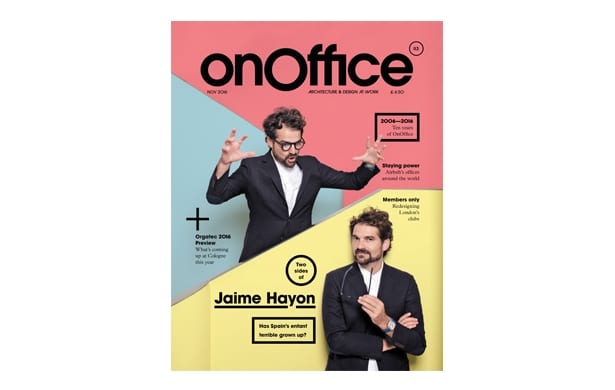 |||
OnOffice first appeared in the design world ten years ago at Orgatec. To celebrate this landmark occasion, we asked the three former editors to give us the highlights of their tenure and what shaped the office landscape while they were in charge, as well as picking their brains about their favourite magazine covers and the stories behind them
KERSTIN ZUMSTEIN
Kerstin Zumstein was OnOffice's first editor, who through a winning combination of endless enthusiasm, determination and an instinctive knowledge of what the design industry needed to hear about the world of workplace, launched the November 2006 issue.
"There was a big push to make talking about the office less serious, less about just task chairs and ergonomics. When we launched we were trying to make workplace design sexy and fun – it just hadn't been done before. It was a bit surprisingly, a bit cheeky." Zumstein is quick to credit Cai Taylor, the magazine's original art director, with collaborating in this desire for this new way of presenting office design.
The first issue featured a contents page laid out like a computer desk, shots of the original Media 10 headquarters in Epping and a cheeky guide to how to speak German while at Orgatec. "The change in the office landscape was huge, there was the shift towards desks you could stand at and soft seating. There were different fabrics in offices so that people could break out and also be comfortable. "It was about using far more accessible language when describing the workplace so that anyone who saw the magazine would want to pick it up."
From the very first issue, when Italian architect Piero Lissoni graced the cover, Zumstein's remit was to bring the faces behind the designs to the fore. In its first year, OnOffice featured the likes of the Bouroullec brothers and Shin Azumi. For the second ever issue, seminal designer Niels Diffrient was persuaded to pose in the woods in Germany. The cover featuring Sevil Peach, shot in black and white and holding a peach, was also a memorable one.
"Speaking to her about design and her thoughts on how the workplace could become more communicative was fascinating." There was a gatefold cover to mark the magazine's first year. "To get ten of the best designers at that time in a room was pretty special. The cover feature really showed their characters, their fun sides, so we had them pulling silly faces or in the case of design duo Frank, holding their baby. The gold and spot varnish really embedded it in people's minds, that OnOffice was a strong contender within the magazine market, and it was well established."
Kerstin Zumstein is now editorial director of Ink, a media company specialising in travel titles
ELIZABETH CHOPPIN
Elizabeth Choppin was next in the hotseat, safely stearing the good ship OnOffice until the spring of 2012.
"When I was editing the magazine a lot of the ideas that were coming into place when Kerstin launched it were reinforced. It was a further move towards open-plan spaces; people started talking about activity-based working. And as this filtered through to office design, so a lot of manufacturers really stepped up their ideas so that furniture could adapt to these new ways of working."
For example, the Bouroullecs' Alcove sofa with its high back for acoustic privacy, launched in 2006, had, just a few years later, spawned a definite trend for pieces that enabled office workers to break out and have private conversations or engage in concentrated work. "This new way of working was really coming to the fore and it was something that lots of different industries such as banking and law were embracing. There was the idea that offices could look and do different things and be really beautiful, inspirational places to be."
There was also a questioning of how this new look could really work in the real world, "My tenure was during the recession and it was especially pertinent to ask questions about where to really spend money."
Choppin's editorship was characterised by an incredibly resourceful approach that never compromised on the editorial standards set by her predecessor. For instance, a 50th issue cover typeified this necessity-being-the-mother-of invention approach, with items from a charity shop styled and sprayed gold. "The final cover looked so stunning."
Other memorable editions include a pixelated Konstantin Grcic "so simple but effective" and Yves Behar. "This was the first issue after the redesign, which happened on my watch and was also the one we took to Orgatec that year. It was a really great time to give the magazine a fresh look."
One of the most impactful covers was the October 2011 one featuring Slovenian designer Nika Zupanc. "That and the David Adjaye cover were so slick and glamorous," Choppin says, with comparisons to a high-end fashion magazine a compliment indeed.
Choppin is now co-founder and director of Astrid Media, an independent publishing business with a range of clients within the design, architecture and property world
JAMES MCLACHLAN
Previously a broadcast journalist with the BBC, McLachlan moved from Jersey to east London to join the OnOffice team in September 2009 as features editor. This was mere weeks away from the London Design Festival, a baptism of fire for any new entrant to the industry.
It's fair to say that during his time editing OnOffice (for three years from 2012 to 2015), McLachlan injected more of an architectural bent to the magazine, with cover stars including practices RCKA and AHMM.
"One of the things that shifted the game was the launch of Parcs by PearsonLloyd for Bene." From the evolution of the decades-old Action Office, where elements of the floorplate were divided up in a very cellular nature, Parcs was something very different. It allowed occupants to adapt their environment without an architect.
"The other big trend was a realisation by property agents that to make an attractive place to work, the interior couldn't be boiled down to a one size fits all space," he says. "Architects such as Buckley Gray Yeoman and Hawkins\Brown pioneered places for a new generation of office workers, who wanted a bit more from their workplace. The people that seized on this were enlightened developers such as Derwent London and when that happened you knew it was a serious shift."
The catch-all for this type of office can be described as belonging to the TMT sector (or technology, media and telecommunications) but really it had a more far reaching impact in all industry types.
Co-design was another concept that came to the fore during McLachlan's time as editor. With its roots in The Hub in Islington, co-founded by architect Katy Marks, it was Tilt, a practice involved in the Hub's early days, who really popularized the concept. The idea was that architects and designers stepped away from dictating a design wholesale and instead encouraged end-users to get involved in the process. "It was quite a seductive idea," reflects McLachlan, "But in hindsight, the process did have its limitations. It might work well with design savvy, entrepreneurial types but not so much in other businesses." Nonetheless this period did signal a much more collaborative approach to office design.
As for the favourite magazine cover from his time as editor, McLachlan opts for the Jehs & Laub issue from 2012, which was when the pair designed the A-Chair for manufacturer Brunner. "We had twenty minutes to interview them and about ten minutes for the shoot," recalls McLachlan. After a couple of initial set ups hadn't quite produced the perfect picture it was during a break for a beer outside the immense Messe trade hall in Cologne during Orgatec that inspiration struck. The shot of the two walking in different direction perfectly encapsulated how their contrasting ways of working function together.
McLachlan is now the editor of Icon magazine, the highly regarded monthly design title, also published by Media 10.