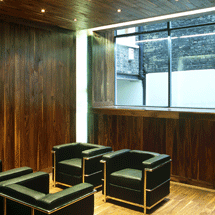 Southern Properties' new Fleet Street acquisition is a suave rendition of humanist architecture in which London-based practice Groves Natcheva has applied a wealth of attractive anthropometric elements.
Located in the epicentre of modern law and order, it's somehow fitting that the refurbished offices at Bolt Court, Fleet Street, take their architectural inspiration from the laws of nature. But Groves Natcheva also made a number of design choices based on the practice's core manifesto: a refusal of "ego architecture".
"Ultimately, the human being is what the site has to respond to," says Adriana Natcheva, one half of the two-strong firm. Business partner Murray Groves agrees: "Otherwise it's just an inanimate object that you're creating, and architecture has to have a function. Its beauty comes from that."
In the case of Bolt Court, the function was to reform an existing office building beset with spatial problems and create something that could compete with the sophisticated grandeur of other rental buildings in the postcode.
Bolt Court's blueprints locate the office core in situ behind a main entrance corridor, through the lobby and even then still a lift ride away. Working with such a jarred floor plan meant the firm's first concern was to make every millimetre count – and that meant bringing scale under control. "Architecture can be many things," Natcheva muses. "People like Zaha Hadid make these extraordinary shapes that feel like a vision or a dream, but not anything about the person that's going to be inside it, or about the building itself as an object. You have to know how people are going to feel inside the space you're creating."
As an object, Bolt Court's architectural brilliance lies in its respect for simplicity and comfort over extravagance. Exquisite walnut panelling used to line the office core is easy on the eye and the fingertips; a regal granite floor and black lacquered entrance hall create a sense of infinite depth. Similarly, raised ceilings and enlarged windows heighten the sense of size.
"Architecture is the resolution of a special problem for a set of issues: the sun, the light, the climate etc, all
of which you interact with as a human," continues Natcheva. "You're 1.6m tall and your eye level is where details make a difference. So we focused on the details. This is not a new building; you can't lay out the platform. And sure, you can stick to the module, but the problem is that that isn't architecture anymore. It's like shopping."