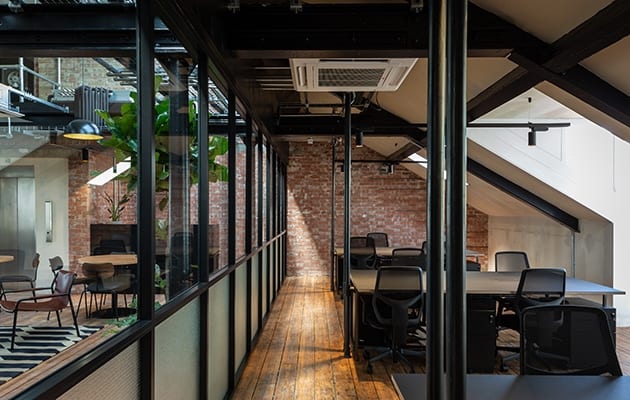 |||
London nightclub Ministry of Sound is branching out – into coworking.
In early July the legendary 90's dance music destination opened the doors of its new private members club and co-working space, The Ministry.
The Ministry has over four floors of working spaces, meetings rooms, bars and more
Co-working with a difference
The Southwark site is within walking distance to the original Ministry of Sound address, presumably to facilitate the transition from work to play on a Friday night.
The Ministry's Lounge on the Ground Floor
Located in a Victorian former printing works built in the 1860's, the conversion was overseen by Squire & Partners, the brains behind the Department Store in Brixton, and the forthcoming Lexicon skyscraper in the city. The fit out and build was overseen by Oktra
Work and play space
As well as coworking facilities which include serviced meeting rooms, The Ministry also houses a large conference hall and events space, full table service restaurant, immersive technology studio, a 36-seater cinema, and soundproof production suites. And a bar, of course.
The seventy-foot bar actually spans the entire ground floor, and also serves tea, coffee and smoothies.
The 70-foot bar at the new Ministry co-working building
"The Ministry will be a stark contrast to the generic glass box offices, bored receptionists, bad coffee and gratuitous beer taps which have become synonymous with bland co-working spaces around the world," says Lohan Presencer, Chairman of Ministry of Sound. "But, like our club, it doesn't work if we open the doors to everyone. The Ministry is by creatives for creatives – music companies, film and TV producers, marketing agencies, PR companies, creative technology start-ups, fashion designers and the arts."
The changing face of South London
When the Ministry of Sound opened its doors in Southwark in 1991, its address was decidedly unfashionable, end the whole area could only be described as 'run-down'. But as the club approaches the end of its third decade in the same address, it has become a mainstay in a fast-gentrifying neighbourhood.
The Ministry also offers more intimate spaces for working and networking
Gone are the abandoned warehouses and the old estates; making way for fashionable conversions and coffee shops. The private members club and coworking space is a logical addition to The Ministry of Sound's portfolio and the new Southwark, alike.
The Ministry of Sound is embracing the rapid gentrification of Southwark by opening a private members club and co-working facility