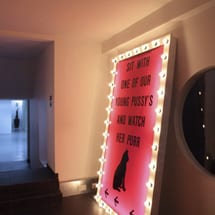 Walking along Soho at street level, it is easy to remain oblivious to what goes on above shop height, where converted three-storey houses are often cobbled together to provide cool, coherent spaces for the digital generation.
Andrew Wood, of Curtis Wood Architects, came across one such space when The Quarry, a television and film-editing company located high above Brewer Street, decided to expand its space into vacated offices next door, to accommodate new editing suites, a larger kitchen and generally make room for its growing business.
Wood was faced with the challenge of creating a client-facing space that was appealing, coherent, impressive to producers and directors, and comfortable for the nine editors working there, without appearing flash or overly expensive. It had to be plush, without the price tag.
"When people are making TV, film or adverts, they can come here and The Quarry will hire out to them an editor and an editing suite, for a set period of time," explains Wood.
"Clients are looking for service value, so you don't want it to appear that their money is going on fitting out a building, rather than the staff they are paying for. There were many subtle balances like this that we had to strike."
As it is in the nature of architects to be dreamers, as well as pragmatists, Curtis Wood tends to propose both a maximum proposal to a brief and a minimum one, Wood explains, settling on one that fits the bill – and the budget.
"Over-dreaming on a project is not a flaw, but it often forces you to recognise the essence of an idea, and then achieve it through thought and consideration, rather than just by throwing money at it," says Wood – perhaps why, despite the recession, business is booming for the six-person firm.
"My favourite idea to merge the two adjoining buildings was to have a glass bridge link and lightwell – wrapped glass and glowing objects," adds Wood. This, I assume, is the dreamer talking.
"It may have been an over-budget proposal, but the idea isn't on the scrapheap altogether," says Wood. At Christmas, The Quarry staff celebrated the arrival of a Corian white desk with Spectra glass: glass with LEDs at the top and bottom that throw light into it, according to settings on a computer. "Red if you are feeling angry, blue if you are feeling calm, for example," explains Wood. Flash, but not too flash.
To resolve the problem of extending into the new premises, an angled white-lacquered wall was used, lining a slate-floored corridor, leading the eye, as you stand in reception, round and into the new space.
"The Quarry wanted to give the impression that an expansion had taken place, and that a lot more room is now available, as soon as you entered the building."
Looking back to reception from the new space, the angular, high-gloss surface bounces back interesting lights and reflections, from the lightbulbs that surround a hot-pink art piece sitting in reception, to the downward spotlights overhead and the soft natural daylight that floods the original reception space through skylights.
The white-panelled wall actually disguises some flush doors, to editing suites that lie behind it, but a flash-pink slot window in the wall allows you to look into one of them, and through to the street beyond.
Round the corner is a large kitchen space with a black-lacquered end and breakfast bar. With wide, white-oak floorboards and galvanised-steel trunking, it sits somewhere between domestic and Soho coffee shop chic. Upstairs is a smaller, kitchenette version.
"The kitchen areas are a balance of best value," explains Wood. "As much is standardised as possible [the kitchen cupboards are Ikea's finest], but there is always a bespoke element" – in this case, the work surface, which is a dense-grain plywood with black laminate.
"Sometimes, just a director and an editor work together. At other times, a whole team – which could be an editor, director, producer and client – come along, meaning anything up to 10 people in a suite at a time when you're showcasing a reel. Runners serve the suites, and staff with food and drink. The old kitchen was undersized and getting too dated to do that.
"This space is designed to be somewhere for everyone to come and sit, and to bolster team spirit. For editors who are sometimes in an isolated office for days on end, it's an important space."
Working with editors – "very visual, very creative people" meant the project was constantly tweaked along the way. "It is tiring but rewarding," explains Wood, who is no stranger to this particular clientele.
"We worked with The Quarry's director's house seven years ago, and have picked up work with a number of The Quarry's clients since. That is why it is quite nice, and consolidating, to be doing the new office space. Taking on the whole range of projects, from large, big-budget ones to smaller, personal jobs is one of the ways we have got to where we are today."