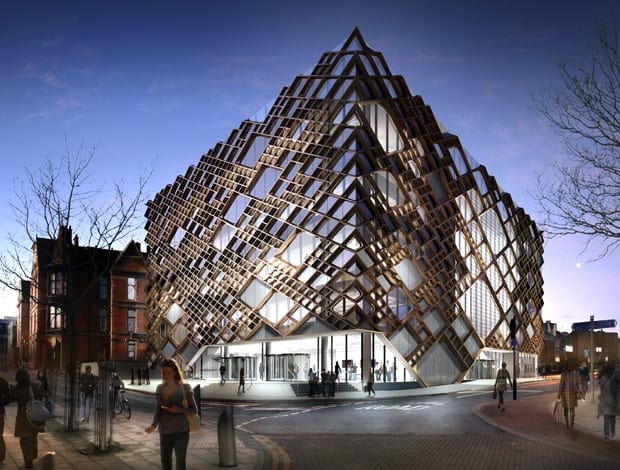 University of Sheffield's new engineering faculty|Greenwich University's Stockwell Street library|UCL's Bartlett School of Architecture||
In a bid to remain competitive on both a national and international level, universities are spending some serious money on campus upgrades. Here's where tomorrow's students will learn
University of Sheffield (£81m)
The University of Sheffield's forthcoming state-of-the-art engineering faculty, called The Diamond, has been referred to by Sheffield Central MP Paul Blomfield as "the jewel in the crown" of both the university and the city.
Created by Twelve Architects, the six-storey faculty is built on the site of a demolished Edwardian hospital wing. It is composed of a reinforced-concrete structure that is wrapped in an anodised aluminium frame filled with glass panels glazed in a different colour in each section. The panels have been designed to reflect the listed buildings that surround the site.
The 19,500sq m building includes laboratory, studying and lecture facilities, alongside a fully operational engine-testing facility for assessing the latest innovations in jet design.
When it opens in autumn 2015, The Diamond will accommodate 5,000 students and is predicted to contribute £20.6m a year to the city's economy.
Greenwich University (£76m)
Greenwich University's Stockwell Street library, designed by Heneghan Peng Architects, centres around a large open-plan studio and "crit pit" to encourage discussion, exchange and inspired learning.
The building comprises the library itself, two lecture theatres, broadcast-quality TV studios, seminar spaces and design studios. Fourteen landscaped roofs, designed for teaching and research, have been awarded a BREEAM innovation credit. They include a wetland area, climate-controlled greenhouses, an apiary, an outdoor vegetable grid for food research, arid planning and herbaceous landscapes.
Final works are underway and the Stockwell Street library will welcome its first students on 15 September.
University College London (£30m)
Hawkins\Brown has redesigned Wates House for UCL's Bartlett School of Architecture, which will double the amount of teaching and research space available in the building. The project is part of UCL's wider programme to modernise its Bloomsbury campus and is seen as an opportunity to demonstrate how to retrofit a 1970s building while retaining embodied energy.
The building will be stripped back to its shell and totally remodelled. A full-height extension facing Gordon Street is being added, as well as a lateral extension to the building perimeter.
One aim of the design is to open up to reveal activity within. In keeping with this, formal and informal exhibition spaces will be positioned on the ground floor, a central staircase will be installed to open up the building's circulation, and the entrance is being relocated.
Construction is set to begin imminently and complete in mid 2016.
Other current projects
Manchester University (£200m)
As part of plans to invest £1bn in its estates by 2020, Manchester University has appointed Netherlands-based Mecanoo to design its new engineering campus – the largest single capital works project undertaken by the university. Construction is expected to begin in 2015 and is due for completion in 2019.
Liverpool John Moores University (£80m)
BDP has been commissioned to remodel a former Royal Mail centre in the centre of Liverpool as part of the university's wider vision to develop a 'connected campus' that will see all staff and students based in the city centre. The planning submission is set for mid-2015 and the project is expected to be competed in 2018.
Science Central, Newcastle university (£250m)
The former site of Newcastle Brown Ale brewery, measuring almost 100,000sq m,
is being co-developed by Newcastle University and the local council as a world-class hub for science-based business and academia. The first building, designed by
FaulknerBrowns, opens in November; however, no dates have been given for the remainder of the site.