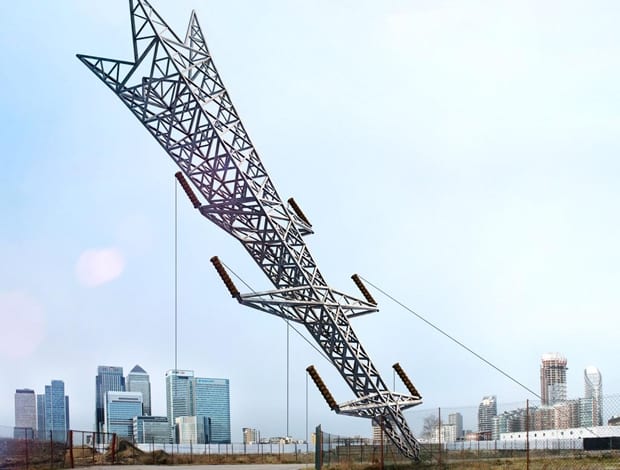 Curiosity Cloud by mischer'traxler|Alex Chinneck's A Bullet from a Shooting Star for LDF 2015|Alex Chinneck speaking at the press conference|mischer'traxler present how its 'insects' will interact with visitors|Mise-en-Abyme by Matteo Fogale and Laetitia De Allegri|Grafton Architects' Ogham Wall||
An upside-down, leaning electricity pylon in Greenwich and an immersive installation by David Adjaye at Somerset House will be among the highlights of this year's London Design Festival.
The headline installations and events taking place at LDF 2015 were announced at a press conference at the V&A this morning.
Artist Alex Chinneck will create the 35m-high upside-down pylon, named A Bullet from a Shooting Star, in Greenwich Peninsula using over 1km of steel. It will lean 17m across the road at a 60 degree angle. Chinneck is known for his fantastical public artworks such as a Margate house with a facade that appeared to be slipping down, and a floating building in Covent Garden. Chinneck said at the press conference that he was "inspired by the language of latticed steel and the industrial history of [Greenwich Peninsula]," adding that it is, "a beautiful place to stand and see structures." LDF commissioned the project in collaboration with Hong Kong-based property developer Knight Dragon, which is currently developing 15,000 new homes in the area.
David Adjaye will create an installation in the courtyard of Somerset House, sponsored by car brand Mini. The venue is a new destination for LDF, and will also host the work of ten international designers in its West Wing galleries.
Turner prize-nominated architecture practice Assemble will create an installation at the V&A's British Galleries landing, to mark the centenary of the birth of Robin Day. According to the practice it will respond to the British designer's fascination with wood.
Austrian design studio mischer'traxler will make Curiosity Cloud, a cluster of 250 glass containers hanging in the V&A's Norfolk House Music Room. Each container will house a fabricated 'insect', which, as visitors approach, will move and glow, creating an interactive display. This is sponsored by Perrier-Jouët.
Grafton Architects will build a series of 3m-high cast concrete fins in the V&A's Tapestry Gallery. Named The Ogham Wall, the concept is inspired by the ancient Irish Ogham alphabet, and will combine bronze, brass and nickel with the concrete to create tactile surfaces. Speaking at the press conference, Grafton Architect's director Shelley McNamara said the work will, "encourage people to touch it, so it will hopefully change over time." This is also in conjunction with Irish Design 2015.
Matteo Fogale and Laetitia De Allegri will create Mise-en-Abyme, an installation with Johnson Tiles on the bridge over the Medieval and Renaissance galleries.
Artist Barnaby Barford will install 3000 bone china pieces, each depicting a different London shop facade, for a six-metre-high installation named The Tower of Babel.
More events will be announced over the next few months.
London Design Festival runs from 19-27 September 2015.