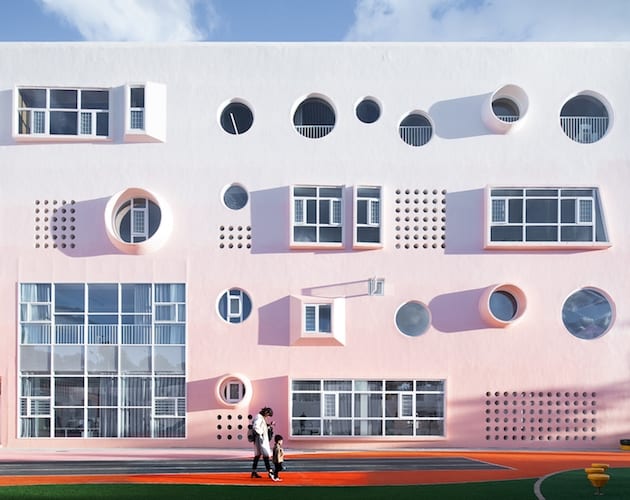 |||
All buildings have facades, but almost none have literal faces. The Lollipop Ideal Garden — a kindergarten in Yunnan, southwest China — is one of the few. Shaped to resemble a lollipop, its stick-like wing terminates in a vast humanoid face, with a tuft of hair, cartoon eyes and a slide from the mouth.
The kindergarten's walls feature windows of all shapes and sizes. Photo: Bowen Hou
Designed by educational and play-space specialists Dika Kindergarten Design Center, the Lollipop Ideal Garden is a candy-coloured fantasia, a blast of bubblegum that lifts its quotidian surroundings.
The 'head' of the lollipop features a vast internal courtyard. Photo: Bowen Hou
Formed of a circular unit around a vast central courtyard and the aforementioned wing, the kindergarten's external walls gradate from pinkish red to off-white along the ceiling. Dika intended this effect to resemble that of the sky at dawn, sparking the imagination of the building's young users.
Inside, there are large open floors, white walls and wooden details. Photo: Bowen Hou
These walls are speckled with windows in a diverse range of shapes and sizes. Some windows advance from the building's wall, while others recede into it. There are porthole-esque spheres, quadrilateral panes and grids of dots.
The kindergarten is surrounded by outdoor play areas. Photo: Bowen Hou
Inside, the kindergarten is divided into sections with different educational functions. White predominates, with wooden elements adding warmth. Large, open floors allow children to run around and interact more freely.
Each room has a specific educational function. Photo: Bowen Hou
The kindergarten is surrounded by outdoor activity areas. Designed to be flexible to suit students of different ages, these playgrounds have boldly coloured, pictorial grounds. On the site's northern fringe, a garden area features slides, climbing frames and other playground delights.
The 'stick' of the lollipop ends in a human face. Photo: Bowen Hou
Despite the building's eccentric appearance, it also aims to blend in with aspects of the natural world, such as the air, breezes and sunlight. "The designers," say Dika, "are also trying to create a poetic and artistic world, giving children a strange world. Let them experience, grow and feel the four seasons here."
Dika Kindergarten Design Center's Lollipop Ideal Garden is designed to harmonise with the surrounding natural world and to spark the imagination of its young users