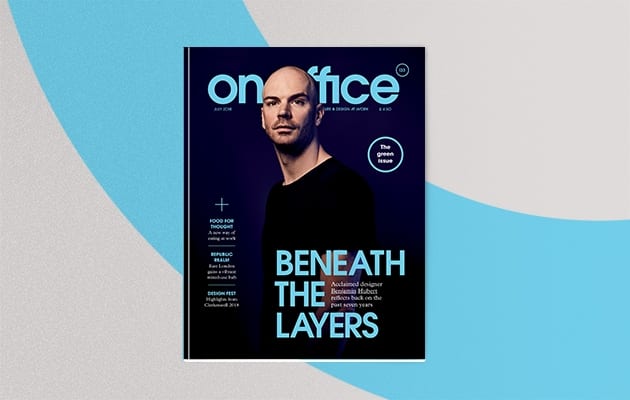 |||
The Green Issue is out now! A few words from editor Elissaveta Marinova about OnOffice July:
Fortunately, sustainability has finally dropped anchor in the ever-greener sea of conscious creatives. Unfortunately, the word has grown so omnipresent it has given rise to a greenwashing of sorts. Everything is eco-friendly – so much so that the essence of sustainability is often reduced to go with plants, timber and renewable energy.
Although the parallel remains accurate, we have tried to steer the boat away from this predictable trifecta, and dive deeper into the subject. And if you've caught our not-so-subtle ocean word plays, that's our reaction to the much-talked about final episode of David Attenborough's Blue Planet II, which urged us humans to preserve marine life by reducing our plastic usage. The call to action was so powerful it has influenced not one, but two of our columnists in this edition!
As for our cover star, Benjamin Hubert should need no introduction. The first time he appeared on the cover of OnOffice was in 2011, at a time when he was labelled one of Britain's most promising design talents. Hubert has since set up – and rebranded – his own studio, and after we witnessed his launch of the Tape collection for Moroso, a set of modular sofas and tables fixed with a heat-sealing adhesive, we thought a catch-up was long overdue. Let Ayla Angelos' words paint the picture of a man who, by placing himself at the crossroads of craft and technology, has become quite the embodiment of our time.
In our OnSite section, we have explored the green theme through the lens of The Office Group's revival of London's old Metropolitan Police HQ, and Greater Paris' latest offering – a 20,000sq m mixed-use development that places food at the top of its menu. Also, OnOffice got an exclusive peek at Studio RHE's Republic complex – a three-phase development at the foot of East India Docks, which strives to build a community for workers and the public alike.
In OnTop, we leave the city for Northolt, where Studio Weave designed a set of undulating roof-topped Woodland Classrooms for young students with learning difficulties. And in OnOff, new-to OnOffice Deborah Talbot explores the benefits of rural coworking in a region trying to reject the commuter model by enhancing local collective working .
Finally, in the second run of our Behind The Scenes, we unpick the making process of vinyl flooring company Bolon. Plastic has had its fair share of condemnation in this edition, so we found it enlightening to learn that the PVC polymer can in fact be recycled up to seven times, making plastic a viable option in long-life products.
Before you go, don't miss our glittering CDW review and for something quirky, and Erez Nevi Pana's vegan furniture layered with salt.
Subscribe to OnOffice and never miss another issue!
Summer is here, and OnOffice is celebrating by dropping our Green Issue! Inside: A new way of eating at work, East London's new vibrant mixed-used hub, highlights from Clerkenwell Design Week, Benjamin Hubert, and more.