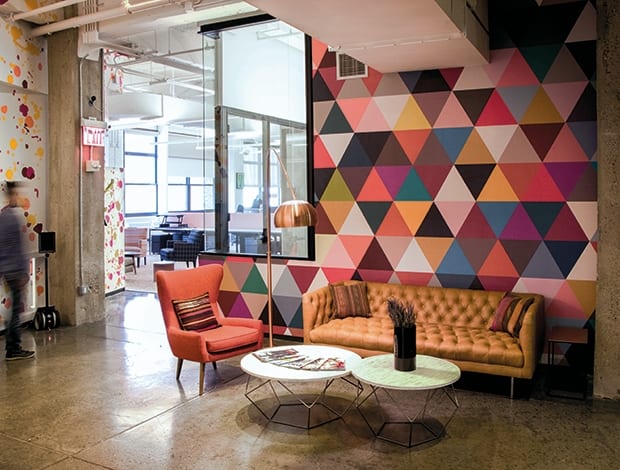 |Wooden bleachers in the Great Outdoors give a place for staff to meet|A giant selfie mirror dominates the vanity area|Green themes in the Great Outdoors, the office "living room"|Shawn Bullen's tangerine VoxFox mural in the main office|Techie and Wordmith conference rooms have suitably themed decor|||
Those who have ever been guilty of whipping their smartphone out to capture a meal, a piece of graffiti or a selfie for social media posterity will be on board with this client's desire that every wall, corner and structure be an Instagrammable moment. But unlike most of us – doing the filtering and uploading for vanity and social vindication – this is all part of making the workplace and business model come together for Influenster, which bills itself as a product discovery and reviews platform. The company recently relocated to a 1,675sq m office in New York's West Village, a place described by Time Out as having a "wealthy, celeb-heavy demographic and low-key, everyone-knows-everyone feel and picturesque charm".
As is common among tech firms, expansion was rapid, tripling over the past two years. Explains Aydin Acar, Influenster CEO and co-founder: "We had outgrown our office space in Tribeca and the time had come to consolidate our growing workforce in a new space that projects our DNA and personality." The entrance features a mural by Shawn Bullen, a Big Apple-based artist, and is meant to explain the meaning of Influenster's maxim Vox Populi, which translates as "voice of the people". The design drama starts as it means to go on, with a curvilinear reception desk and metal-chained curtain – printed with the company logo – creating a focal point from which a circular footpath leads.
In the main office there's another piece by Bullen that takes over an entire wall. It's a brash laying-out of the way the company works, which would doubtless baffle any non-millennial. The piece features Influenster mascot VoxFox, plus office dog Chaplin, emojis, star ratings and the like. Bullen painted the exterior of the main conference room with splotches of the company colour, a bright shade of tangerine, for an added bit of playfulness.
Each of the conference rooms are themed around a different "badge" that Influenster offers its members based on how they are interacting with the platform – whether that's a Beauty badge, a Fashionista, a Techie. The badge theme is expanded on in terms of the contents of the rooms, so the Fitness room comes complete with weights and medicine ball chairs, as well as AllModern rocking chairs which promote movement. The InfluenSTAR room is wrapped in a signature Lovewall mural by British-born artist James Goldcrown, whose murals are social media favourites in fashion circles – perfect as a photographic backdrop.
Just as this social media platform was founded on the idea of discovering, reviewing and sharing, so these principles have been carried through into the way employees interact, with an open floorplate. The pantry area is also open plan, with cold brew and draught beers available straight out of the kegerator, as well as cabinets full of healthy snacks. Next to this is the vanity area, with a Kardashian-worthy 2.5m long mirror to capture that all important selfie. Those looking for a different perspective can climb the ladder in the library in the northern wing of the office, a place where employees can settle in and relax in a quiet alcove with a business development tome in hand.
In another room, titled The Great Outdoors, there is what project manager Gizem Taner, who worked together with Scalar Architects, describes as: "A stunning millwork of wooden bleachers, designed not only to evoke NYC's urban courtyards but also to offer our fast-growing workforce somewhere to be able to sit and meet as a whole company." This space is intended to be the "living room" of the office and brings the outdoors indoors by dint of the use of artificial turf instead of carpet. As well as concentrated work and town hall meetings, The Great Outdoors can also be used for everything from yoga sessions to filming for YouTube.
Says Taner: "Every area was thoughtfully crafted to give employees an array of work environments for them to pick. Whether it may be a quiet alcove in the library, stadium seating for open collaboration, these spaces were designed for freedom of choice in mind."
Chairs were meticulously selected for "comfort, while adding to brand aesthetic". In the desk areas, a mix of Allseating and Knoll chairs are both ergonomic and durable. The iconic Herman Miller Eames lounge chair and ottoman are found in the library, while Eames Aluminium Group Management chairs fill the Beauty and Fashionista rooms. In The Great Outdoors, the curation of armchairs, Lawson sofa, contemporary mid-century modern sofa, bar stools and plastic dining chairs – from West Elm, Crate and Barrel, AllModern, Houzz and Vitra – is punctuated with lively accents and colours.
For Influenster, this is just beginning of world domination, it seems. As Acar puts it: "We're excited to establish our new HQ in the West Village while simultaneously planning for the opening of offices around the world."
In Manhattan's West Village, fast-growing product reviews platform Influenster's new workplace embodies the values of discovering and sharing that define its social media community