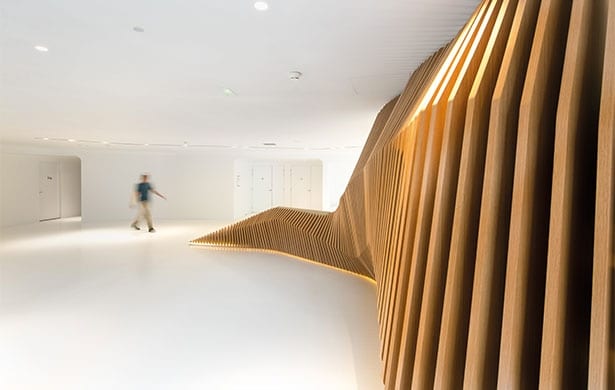 |||
Our February issue sees us turn our attention north and eastwards as this is our annual Scandi-themed issue.
Our cover star Alexander Lervik has designed for a wealth of Scandinavian companies, having had his big break at Milan's Salone Satellite with an innnovative LED light. Not only that, but he proved to be a genial dinner party guest at an intimate gathering hosted by Aritco in honour of the lift manufacturer's successful presence at last year's London Design Festival in September.
Fast forward a few months and Lervik's design chops (including upping Aritco's game with a lift with a design difference) plus his panoply of launches at this year's Stockholm Furniture and Light Fair, as well as a retrospective at Stockholm's Kulturhuset, presenting two decades' worth of work meant he was a shoo-in for our cover. Read all about it on p44. Speaking of the Fair, don't miss our preview, beginning on p39, which takes a look at the work of the guest of honour Paola Navone, plus details the installations and products to expect.
The Scandinavian theme is continued elsewhere this month on p72. Our OnSite section features Snøhetta's work for an art school in Bergen, Norway. The architects have tried to keep materials as local as possible and unsurprisingly this means a lot of timber. As a contrast aluminium was chosen for the fact it would weather in a decorative and colourful way. Moving on from brutalism, the designers say the style is more "minimal reductivism".
Counterbalancing this more serious academic tone, our OnOff section is the place for something more lighthearted and this time around, OnOffice's features editor Ayla Angelos discovered how a pair of Icelandic designers are using hand-skinned, dried fish to create some pretty distinctive looking lights, measuring an entire metre. Something more unusual than copper bowls or a chandelier for sure. Check it out on p96.
For his product review column, Grant Gibson meanwhile casts a critical eye on Peter Opsvik's Capisco chair for Håg, which launched over 30 years ago. Turn to p23 to find out what he thinks.
That's not to say other non-Scandinavian nations don't get a look in this time around. Way back in the summer of 2017, I took a whistlestop tour of parts of eastern and central Europe and one of the most exciting things I saw was a co-working concept by developer HB Reavis. Called HubHub, it more than matched up in terms of style and usability. Find out more about its Warsaw and Bratislava outposts on p66 and expect more locations to open in 2018.
Speaking of which, as the new year begins in earnest, we're excited to find out about new workplace trends – in Scandinavia and beyond.
Till next time
Portrait by Erik Undéhn
INSIDE THE ISSUE
OnGoing
From the editor We turn our attention north and eastwards for our annual Scandi-themed issue
News The Icelandic bank designed with flexibility in mind
Grant Gibson on… Håg's Capisco chair designed by Peter Opsvik
On London Peter Murray gets a grip on the new tall buildings policy
On Topic Nick Forrester on Scandinavian wellbeing
On Culture Katrina Larkin falls for the Scandi way of doing things
On Show A peek at this year's UKCW, Joburg and Shanghai events
Stockholm Preview The exhibitors and products to keep an eye on this year
Practice Playlist BroomeJenkin's eclectic mix for the working day
Cover Story Alexander Lervik
OnSite
Stairway to LVMH Designer Ora Ito steps up the traditional staircase
The HubHub An international co-working brand with a local focus
Snøhetta's Delight The new Bergen arts school with a reductivist approach
RegiOn
Hull's Angel Hull emerges into the spotlight as the UK's second ever City of Culture
OnStage
Outside the Box A guide to stress-free and secure workplace storage
On the Double How to process the workplace data revolution
On Co-working UnCommon's new south London co-working space
OnOff
Sea of Lights The duo creating sculptural and intuitive designs
Something Fishy Handmade lights crafted from Icelandic dried cod
Image by We Are Contents