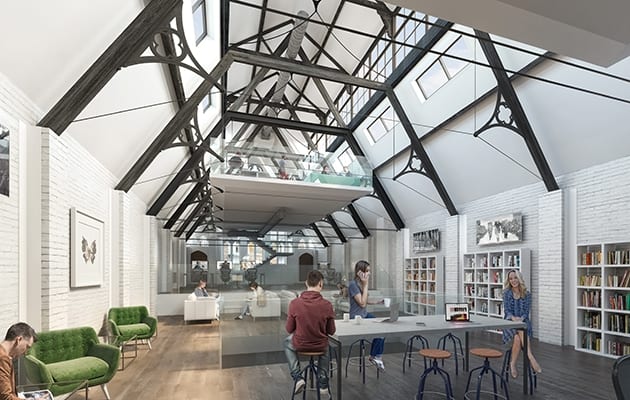 |||
Planning permission has been granted to redevelop a Grade II listed Venetian Gothic mission hall in Hammersmith into 7,000 sq ft of premium office space.
The former mission hall, which dates from 1883-4, was used as a set painter's studio from 1966 to 2014 and is now being reimagined as a flexible workplace for the creative industries.
Owners Lamington Group is working with Hût Architecture to sensitively convert the building. Plans have been approved to open up the interior hall, extend the basement and insert a new mezzanine level to create an open plan floor space and bring a new viewpoint to the unique vaulted roof.
In addition, complete restoration works of the listed building will be carried out, including stonework, metalwork glazing paintwork. The property will be marketed for pre-letting this autumn, and completion is expected mid-2020.
The renovation will offer a boost to the Borough of Hammersmith and Fulham (LBHF) with increased employment opportunities and longer-term benefits to the area. The development has the potential for over £2.1m of economic multiplier benefit once open.
Robert Godwin, CEO of Lamington Group, commented, "We have run our business in Hammersmith for over 30 years, and as a local business we're very much looking forward to bringing this much-loved building back to life and giving it a new purpose with a full historical restoration. Hût Architecture is a specialist in the design of places to work and will be the perfect partner to help restore as much of the original building fabric as is practical in order to celebrate its historic and aesthetic value."
Subscribe to the OnOffice newsletter to get the news delivered straight to your inbox.
The unusual Grade II former mission hall in London will be converted into a coworking space, but will maintain many of its original features