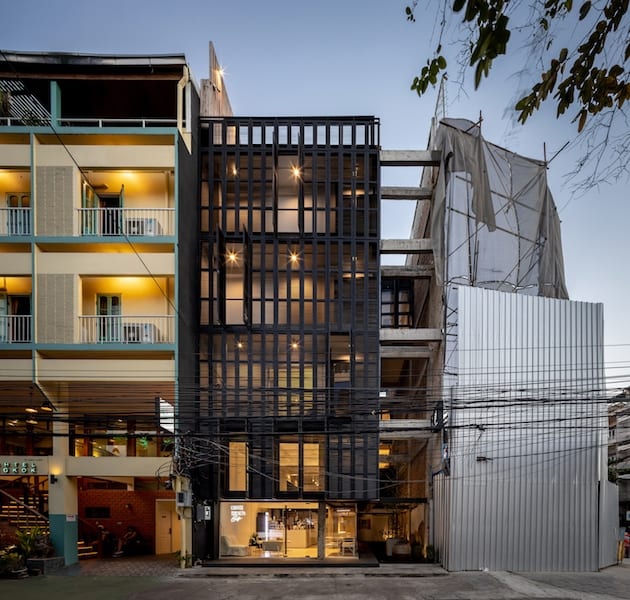 The hostel sits within two former shophouses.|||
Bangkok-based IDIN Architects has completed work on Pa Prank, a hostel and cafe in the Thai capital's historical Phraeng Saphasat district.
Inside, the hostel includes both contemporary and traditional touches. Photo: Ketsiree Wongwan
Converted from two former shophouses — a building typology common to Southeast Asia which combines shop and residence — the design aims to both draw on the aesthetics of a shophouse while mitigating some of their common problems.
The guestrooms have a light, airy minimalism. Photo: Ketsiree Wongwan.
A vast curtain wall matches the preserved wall of the previous building, and allows guests to look outside towards it, across an accessible yard with swing-like benches. The front facade, a lattice of black steel containing shop-style shutters, provides a contemporary update to the traditional shophouse front. Vast windows — on the facade, and in the 2m-wide space on the hostel's side — allow for abundant natural light to enter the building along its entire length. Historically, the narrow, lengthy form of shophouses made this difficult.
A new glass wall allows light to enter, while looking on a brick wall from the original building. Photo: Ketsiree Wongwan.
The interior is organised with clarity, and sees period fixtures contrasted with minimal contemporary furniture. A shared mezzanine allows access to the ground floor cafe, the guest rooms and activity areas upstairs. There are shared bathrooms, locker rooms and laundry sections on the second floor, while a roof-level floor includes space for yoga and boxing. It also provides a view over Bangkok's historical centre.
The embrace of natural light is a key feature of the design. Photo: Ketsiree Wongwan.
Working in its native Thailand, IDIN Architects has gained international attention for its sensitivity to local detail. Previous projects include a private residence with vast vertical structures and a rural tea cafe on a sloping planation. For the studio's own Bangkok base, they created a secluded structure clad in black timber.
The Pa Prank hostel bridges the historical and the contemporary