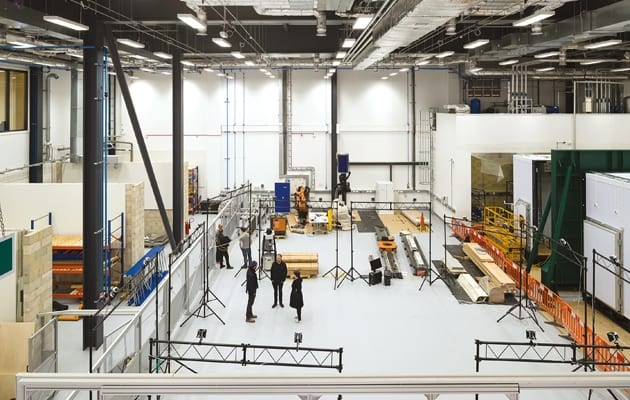 |||
There's one word that sums up what we've been doing here and that word is collaboration," says Roger Hawkins, co-founder of Hawkins\Brown, on the architecture practice's work on the new project for UCL at Here East in London's Queen Elizabeth Park.
Here in what was once the media centre of the 2012 Olympics, Hawkins is speaking in a 330-seat bright yellow auditorium, which is part of the final phase of the practice's reworking of UCL's estate.
Individual workspaces have been built into the joinery of the walls. All photos: Tim Crocker
The east London technology zone will be playing host to UCL Bartlett's new Real Estate Institute, while students from the Bartlett UCL Faculty of the Built Environment will share fabrication, prototyping and robotics facilities with those from the university's Engineering Sciences Faculty. Echoing this feeling of coming together, Alan Penn, dean of the built environment faculty, says: "The whole issue of collaboration is completely central."
It's a new kind of cross-disciplinarity. Environmental chambers and structural testing rigs sit alongside robotic cells and fabrication equipment. As elsewhere on the Bartlett estate, there is a focus on robust and hardwearing materials such as plywood and concrete.
Working areas at UCL Here East are robust, pared back and collaborative
Tom Noonan, associate at Hawkins\Brown, explains: "The brief was to create a space to support a diverse range of activities, from studio-based and executive education teaching to public performances, technical research, large fabrication and manufacturing."
Of the auditorium in which this press tour takes place, he adds: "It's a new typology for new courses and new relationships, to accommodate different ways of learning, teaching and socialising. It's an extension of the public realm."
UCL students can work together across disciplines
The various steps and terraces are testament to this and when Noonan speaks of "creating transparency and openness", our gazes are directed to the robotics and prototyping space we can see below. The 100m long space is, says Noonan, "divided into the human side and the machine side".
While a robot moves – it has to be said, with an air of slight men- ace – in one corner (or maybe we've been watching too many dystopian science fiction films) a group of dark-blue labcoated students cut and ponder over several triangular pieces of wood some distance away. Stuart Robson, head of UCL's Department of Civil, Geomatic and Environmental Engineering, says: "For me personally, this means the fruition of a long-term focus as part of the UCL Robotics Institute working on large-volume robotics for manufacture, inspection and testing at factory scales that were completely out of the question on our Bloomsbury campus."
State-of-the-art robotics facilities are available to share at UCL Hear East
Some elements such as CNC-ing and woodcutting can be found in perimeter lab spaces to avoid issues of noise and dust. While the fabrication facility, labs and proto- typing zone is to the rear, a joinery "runway" adjacent to the auditorium connects open studio spaces.
Here, as one enters the UCL part of Here East, on the right hand side are large-scale wooden benches, with architecture and engineering rubbing along together, setting the tone for how these disciplines interact in a professional environment.
Plywood joinery mixes aesthetic appeal and robust functionality
Bob Sheil, director of the Bartlett school of architecture, says: "We can collaborate, cross-pollinate and integrate. The architecture department is a form of glue but also an agitant. I am delighted that in an age when a multidisciplinary approach is needed across the global architecture and construction industries, we are able to teach and study in a truly multidisciplinary space."
To the left of the entrance are shared office spaces for academic staff, plus a place that can be a pop- up bar when events are held. The most obvious visual convergence with an actual professional office space is found on the first floor in the new real estate institute, which Penn says will be used for the "valuation of the intangible aspects of the built environment that will help investors create public good".
Harvard-style lecture theatres encourage students to interact
This open-plan space is arranged around a pair of enclosed "Harvard-style" lecture theatres, which seat about 40 – the semi- circular style encourages dialogue between students.
Incorporated in the joinery around these theatres are small areas for concentrated work. On three sides of this space are offices, meeting rooms and seminar spaces, while the fourth is a glazed elevation giving on to a balcony that overlooks the Here East yard.
Hawkins\Brown has been at the centre of Here East's transformation through masterplan and fit out. Today, organisations that work out of it include Ford's Smart Mobility Hub, Ladbroke Coral's tech hub and fashion retailer Matches Fashion. Here East CEO Gavin Poole is looking forward to seeing how the students "will collaborate with the hugely diverse range of businesses already here".
Subscribe to OnOffice for more exclusive looks at top workspaces.
UCL Bartlett students will be among those carrying out robotics research at Hawkins\ Brown's purpose-designed Here East site