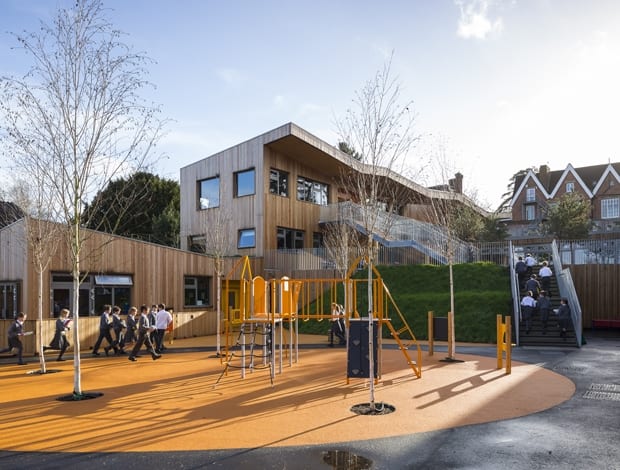 The RIBA award-winning Hilden Grange|HawkinsBrowns new build at Hilden Grange include teaching space, a canteen and assembly room|The firm's initial drawings for Crawford Primary, Southwark||
Hawkins\Brown has scored a £30m contract to design six schools for Southwark Council. The Stirling-nominated practice will be looking to create adaptable spaces to facilitate a range of working styles.
The biggest project will be a special-needs facility on a new site at Cherry Garden School in Bermondsey, which will include a 72-place school and a nursery. Specialist facilities will include a hydrotherapy pool, sensory room, soft-play room, and a variety of types of external spaces from sensory gardens to a sand kitchen.
It will be increasing capacity at Ivydale Primary School taking it from a two-form to a four-form entry school, as well as refurbishing and extending existing buildings at the other four schools.
Hawkins\Brown partner Carol Lees told onoffice that the firm will work closely with each school so it can tailor its designs to their specific needs, as it did for the RIBA award-winning Hilden Grange School RIBA Awards.
"In recent history, much of the UK school procurement, led by central government, sought to deliver savings by applying a one-size-fits-all model through varying degrees of standardisation. The government's Priority School Building Programme (PSBP) is a good example of this," says Hawkins\Brown partner Carol Lees. "However, as architects we have observed a growing emphasis of individual learning and working in smaller groups."
"Break-out space and an ability to adapt larger spaces to accommodate smaller groups is really important to facilitate this learning, so we can assist through careful placement of rooms and sliding partitions to create flexible spaces."
Corridors, she continued, are becoming extended learning zones, and aren't just seen as circulation spaces, reflecting the move towards independent learning.
Other successful design features at Hilden Grange include coloured doors to make rooms easily identifiable from outside and large undulating play landscapes."
Planning applications for the schools will be submitted in autumn 2014. Meanwhile, Kentish Town-based architects Haverstock has been contracted to design a further six schools in the borough. The practice heads up a team of architects: Cottrell & Vermeulen, Hayhurst and Co and Maccreanor Lavington.