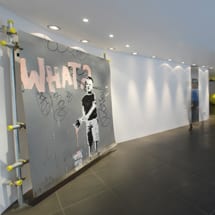 Those working in the media and creative sectors are probably familiar with London venues such as the Frontline Club in Paddington or The Hospital Club in Covent Garden, which offers bars, lounges, private cinemas and a rotating collection of contemporary art.
However, these facilities are not necessarily what you would expect to find in the offices of a PR firm. Unless, that is, you visit the client floors of Freud Communications' new offices on Newman Street.
"The members' club translates quite effectively into what we were trying to achieve," explains David Dalziel of Shed, the design company behind the project. "We wanted to create a place that reflects the company's attitude – and that makes people who come here feel they are part of the Freud family."
This applies equally to employees and clients. The club lounge area, the client-facing side of the fit-out, is also used by those who work at Freud for group drinks, meetings, parties and catch-ups during the day. A curved black wall at the back of the lounge area creates a more intimate setting for evening affairs, and wood veneer panels that run along the lounge slide back to reveal a mirrored bar area, with a full-length ice well.
Unlike some of Shed's other projects – luxury retail outlets for Vertu and Prada, for example – where client liaison involves flights to Asia and back, the Freud and Shed offices are a matter of streets apart. Over the course of the project, this made it a particularly hands-on affair.
Being such a familiar face to receptionists and employees – the design process was carried out around the 200 staff, who moved in while the refit was in process – has paid its dividends, however. "It now feels like a second home," admits Dalziel.
"The lounge space we filled with architectural items," he explains – ranging from bespoke room dividers (or "bookends"), which can be moved up and down the space to break it up in different ways, to seating "pods" designed to allow intimate meetings in an open-plan area, and rich design "pickings", such as Fritz Hansen, Poltrona Frau and Hayon Studio stools, sofas and tables.
On a side wall of the lounge hangs a large pinkish cowboy artwork, and on the back wall by the boardroom is a relief of Jack Nicholson's face, made, on closer inspection, from black Lego pieces on a white Lego background – a new addition since Dalziel was last in the building.
The company chairman, Matthew Freud (nephew of painter Lucian Freud and son-in-law of media mogul Rupert Murdoch), has a personal art collection that includes works by Damien Hirst and Antony Gormley, and the office's lounge space provides the perfect place to air it.
The showstopper, however, as you come in off the street, is a concrete Banksy, complete with the scaffolding to which it was originally attached. An adolescent grafitti artist with "What?" painted in pink is provocative, ironic and fitting for a PR and communications agency.
The gentle ramp that leads you into the offices also creates a sense of welcome, leading to a reception area lined with a long plinth carrying the daily newspapers and glossies.
"It is not so much a reception as a concierge, or meeting point," explains Dalziel.
Shed has dispensed with the linear front desk that acts almost as a "barrier" or "checkpoint" to a company, and replaced it with a large lemon-yellow doughnut-shaped desk.
The shape was an intuitive reaction to the drawings and sketches that were emerging from the flatplan of the space, says Dalziel. "Staff would be passing through this space from all directions – it links the lounge area and boardroom to the lifts and stairs leading up to the office floors," he adds. "As we drew the patterns of movement on to the plan, it spelt out a round shape. We wanted it to be a central point for visitors coming into the building, and for employees during the day; the circle really works because it is accessible from every angle."
Attention was paid to height, too, with Shed choosing a relatively low desk height, to make the reception more amenable and less barrier-like.
The doughnut is made of glass-reinforced plastic, with bespoke cabinetry built in.
Lights from the spotlamps above it reflect off the surface to produce a yellow haze or halo, creating the desired approachable and friendly effect.
Beyond the doughnut and the lounge area is the boardroom, a cool collection of design must-haves, including a Vitra boardroom table, specified with walnut veneer, two Tom Dixon wingback chairs with bespoke metallic covers giving a futuristic feel, and Miconos lights by Artemide, suspended like fish bowls above the table.
Upstairs from the reception, boardroom and lounge are three floors of offices, where a more work-orientated feel prevails. On top of this is the executive floor, which Shed left to the directors to fashion. On each office floor, teams of varying sizes sit at banks of white melamine Vitra Joyn desks, arranged around a "services area" in the centre.
All 10 permanent members of Shed work around one Joyn desk at their studio-style office on Tottenham Mews, and they took Freud to their own base to let them see how it allows them to work. "It takes the hierarchy out of the company and means we all work together," explains Dalziel. They even chose 20-inch Apple monitors over 22-inch ones, so as not to block each other out. On Shed's recommendation, Freud adopted a similar system.
The office floor layout is partly dictated by the wedge-shaped building. Having once been three adjacent buildings, now knocked into one, there are columns running through the floors that had to be incorporated in some way.
Dalziel developed a storage system of cupboards to snake around the central columns, playing on and accentuating the slightly jaunty and angular feel of the floor plan. Lacquered in a slightly metallic paint and without protruding handles, they give a slick and architectural finish, effectively disguising the less aesthetic office essentials, such as photocopiers and paper stacks.
Also in this area are breakout points, designed to create what Dalziel calls "the water cooler effect". Some seats are mid-height "more for perching on and talking, rather than sitting down on for long", while others are just there to lean on and chat.
The bespoke cabinetry comes into its own on the basement floor, in what is referred to in the company as the "war rooms", which sit alongside a 30-seat cinema. These are places for pitches, focus groups and private meetings. Two of the war rooms are joined by a one-way mirror, so that one can act as a focus-group observatory.
"This is the part of the project we both designed and project managed," says Dalziel. "We had three months to complete them – in time for the one-year-on party" – marking 12 months between Freud's moving-in date and the completion of the fit-out.
The rooms take the same metallic abstract angular and slightly futuristic form as the storage systems, creating individual capsules, entered through individual doors. In terms of impact, they certainly look like they mean business, fit for serious strategy making.
A considerable number of enquiries have come to Shed about "not-so-corporate" corporate fit-outs since the party, says Dalziel. Working so closely with a high-profile client to a tight deadline may have been exacting, but it certainly seems to
be reaping rewards, both for Shed and its clients.