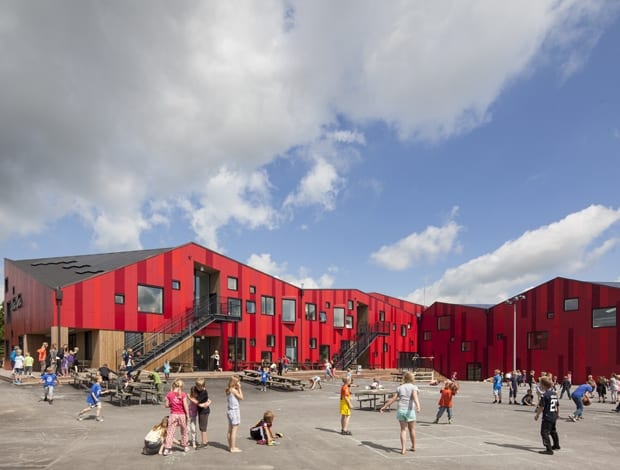 Vibeengskolen, Demark's first zero-energy school|The school's setting affords in 42,000sq m of outdoor space|A wooden decking surrounds the bright red building, echoing the materials used inside|The staircases are picked out in bold primary colours|The star shaped building contains the main communal area in its centre||
Arkitema Architects has designed Denmark's first zero-energy school, based in Haslev, south-west of Copenhagen.
Set within lush countryside and built on the site of an iron-age village, Vibeengskolen represents past, present and future – sustainability and the education of the next generation being central to the latter.
The building has been designed in the shape of a star, with a gathering point where assembly is held in the centre, and all other spaces leading off it. The façade is enlivened by a mismatch of window sizes and red panels in a variety of shades. The interiors feature expanses of white wall and timber, as well as splashes of primary colours. The roof, set at a number of range angles, contains solar panels and north-facing skylights to allow the maximum amount of light into the building.
Making the most of its surroundings, the school has more than 42,000sq m of prime outdoor space, with a vegetable garden, fruit trees, sports trails, an obstacle course and a BMX track. The area is lit at night, so residents can take advantage of the facilities.
"We are aware that the physical environment affects us in everything we do, and we act consciously or subconsciously in relation to where we are," says the school's headteacher Sigurd Bronnum.
"Now we have a new school with space that is tempting and inviting to both students and teachers, but primarily encourages children to study and teachers and educators to support them."
Arkitema has also designed the 85,000sq m structure of the Copenhagen University, and the 39,500sq m VIA University College Aarhus, which is currently being built.