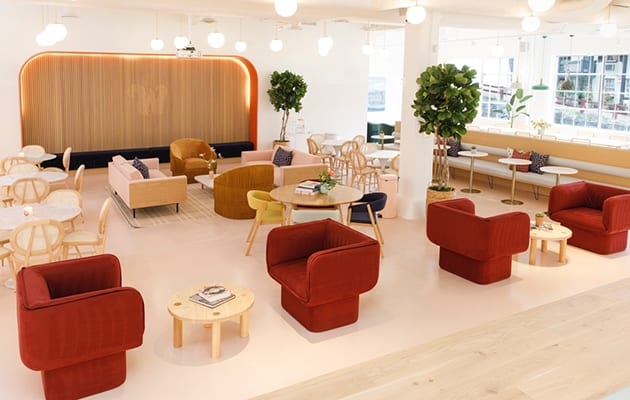 The Wing Washington DC opened its doors today|||
The Wing was making waves before it ever opened the dooors to its first women-only co-working space and club in New York. In 2016 it raised over $2 million dollars from eager investors keen to back the project; now after three New York and one Washington DC locations, the members-only space for women is coming to London.
After raising £23m in a second round of funding from investors like WeWork last November, The Wing – masterminded by New Yorkers Audrey Gelman and Lauren Kassam – will be launching six more locations in the next few years. The club currently has four open locations, three of which are in New York City, and one in Washington DC.
The Wing offers co-working facilities and meeting rooms, as well as a range of talks and activities, bars, and events open to all its members. After the opening of the DC branch in mid-April, and a visit from none other than Hillary Clinton, it seems that Gelman and Kassam are on a roll.
Though The Wing has multiplied its locations with alacrity, it is not without controversy. There has been suggestions that by preventing men from joinging the club, The Wing might be violating local human rights laws in New York and Washington. Gelman and Kassam vigorously deny that their venture is breaking any equal opportunity laws, and the working women of NY and DC seem to agree: the waiting list for membership in New York is reportedly 8,000 names long.
The new locations will be in Los Angeles, San Francisco, Seattle, Williamsburg (Brooklyn), plus two international locations in Toronto and London. The Wing's membership prices range from $2,350 to $2,700 a year, and offer members access to a variety of perks.
London and Toronto picked as the first international locations for the popular women's only co-working space, The Wing