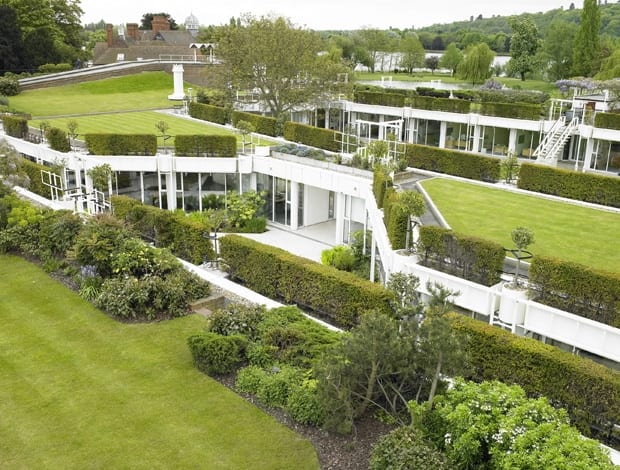 RMC HQ (image: Richard Learoyd)|The offices sit beneath what was the biggest roof terrace in Europe at the time|The project incorporates an early 18th century house|||
Cullinan Studio's Ready Mix Concrete International (RMC) HQ has received Grade II listing, following a campaign led by the architect to protect it from the wrecking ball.
The campaign came about in response to a planning application by the Runnymede council and current owner Cemex to pull down RMC HQ to make way for a housing development. The Twentieth Century Society and a number of architects, including Peter Clegg and Sunand Prasad, have spoken out against its demolition.
Built in 1990, RMC HQ is regarded as one of Cullinan's most important works, and was one of the key projects that contributed to his RIBA Royal Gold Medal in 2008. Cullinan described it as "the building in which the ideas that have always interested and inspired me are most thoroughly combined in a single work".
The HQ was created when RMC decided to move its headquarters form a West London tower block to a Green Belt site in Egham, Surrey, that already contained an early 18th century house, a 19th century stable block and half-timbered and gabled house, and subsequent piecemeal additions.
Cullinan Studio restored the latter two and set them at the head of courtyards formed by single-storey offices, camouflaged with roof gardens. The half-timbered Arts and Craft House was left as a standalone structure, to be used for training.
"Spaces and places inside and out interpenetrate with one another, and each leads to another one or two," Cullinan is reported to have said. "The detailing of it all is never superfluous, but is generally expansive."
It was Cullinan Studio's first project to combine heavy heat-storing roofs, high insulation and underfloor trickle heating and ventilation. The building complex is seen as an early indicator of low-energy, ecological building design, and has been awarded numerous awards including the Civic Trust Award and The Steetley Special Award (1990); RIBA award (1990); FT Architecture at Work Award (1991); and the Green Building of the Year Commendation (1992).
Demolition of the RMC HQ cannot proceed without consent from English Heritage and planning permission from the council in place.