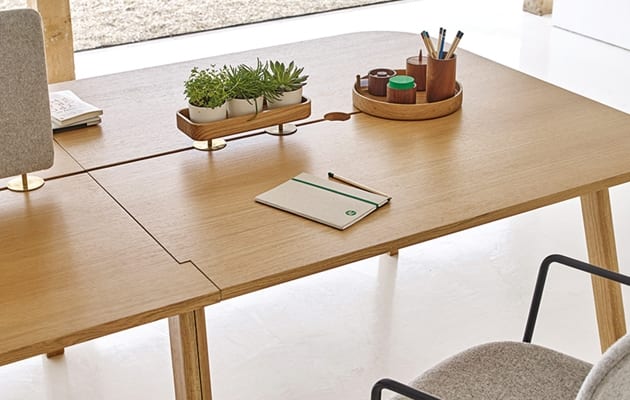 |||
This year's Clerkenwell Design Week (CDW) will be set across seven main exhibition spaces, offering distinctive new products from leading UK and international brands and new launches during the event.
Another Country
Another Country is a British craft furniture brand that launched in 2010 by Paul de Zwart, a founding publisher of Wallpaper* magazine. Conscious manufacturing is at the core of its practice, featuring wooden products crafted from sustainably harvested timber. At CDW, the brand will return with its Work Series – a fully customisable desk with multiple accessories, lighting and power options.
Ruutu
Ruutu is a design, manufacturer and supply company that specialises in floorcoverings for the workplace. It produces carpet tiles with original and functional designs for both common and commercial spaces, plus woodplank, stone and concrete vinyls with bespoke designs that re ect their architectural surroundings. The company will make its debut at CDW with a range of graphic planks and tiles.
Morfus
London-based furniture studio Morfus produces a range of high- quality modular furniture systems for the modern workplace, using an innovative approach to design and manufacturing. An adaptive and sustainable honeycomb structure provides the basis for the strong and light Morfus range, and at CDW this will be extended to a new collection of contemporary products – all of which provide office functionality with identity.
The Meeting Pod Company
As an alternative to acoustic screens for the workplace, the Meeting Pod Company manufactures and installs a range of modular meeting pods to suit all types of modern offices.
The design encompasses a broad range of sizes, plus options for tables, black panels, lighting and glass enclosures. All the pod variations are tted with acoustic foam interiors and will be launching at this year's CDW.
Rich Brilliant Willing
Brooklyn studio Rich Brilliant Willing designs and manufactures LED fixtures for the workplace as well as hospitality and residential projects. Stressing the importance of lighting in the working environment, the firm aims to set the tone of an employee's day through both subtle and statement pieces – bringing "warmth and energy efficiency to everyday life", as it says. Each design has been guided by technology, creativity and simplicity.
Edsbyn
The working office is the focus point for all Edsbyn furniture. The Swedish brand's functional, collaborative and highly sustainable modern pieces – such as its Neat storage, pictured – are tinged with Nordic inspiration. "The human being is social. So ideas and development take off when we meet and work together," explains Edsbyn. "This means the office is necessary as a meeting place even if the work itself is changing."
Hand & Eye Studio
Hand and Eye Studio, based in London, is a lighting design company with a minimalist yet explorative aesthetic. Through innovative materials and production methods, each piece showcases the inherent quality that comes with each material. For CDW, the studio will launch new LED-based wall and ceiling lights, plus its latest pendant light: the Fuji (pictured). All will combine a blend of craftsmanship with modern industrial design.
Dams Furniture
Dams Furniture is a privately owned UK manufacturer that has been operating for 50 years in the realms of the of ce, with a diverse portfolio and product offering. The company's latest collection is Social Spaces: a range of contemporary design-led products designed for use in corporate breakout spaces, open-plan offices, receptions, meeting rooms and dining areas. The collection will showcase at CDW and will exhibit the designs within commercial environment setups.
From modular furniture to meeting pods, this year's CDW, which runs from 22-24 May, has everything you might need for the office