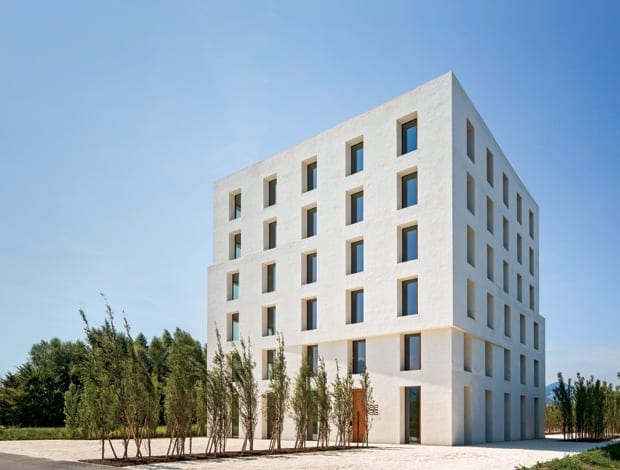 2226's simple design is entirely influenced by its sustainability aims|The building is naturally heated and cooled, all year round|A central section shifts on its axis, adding subtle visual interest|Zumtobel's refined Linaria lights fit with the serenely minimal interiors|An endless button-back banquette in the ground-floor cafeteria|Vents in the fixed glazing are sensor-controlled|The building relies on heat gain from computers||
Austrian practice Be Baumschlager Eberle set itself an admirable challenge with its new, six-storey office block, which goes by the intriguing, unusually abstract name of 2226. Designed by founding partner Dietmar Eberle and his team, its aims are twofold: to be radically low-tech and as sustainable as possible by dispensing with conventional, energy-guzzling mechanical heating and ventilation; and to engender a sense of wellbeing among its occupants. Temperatures inside the building range from 22-26°C – widely considered to be the most comfortable for we humans – hence the name 2226.
In essence, the interior of the 3,200sq m building, located in a business park in Lustenau, a town in western Austria, is kept warm by four elements: its excellent insulation thanks to its fortress-like, 76cm-thick, brick outer walls; and the heat generated by its lighting, computers and occupants' body heat. Yet it is simultaneously kept cool by its tall, slender windows, which, recessed into its outer walls, allow in plenty of daylight but reduce the glare and heat from the midday sun. Moreover, the building's orientation is designed to further cut down the amount of sunlight flooding in. Vents in the windows' shutters, which are fitted with sensors and computer-controlled, open whenever CO2 levels rise in the building or the temperature needs cooling. In the summer, the vents remain open at night to cool the building.
Be Baumschlager Eberle, which has a strong track record of eco architecture – another example being its Lohbach apartment block in Innsbruck, completed in 2000 – makes much of 2226's thermal inertia, ie the ability of the thick brick walls to resist changes in temperature and retain heat. At night, when the temperature drops, this heat is released inside the building, levelling out variations in temperature and eliminating the need for mechanical heating.
Another reason for Eberle's low-tech approach is his belief that mechanical HVAC systems are costly to maintain, expend energy and are only built to last around 15 years – all factors which, ironically, undermine their sustainability.
Inextricably linked to Eberle's aversion to mechanical technology is his human-centric approach, summed up as follows by a company spokesperson: "Man no longer reacts to the house but the house to the man." It's a philosophy illustrated by the fact that the employees' body heat helps warm the building, while its window vents expel the CO2 they produce.
Furthermore, this philosophy helps explain Eberle's indifference to the building's aesthetic. Asked if 2226 is inspired by any architectural style, a spokesperson for the practice replies categorically that style in architecture reached a dead-end in the 19th century, and, by implication, is of no relevance today. And, he adds, 2226's aesthetic makes no reference to "other spheres, such as aerodynamics or biology". As such, 2226 – which is occupied by real-estate firm AD Vermietung, one of whose partners is Eberle – could be described as anti-architecture. Yet it has a style, albeit a starkly simple one: it's a cuboid edifice that's 24m tall, 24m long and 24m wide with regularly spaced windows that take up 24% of the facades' surface area. The building's combination of baldly plain, flat facades (rendered with slaked lime plaster) and a flat roof make it look curiously two dimensional. What's more, its restricted palette of materials – brick for the walls, wood and glass for the windows and concrete for the ceilings – make it look all the more understated.
In line with its eco agenda, Be Baumschlager Eberle claims that these materials were locally sourced and chosen for their durability, making them relatively sustainable. "They're long-lasting and of a high quality," says 2226's project architect Jürgen Stoppel. What's more, according to Be Baumschlager Eberle, their embodied energy (the total energy required to produce them) is also low.
Eberle may have done his utmost to jettison technology, but he drew on scientific research when co-designing 2226, which Be Baumschlager Eberle dubs a "research project" and a "prototype for a pioneering, low-energy building". The practice collaborated with Lars Junghans, an associate professor of architecture at the University of Michigan, and Austrian physicist Peter Wiederin, who conducted studies of 2226's design before it was built. These indicated that, were it to be constructed, the heat generated by its occupants, lighting and computers would cancel out any heat loss from the building. More precisely, the studies showed that, if heated with 3W per sq m (as it can be by three people, or one 300W lamp per 100 sq m), the building's interior would reach a temperature of 26°C.
Just as Eberle considers 2226's architectural style of tangential interest to its primary aim – to provide the template for other radically sustainable buildings – so his practice describes its interior as "a comfortable background for daily working life". The image this official line conjures is of a safe, neutral, potentially bland interior. Yet this is contradicted by the office's design. A mix of sparingly furnished open-plan spaces and separate meeting rooms, it is, in fact, highly considered, elegant and clean-lined, recalling the minimalism of John Pawson or David Chipperfield. Combining gallery-white walls, soaring, 3.36m-high ceilings, wooden tables with wafer-thin tops custom-made (using no screws) by Be Baumschlager Eberle, toffee-coloured, button-backed leather banquettes and Eames office chairs, the interiors are serene, luminous and comfortable. Consistent with the fact that nature is the project's main inspiration, the windows overlook green landscaping outside. The only splash of colour – and dash of pop exuberance – is found in the cafeteria in the shape of lighting titan Ingo Maurer's theatrically large XXL Dome lamps, with their space-age silver shades, which are Jaffa orange on the inside. By contrast, the main office's ceilings are fitted with Zumtobel's minimal, light-sabre-like Linaria lights.
Stylish interior aside, proof of the building's sustainability will ultimately hinge on its longevity (or otherwise). The practice itself is in no doubt that its chances of existing a few decades down the line are high, simply because its occupants will like its temperate indoor climate so much. As Be Baumschlager Eberle's spokesperson puts it: "As we all know, buildings which have been liked for decades last the longest."