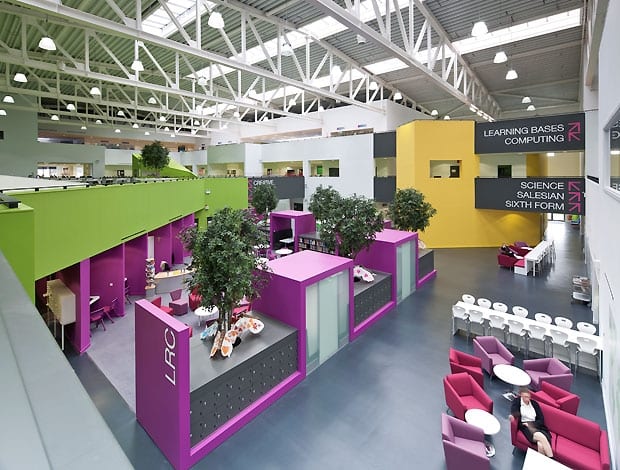 In yellow, the chapel stands out for being a lone vertical structure|The Hill sits in the centre of the building, breaking up the space|The LRC, encased in a fuchsia wall that incorporates seating|Pupils use The Hill's stepped auditorium for school performances|'Breakout areas' for quiet studying|The two-storey, bright green structure holds the large stepped auditorium|Pupils use The Hill's stepped auditorium for school performances|The graphic facade repeats the colour of the chapel inside||
A massive shed containing a rolling landscape of colourful structures, BDP's St John Bosco Arts College in Croxteth provides both adaptability and impact on a limited budget
School architecture is enjoying something of a renaissance in Liverpool. In inventive response to the government's scrapped Building Schools for the Future scheme, the Liverpool School Investment Programme has funded a succession of establishments designed as giant warehouses containing indoor landscapes.
Where the first two, Notre Dame Catholic College (onoffice 91) and Archbishop Beck Catholic Sports College, both by Sheppard Robson, could be described as urban in their interior architecture, St John Bosco Arts College by BDP is more rural.
The Croxteth building's vast, open interior is dominated by The Hill, a two-storey, bright green structure that houses a large stepped auditorium, used for assemblies and performances, as well as dining areas and offices.
"It's a sculptural form that splits the space into four zones," explains BDP architect Sue Emms, listing those as the entrance, learning resource centre (LRC), dining and performance."The Hill facilitates all that; it can be inhabited and allows lots of activity."
On one side of The Hill is the LRC, the modern-day equivalent of a library. It is semi-enclosed from the main piazza by a fuchsia perimeter wall, which is filled with lockers and topped with trees. Within are quiet workstations, group-study booths and adaptable seating areas, encouraging staff to use it as an alternative teaching space. Beyond the LRC is the chapel, a yellow beacon that is easily spotted from around the school.
"It's the jewel in the building, and is the only form that's a standalone object, and not rectilinear," says Emms. It faces into the heart space, but also out on to the grounds.
Colour is used to delineate and to give the school identity. The exterior features the same vivid yellow and green palette, and the school's new branding and uniforms feature the same scheme.
"We couldn't afford expensive materials – the interior landscape is mostly MDF and plasterboard – so we always knew this would be a paint finish," says Emms. "You see a lot of other projects using colour and they look like a primary school, but this has maturity."
Balconies overlooking the heart space lead to clusters of classrooms, arranged around their own breakout areas to support more active learning. Traditional subjects like maths and English are given the top floor; art rooms, science labs and media suites are on the first floor, with some occupying open-top mezzanine areas; and the ground floor is dedicated to drama and music, with easy access to the auditorium. At busy times, the heart space buzzes with activity, as 1,100 pupils circulate around The Hill.
"I'm critical of rolling out template schools, but having this cheap, simple, efficient envelope means you can spend the money inside the box," says Emms. It frees the project from many typical constraints, she says, allowing the interior to be unique to the school's ethos and personality.
"The heart space creates a community – a sense of belonging. It's uplifting and engaging, and it makes people want to be there."