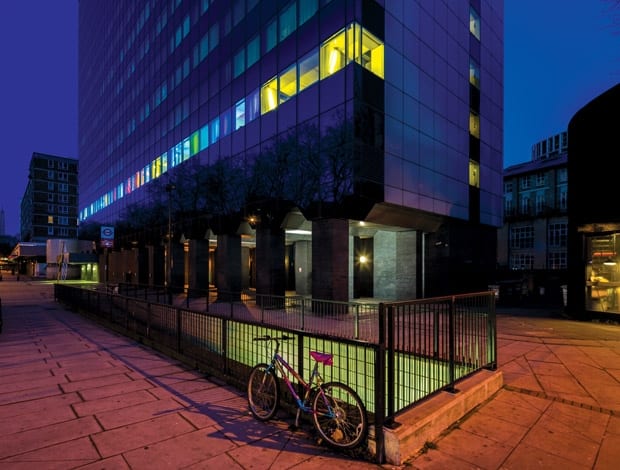 TechHub's second-floor office stands out a mile on Old Street|Programming syntax symbols pep up the colourful meeting rooms|Big wall graphics helped Gensler deliver maximum impact on a minimal budget|Simple finishes and exposed ducting look cool (and happen to be cheap)|The playful graphics extend to the neon sign in the bright yellow reception|Gensler went on a shopping trip to Ikea to supply the office with desks|Pink space invader flooring: the most fun you'll ever have with carpet tiles|Pingpong, one of the many diversions for "super-awesome innovators"|An old shared kitchen links the mix of open-plan desking and smaller studios|Old timber cable reels have found a new purpose as breakout tables||
Gensler used raw finishes, vibrant colours and bold graphics to create a standout space for TechHub on a tight budget.
Two years on from the government's loudly trumpeted plans for a £50m technology institute on Old Street roundabout, the bulldozers are nowhere in sight. Rumour has it that the £50m Tech City project is on hold, and there is a sense that the area is failing to live up to its hype as a global centre of digital innovation.
"There isn't enough floorspace in this area and rents are going up," says Andrew Tibbitts, global projects director for TechHub, a British digital technology start-up accelerator that partners with Google to provide affordable desk space, support and mentoring to tech start-ups. "If you price the innovators out of the area, you are just left with boring office space – and then it is no longer Silicon Roundabout," he says, referring to Old Street roundabout's colloquial alias.
In March, the area's flagging credentials were boosted by the launch of TechHub's new office space, on the 2nd floor of 207 Old Street. It allows 'graduates' from the nearby TechHub Campus (onoffice 65) to stay in the area as they expand. Rents are kept low, to a maximum of £2,100 a year for a studio seating up to 12 people.
"Because we partner with Google, they can take the financial risk on our start-ups' behalf," says Tibbitts.
TechHub's residents vary dramatically in size. The biggest company, telecoms firm Nexmo, was recently valued at £100m. Another starry resident is music-sharing app PingTune. Consumer-facing companies like PingTune prefer to reside in the open-plan section of the office, while the business-facing companies tend to opt for one of the ten glass-fronted studio spaces.
One such is FundApps, founded by a disillusioned City worker, which provides compliance monitoring for investment fund managers. Next door is Code Club, whose CEO left her job at an advertising agency to start a charity that sends experts to teach programming to school children. The Duke of York recently became its patron.
"Start-ups scale up and down quickly. Unlike other offices, we let them do that"
Even though it's only been open a few weeks, the office is already bursting at the seams.
"There are 1,300 tech start-ups in Shoreditch and 700 of them are part of TechHub," says Tibbitts. Half the companies at the new site have doubled in size since moving in; PingTune alone has grown from
one person to 30 people in six months. "Tech start-ups scale up and down very quickly, and unlike regular offices, we let them do that," says Tibbitts.
"We are all about iteration, so what works now may not work in 12 months' time. We are constantly evolving our use of space", says TechHub co-founder and CEO Elizabeth Varley.
The floor above recently became available and TechHub snapped it up. It is considering taking another floor in the 15-storey block, too. TechHub doesn't have a lot of spare cash for interior design. The total budget for this floor was just £65,000, making imagination the order of the day for interior architect Gensler.
The tables in the breakout space and games room are made from upcycled cable reels. Whiteboards are made from old doors. If the furniture is not upcycled, it's from Ikea – the desking, shelving and sofas are all from the Swedish retail chain.
Finishes tend to have been kept raw: the rough concrete pillars have been left unplasterboarded, while a virtue is made of the mass of ducting, plumbing and cabling on the ceiling by illuminating them.
"We are all about iteration, so what works now may not work in 12 months' time"
"I never knew how much I liked neon," says Varley, gesturing to the coloured tube lights that festoon the office windows and which, at just a few pounds each, she says have "transformed the look of Old Street roundabout at night. We are known as 'the disco floor' by our neighbours."
Splashes of fun and vibrancy are everywhere – from the bright yellow feature wall in reception to the Gensler-designed wall stickers that create a sense of identity for the office. In the kitchen, a cartoon of a huge burger 'melts' cheese across the floor, and in the open plan office space a wall sticker reads: "Make the things you wish existed."
The meeting room doors, each one a different colour of the rainbow, bear scaled-up programming syntax symbols. And you can see why. Outside the lifts, grey and pink carpet tiles are arranged in the shape of a space invader, an inexpensive way to create a splash.
"I didn't want carpet tiles as they are so drab, but they're cheap, so I relented – but then I thought, 'hang on, they're a bit like pixels', so we made them into a picture."
The budget fixtures contrast with the high technology on display in the BT-sponsored Infinity Lab. Opened by Boris Johnson, this is TechHub's demo room. It features two 60-inch ultra-high-resolution TVs and a remote-controlled Double Robot Telepresence (essentially an iPad mounted on a Segway-like roller) for mobile FaceTime meetings.
The room also contains the first ever BT broadband street cabinet to be installed inside a building. It's surreal to see the familiar green cabinet indoors and behind glass, giving a view on to its inner workings.
Once a month, the members gather here for a demonstration of what they are working on, sharing their knowledge and trusting each other not to steal ideas. A sharing, sociable atmosphere pervades the office – half of which is public space – as people mill around and go off to play ping pong in the games room, or eat lunch together at the big kitchen tables. Every Friday night, free beer and pizza is dished out, and regular film nights are staged.
"This is basically a membership club for geeks," says Tibbitts. "I mean super-awesome innovators," he corrects. "Last Friday we had a table tennis championship, with about 50 people crammed into the games room". He points at an old server rack in the room: "We're going to convert that into a fridge soon."
There is a rationale behind the social emphasis at TechHub, continues Tibbitts. "Starting a company is full on, so it can be very lonely. We want to provide some down time for our members."
It must be working, because things have got friendly enough to result in two TechHub babies and several long-term relationships: "We are just waiting for our first wedding."