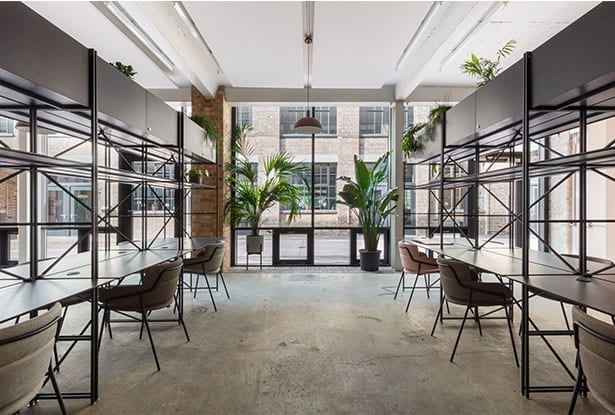 Sella Concept's interiors for de Beavoir Block was inspired by hospitality trends|||
Workspace developers are looking at the way the hospitality industry has come to influence the services provided in corporate environments, with emerging synergies between the two, according to the findings of WATG's report 'Working Nine to Thrive'.
This is evidenced by the growing trend of office spaces now let to corporate tenants but also to a host of other hotel-like services, supporting workers onsite in their professional and personal lives, according to the findings. New office buildings often function as much more than just a place of work and boast amenities such as gyms, healthy eateries, and cycling facilities to cater for employees.
"There is a constant need for evolution and innovation in the world of development, and this continues to be driven by hospitality, as well as technology," says report author Richard Collings, senior associate at WATG. "From the perspective of the developer, more creative office concepts offer intriguing propositions."
With the launch of the WELL Building Standard in 2014, developers are keen to address potential health concerns for their tenants. Wellness can be addressed by on-site gyms with trainers and group classes but can extend to better categorisation of spaces within the building, according to the report.
The rise of the shared office space is also influencing the way developers are designing modern offices. With 1.2million coworkers registered globally, the boom in start-up culture has meant smaller, shared workspaces are more in demand than ever. Urban lifestyle hotels have unintentionally become a popular template for this style of working, with large ground floor spaces no longer seen as exclusive to guests. These animated environments create a buzz for the hotel as a destination but often make it hard to capitalise on the prime real estate.
"Coworking, in particular, offers potential for an efficient business model, and heightened returns on investment," adds Collings, who co-authored the report with Rob Sykes.. "From a design perspective, the opportunity to deconstruct traditional office space and hotel public areas, and create environments that work for the developer, operator and end-user is ripe. The way that we work, travel and play is changing."
Subscribe to the OnOffice newsletter here.
A new generation of workspaces drawing on influences from the world of hospitality are becoming a rising trend, according to new research released today by global architecture firm WATG.