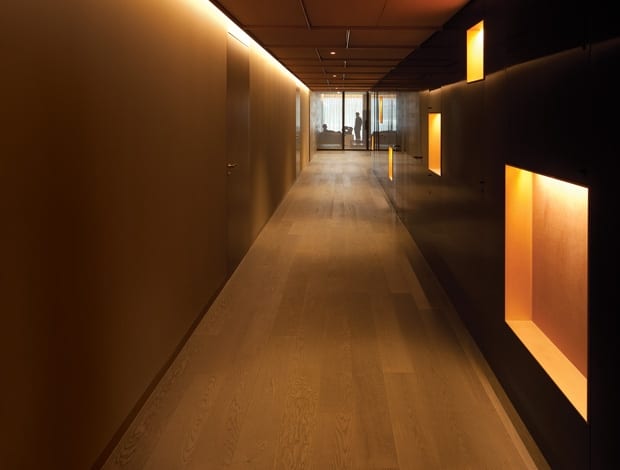 Sophisticated, with a little playfulness – Banc Sabadell's Barcelona HQ|Timber and leather in darker shades lend the necessary gravitas for a bank|A wicker pergola – half indoors, half out – spans the terrace|The boardroom goes hi-tech with integrated table screens|Choice pieces from the bank's art collection have been mixed in||
"This is not like a conventional office like Sevil Peach's Vitra office, where it is all open. The client wanted individual rooms," says Marta Alonso, interior designer at Isabel Lopez Vilalta + Asociados. It is a measure of how far the office environment has changed that a client request for a cellular layout has the power to surprise. Indeed, scouring back issues of onoffice for a corresponding example proved fruitless. For many organisations, cubicles went out with the ark – a point of fact underlined by the belief, in Alonso's mind and no doubt countless others, that Peach's groundbreaking redesign of Vitra has passed quietly from the avant garde into the mainstream.
So, despite prevailing fashions, there is nothing to say that cellular style is totally done and dusted either aesthetically or practically. In this case, the client was Banc Sabadell – a bank that had moved into a purpose-built headquarters on a the Sant Cugat del Vallès business park just north of Barcelona. The building, a double-skinned five-storey cube enveloped in a zigzagging dark grey aluminium mesh, was designed by Bach Arquitectes. The practice demolished a tatty warehouse building to make way for the new office block, simultaneously creating a 193sq m outdoor terrace that capitalised on the Catalonian climate. It was at this point that the interior architects took over, introducing a radical proposal for a client best described as conservative.
"The [terrace] space was completely empty so we decided to use it as an outdoor meeting space – not in a formal way but somewhere they can do whatever they want." Alonso recruited Barcelona-based architects and wicker enthusiasts Miralles-Tagliabue EMBT, best known for its award-winning Spanish Pavilion at the Shanghai Expo 2010, to create a large wicker pergola, which owes little to the buttoned-down world of finance. The structure breaks down into two distinct halves – a meeting room with large rectangular table and a lounge populated with outdoor furniture. Though the image of some bloated financier quaffing martinis in dappled sunlight might turn the stomach there is no denying the charm of this casual outdoor space. Alonso says that the wicker "is not something that is really sophisticated, but a natural material, which is a good combination." The pergola relates directly to the interior programme of the ground floor, where the architects arranged a series of meeting rooms that open out onto the terrace thereby forming a strong connection between inside and out.
An elongated boardroom running the width of the basement is the centrepiece of this cloistered floor, which contains two smaller meeting rooms and an adjoining waiting area off an L-shaped corridor. In material terms the palette is restrained to the point of austere. Parquet flooring and dark wooden doors are intended to create a natural but serious countenance. "We choose very natural materials rather than trying to imitate with artificial ones," says Alonso. Unlike many contemporary offices that might borrow design elements from hotels or schools, there is no mistaking that this is a place of business. That said, carefully chosen Artemide lamps and rich brown fabric wall panels instil a sense of intimacy.
Staying true to traditional hierarchies, the big nobs hang out on the top (fifth) floor. Here, Alonso and her team distilled the fit out into a kind of nerve-centre that orbits the central core. The most significant space is the boardroom where 21st-century technology collides pleasingly with what, on the surface, is an old school environment. Integrated computer screens embedded in the table display video art when not in use and show the person speaking when a meeting is in full swing. The boardroom is served by secretarial area, the only open-plan area in the building.
The top floor is a magician's box of sliding panels, cubbyholes and little niches for various objets d'art. This compartmentalised approach is most effective in the corridor where, in contrast to the sunlit workspaces, the architects cut square sections from the walls and inserted lights that reflect off golden-toned brass ceilings and walls to create a moody atmosphere.
Tackling the acoustic challenges prompted by the myriad of hard surfaces, Alonso wrapped concrete columns in black leather and applied Kvadrat fabrics to some of the offices walls. Ordinarily, the words 'bank' and 'art collection' can make the most optimistic of hearts to sink a little. Nevertheless, Alonso was obliged to raid the bank's archives for some suitable appliqué. To be fair the results are pretty good – a mixture of abstract daubings and vaguely Rothko-eqsue blocks of colour add points of interest to the toned down interior.
"We tried to change that old style, with the video art and by prescribing Prouvé chairs in the meeting rooms," says Alonso. "There wasn't just one client – we had to talk to ten people, each one with their own thinking, so it was difficult to put together a brief for what they all wanted. We had to do a lot of preliminary drawings but in the end we gave them what they were looking for."