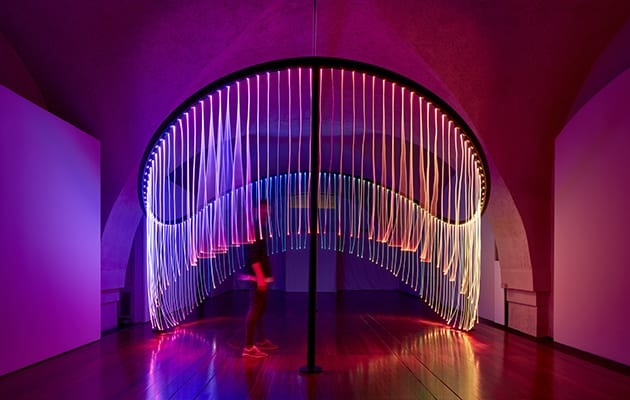 |||
Though better known as a platform for emerging talents and established designers, this year's 100% Design also played host to a series of insightful talks, with speakers ranging from Thomas Heatherwick to designer Ini Archibong, and topics spanning the realms of design and architecture.
Throughout this programme, OnOffice climbed on the Forum stage twice as I led two different but equally enriching talks.
On Wednesday 19, I was joined by Karen Cook, founding partner of PLP Architecture, and Nick Ridout, Project Director at Scott Brownrigg, with whom I discussed a rather contentious issue: retrofit or build anew – what is the influence of commercial architecture on London's urban fabric?
Drawing from the pair's extensive knowledge and experience on the matter, we explored the virtues of placemaking and ground-floor activation, the challenges of working with a blank canvas versus refurbishing an existing space, the highs and lows of building up, and much more.
Ridout, who has been involved in several commercial retrofits – Weybridge Business Park and Thames Valley Business Park to name a few – shared some insights into recent trends. "Some clients want a slightly rougher look, but purposeful and sensible," he said, later adding that "the big trend is to focus on the user, and the way we work with tech is changing."
Speaking of user-centric buildings, Cook, who currently leads the design of Twentytwo – the City of London's tallest office tower – spoke about Twentytwo, whose bottom four levels will be open to the public, while a free viewing gallery will crown the top of the building, all with an on-going public art programme. Cook also conveyed an important message about London's densification and the benefits of high-rise buildings: "It's important for London to maintain density around transport hubs to preserve its green spaces and conservation areas. Building up one strategy for this."
On Saturday 22, we reflected back to the London Design Biennale, with Australian lighting artist and designer Flynn Talbot's Full Spectrum – an immersive rainbow-coloured installation which invited visitors to touch and move through 150 optic fibre light strands and be surrounded by a rainbow of colours.
Talbot shared the concept-to-creation story and epiphanic nature of Full Spectrum, which was a reaction to and celebration of Australia's decision to allow same-sex marriage. We also discussed the funding challenges his team faced to take the installation to the finishing line, as well as the importance of the "light effect" that lies at the heart of Talbot's design process. Talbot, who has also designed lighting products in the past, revealed his preference for artistic installations and their capacity to appeal to and influence a wider audience.
Full Spectrum has now wrapped up, but Talbot wants to take it somewhere else, so keep your eyes peeled for another rainbow.
From the influence of commercial architecture on London's urban fabric, to the story behind Flynn Talbot's Full Spectrum installation