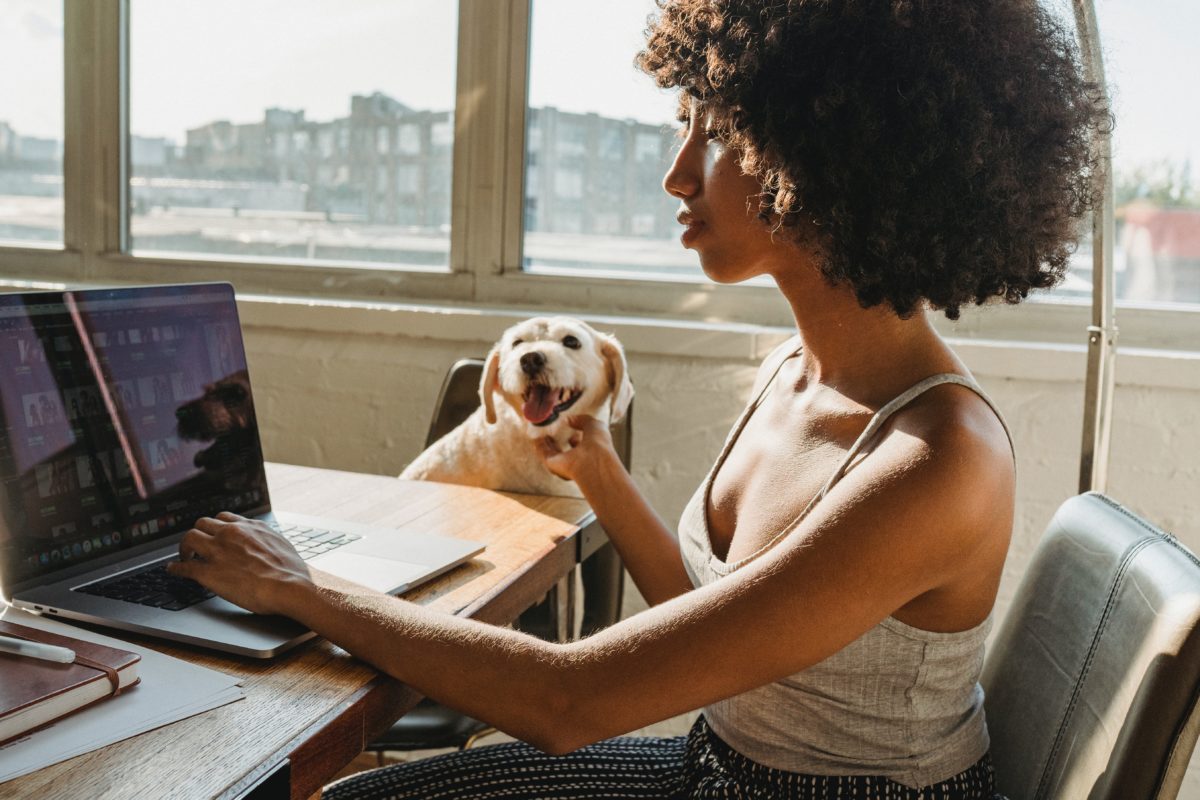 Research indicates that canine co-workers can help to reduce workplace stress
The job of office dogsbody was once the least desirable position in a company, consisting mainly of menial tasks. However, with the increase in the number of workplaces opening their doors to canine co-workers, the role's responsibilities have evolved into greeting guests, being fussed and stroked, eating biscuits, and having rather a lot of power naps.
Office dogs are good for business, which is why some of the world's most forward-thinking companies are already well-established pet-friendly employers. Google, Uber, Amazon, Etsy and Airbnb not only accommodate employees' dogs in their head offices but actively encourage them with a variety of pet perks from 'pawternity' leave when getting a new pup to designated play areas and even employee badges for canine workers.
There has been a great deal of research carried out over the past few years into the mental health advantages of having dogs in the workplace and the results just can't be ignored. It has been proven that dogs actually have the ability to change human hormones in a positive way.
Read more: 5 tips on creating a dog-friendly workplace
In 2019, Washington State University found that just 10 minutes spent stroking a dog is enough time to make a significant reduction in your cortisol level – the primary stress hormone. With 17.9 million working days lost in Great Britain a year due to stress, depression or anxiety, minimising stress for workers is a win-win situation. In 2018, Nationwide in partnership with the Human Animal Bond Research Institute (HABRI) found that 85% of employees in pet-friendly companies rarely take a day off work for wellbeing reasons compared to 77% in non-pet-friendly companies.
As well as reducing stress, dogs have been proven to increase employee happiness by raising human oxytocin levels. This is the hormone – sometimes referred to as the 'love' hormone – that controls aspects of childbirth and milk production, and the feelings of love and attachment that bond mothers to their babies. This is why a close bond with a pet can feel as strong to some people as the bond with a child.
A 2015 study conducted by three collaborating universities in Japan revealed an increase in oxytocin in both human and dog during interaction, which would suggest the feeling is mutual! As pack animals that were domesticated over thousands of years to be man's best friend, dogs are generally happier going to work with their owners than spending their days home alone.
Read more: Research finds design is one of the most dog-friendly industries to work in
All this feel-good office atmosphere makes for happier, more motivated employees who are less likely to look for work elsewhere. The Nationwide/HABRI study also found that 90% of employees in pet-friendly workplaces felt fully engaged with their work compared to less than 65% of employees in non-pet-friendly workplaces.
As anyone who's ever walked a dog on their own will know, they are a social lubricant and make the perfect ice breakers. If you're with a dog, people will nearly always stop to chat to you – it's a great way to make new friends! As there is no warmer welcome than a waggy tail, dogs make great colleagues, particularly in workplaces where visitors need to be put at ease. However, dogs are not everyone's cup of tea and, as it's estimated that dog and cat allergies affect 10-20% of the population, careful consideration needs to be made before flinging open your doors to four-footed workers.
It is also sensible for a pet-friendly company to draw up a list of guidelines for those wanting to bring their dogs into work so that everyone is aware of what is expected. Owners should agree to certain levels of hygiene for their pets, use appropriate parasite prevention, ensure vaccinations are up to date and confirm basic training for good behaviour.
The advantages of having dogs in the workplace are many and varied but a pet-friendly office will only be a success if everyone is happy – including the dogs. Be honest about your working environment and how well-suited it is to canine workers and ensure any visiting dogs are content so that the experience is rewarding for all.
Image by Samson Katt, Pexels
As featured in OnOffice 156, Autumn 2021. Read a digital version of the issue for free.