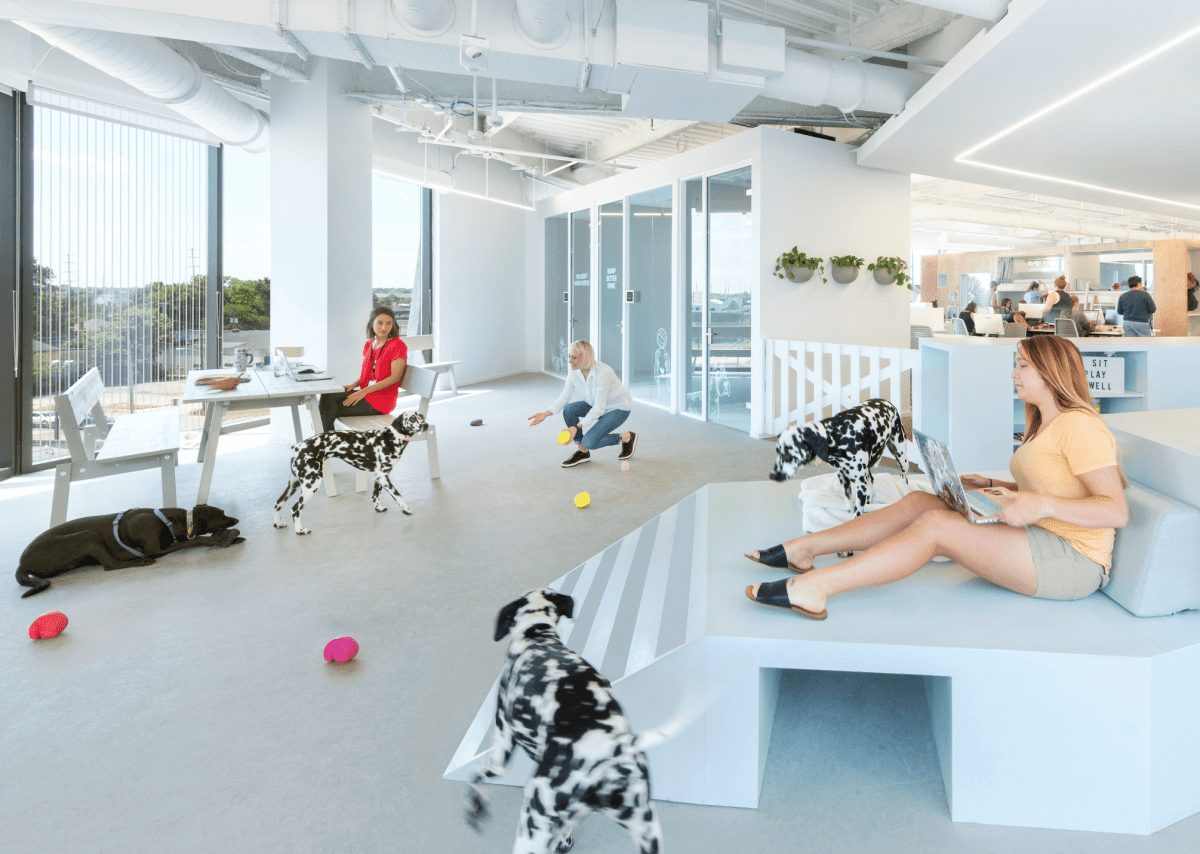 As workers head back to the office, Britni Stone, Interior Designer/Senior Associate at NBBJ, looks at how workplaces can better accommodate our four-legged friends
One the most significant social outcomes of the Covid-19 pandemic is a rise in dog ownership. Many benefit from having pets keep them company while working from home, but what happens when more employees start returning to the office?
Prior to the pandemic, 'bring your dog to work day' was a regular occurrence for companies such as Amazon and pet subscription company Bark. Now with the vaccine roll-out underway and an expected increase in companies trying to accommodate new pets, we outline five design ideas to help with this transition.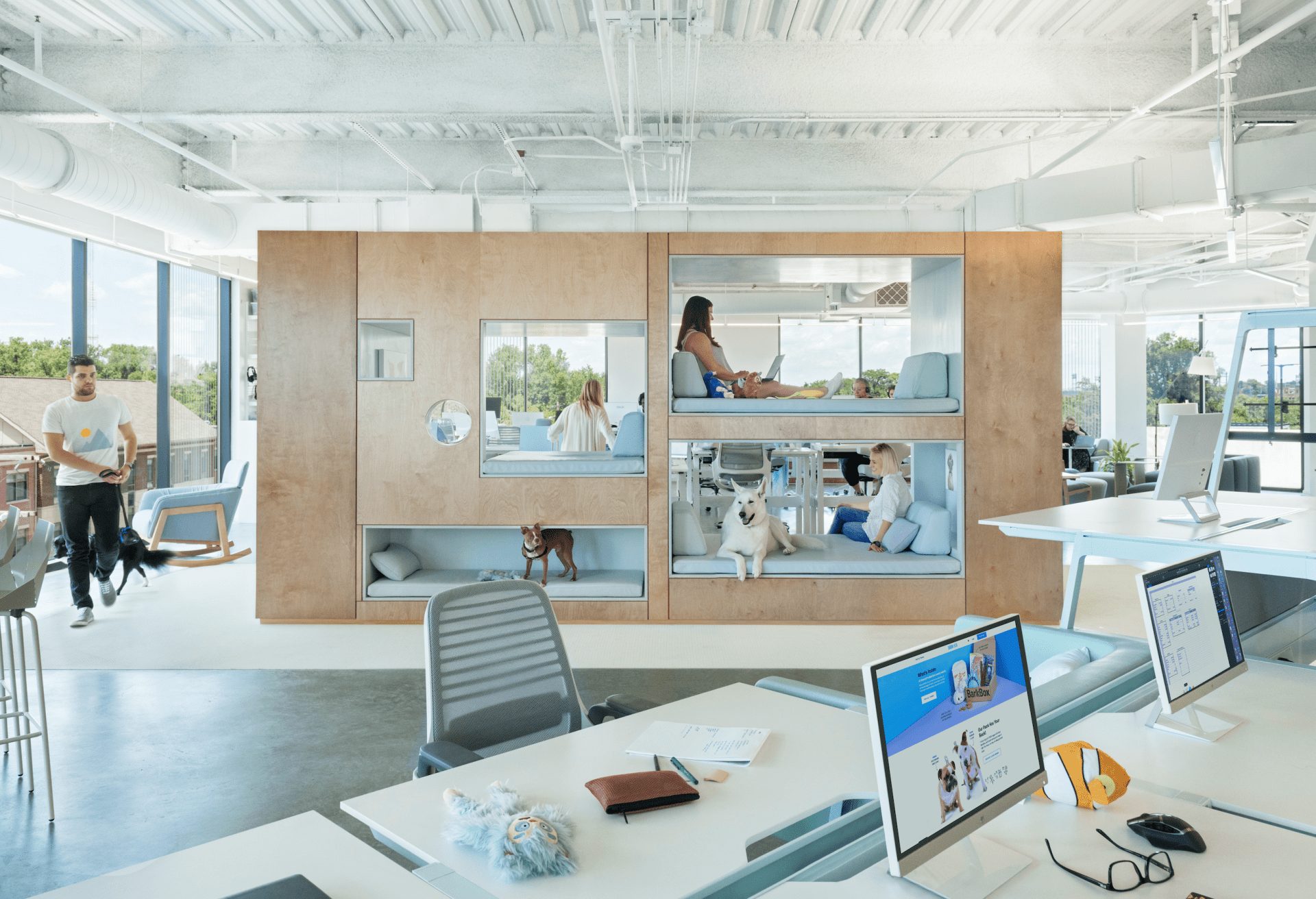 1. Scale
First and foremost, it's important to consider height. Workplaces that prioritise amenities for employees can also do so for dogs, just placed a bit lower. Looking at a kitchenette, for example, one strategy is to design integrated water bowls into islands at 'dog-drinking' levels. This designates a specific, contained area for water bowls that is easy for four-legged friends to use.
Respite, collaboration, and informal meeting spaces are now a staple in workplaces. It is important to design these areas with dogs in mind. An example is the 'amenity bar' at Bark's Columbus, Ohio, office. This feature allows employees to curl up in a nook and work on their laptop, with lower lounge areas for their dog to climb in nearby.
For meeting rooms with glass partitions, it's easy for dogs to get distracted by movement and other activity happening outside. One design strategy is to add a frosted or opaque film at ground or dog height to alleviate pup distractions. This film is normally specified at human seated eye height but by extending this to be lower, both humans and dogs are accounted for.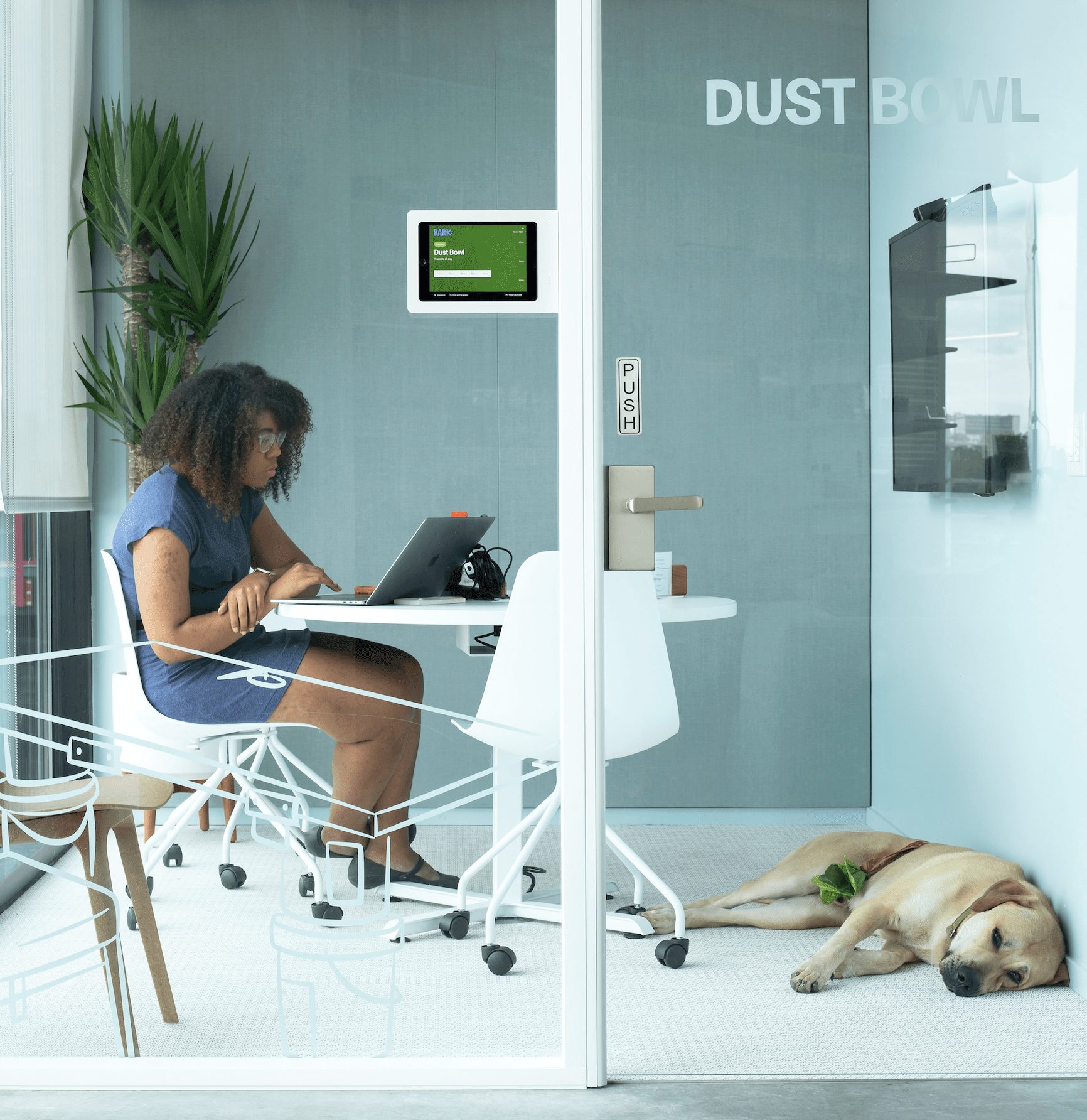 2. Details
For pup-friendly offices, provide locations to hang dog leashes. With dogs being accident-prone throughout the day, it's common for dog-inhabited offices to enforce a leash rule to help alleviate this issue and any additional distractions pups may cause. Place these leash hooks near desk space to help employees focus on work while properly looking out for their pooch.
When working from home, dogs follow their owners around. To ensure the owner is able to work productively at the office, furniture systems can be selected that include not only desks, but also built-in lounge chairs. So, while a dog-owner works, their furry friend can lounge beside them.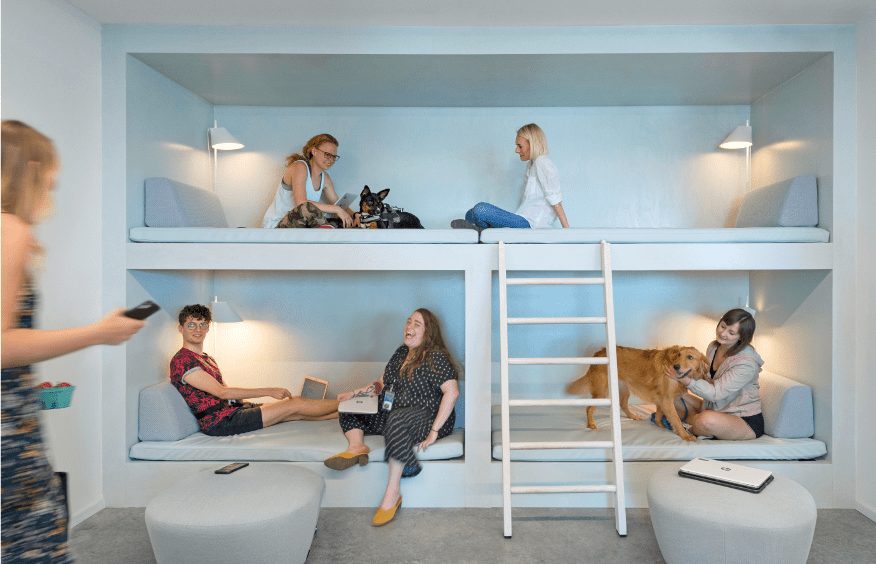 3. Durability
Some companies have upward of 1 dog for every 10 employees in the office on any given day. To ensure appropriate maintenance, source materials that are impervious, bleach-cleanable, removable, and washable. Hard flooring products on the market can maintain desired aesthetics but with the durability to withstand liquids penetrating the surface.
Additionally, when sourcing upholstery for millwork and furniture items, look at adding Nanotex and Crypton technology to the textiles. This treatment blocks liquids from seeping through the surface without compromising the comfort of textiles. As a bonus, these coatings are also stain, bacteria and wrinkle-resistant.
If topical solutions alone aren't enough, when designing lounge spaces, make sure any upholstered item is removable. This allows for a quick wash or easy replacement.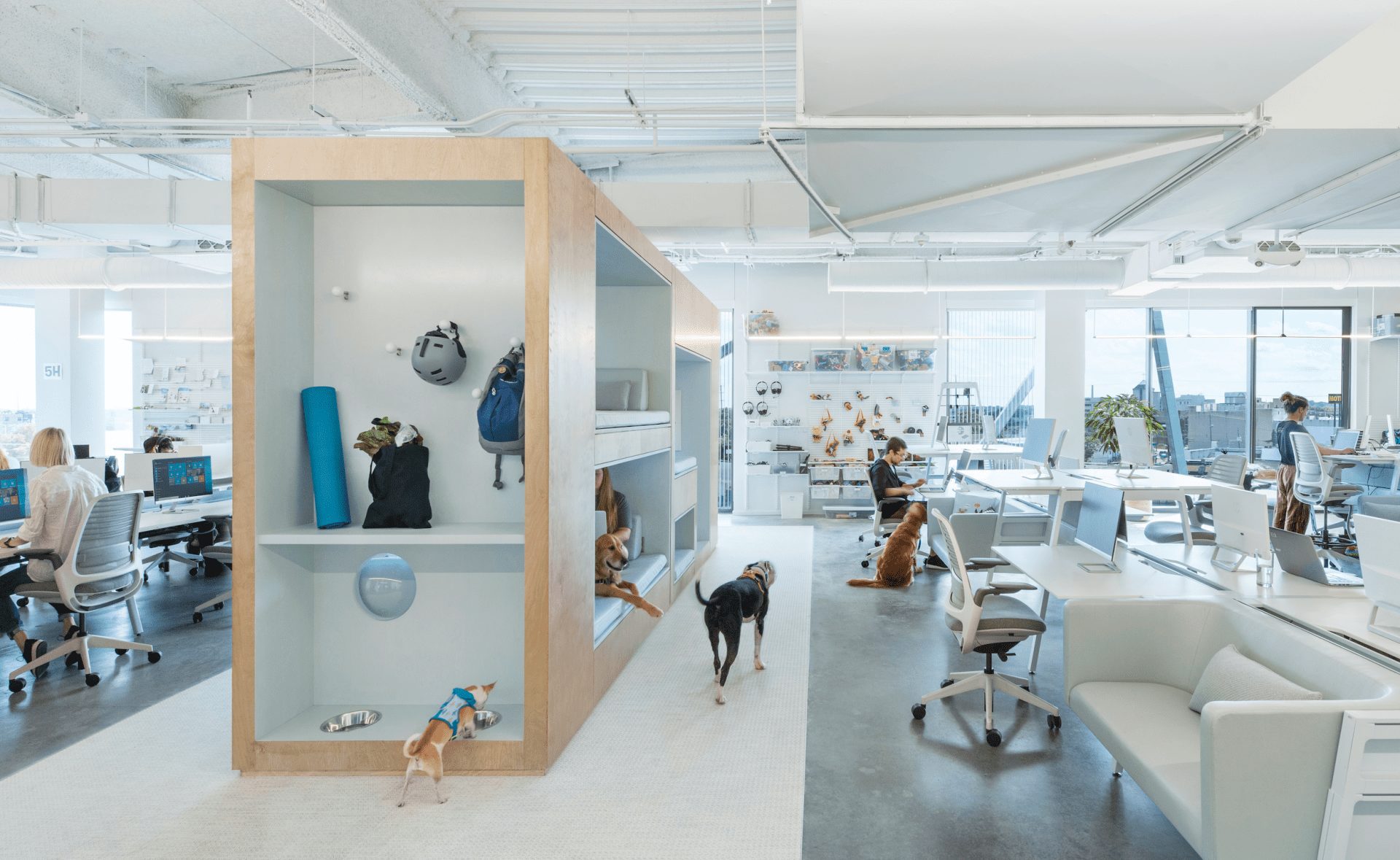 4. Play
When employees are stuck working like a dog, there needs to be a dedicated space for dogs to play within the office. One example is a 'pup play area' equipped with platforms and integrated tunnels where dogs can run.
For more rowdy pups, be sure to strategically locate a co-working zone nearby so the owner is free to work while keeping an eye on their dog. These co-working zones double as a workspace to alleviate a large number of people in open office post pandemic.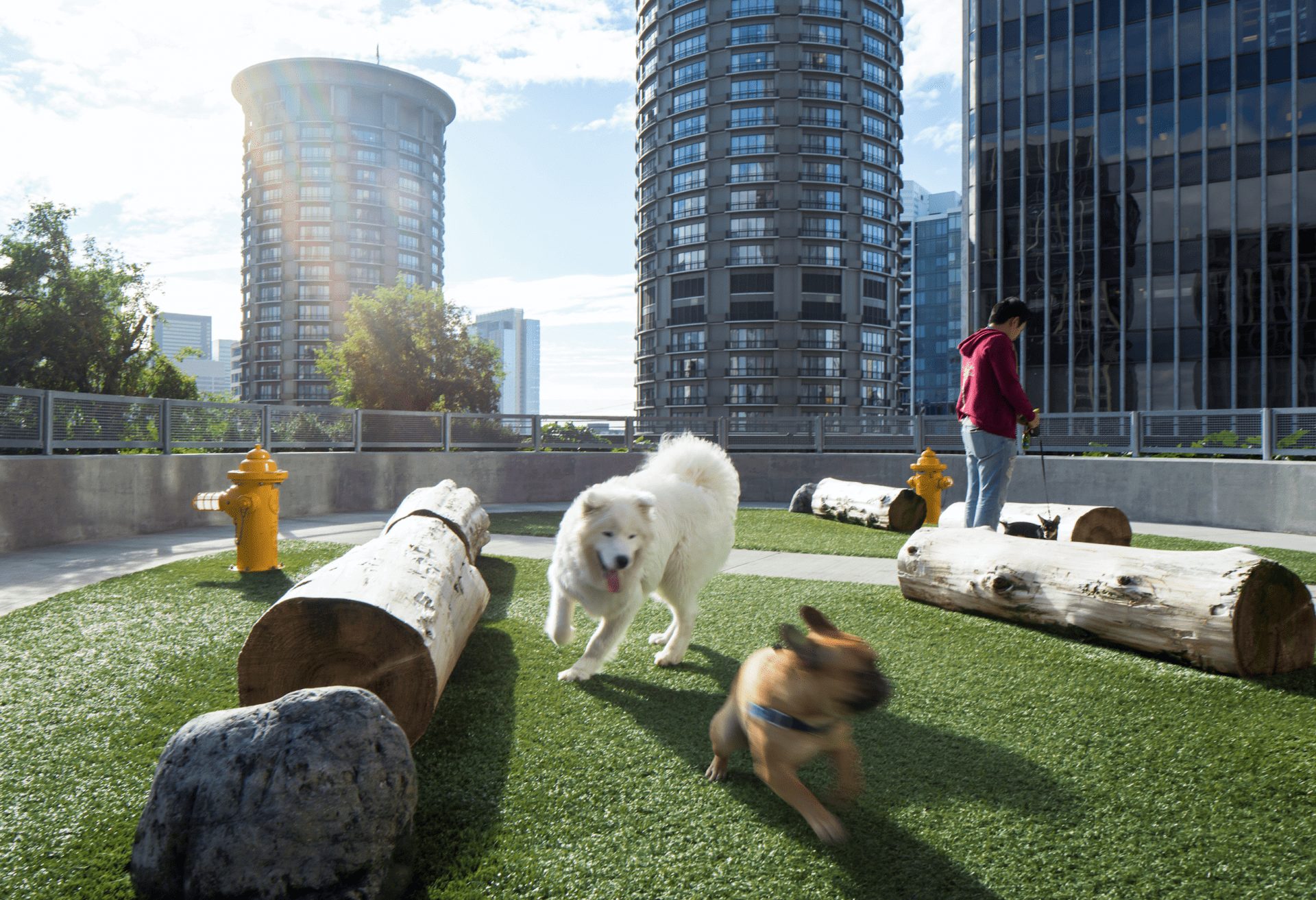 5. Outdoors
Allowing for an outdoor dog park or adjacent green space when looking for the perfect tenant lease is fundamental when dogs are in the workplace. This outdoor space is a good way to let pups get out in their natural habitat, play with other canines, and release energy without having to go too far.
Additionally, the outdoor dog park is just as beneficial for people as it is for dogs. The pandemic has escalated the time humans spend outdoors; a silver-lining to general wellbeing. Research from NBBJ's Applied Research Fellowship Program with developmental molecular biologist Dr. John Medina shows that healthy individuals are more engaged and empowered, which in turn has a direct impact on their overall performance at work. When transitioning back into the office, it is good practice to keep a similar, healthy routine. Space should make you (and your dog) move. Who doesn't love a classic game of Go Fetch?
It may be a dog-eat-dog world, but designing a successful workplace for pandemic pups has direct employee benefit: it can potentially boost office morale, attract and retain top talent, foster community and entice employees back into the office while reducing stress levels. With happiness-boosting oxytocin levels elevated by the presence of animals, they are arguably, the cutest addition of wellbeing in the workplace. So, design with dogs in mind, not an afterthought. It's officially time to throw out the 'no dogs allowed' signs.
Images by Chuck Choi, Sean Airhart (Bark and Amazon in the Regrade Rooftop Dog Park, Seattle)