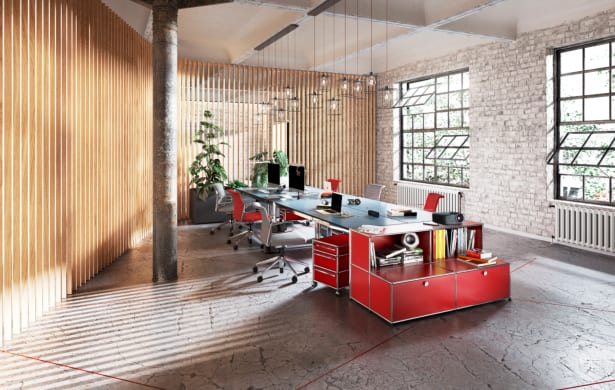 The Swiss design classics are available for 3D software modelling
PROMOTIONAL FEATURE
USM has published some of its iconic furniture models to the BIMobject cloud, opening up a world of possibility for architects, designers and engineers developing office plans.
The virtual world
For architects and office designers, 3D modelling is one of the most useful tools in the box. The ability to drag and drop and visualise layouts and furniture virtually and to construct a visual model is now at the core of how many people work.
BIMobject is used across the world for projects ranging from major construction to interior design, and the range of tools on offer are perfect for countless professionals around the globe. Swiss furniture designer USM has now joined the content platform, which has over two million users.
Swiss design classics
USM's modular furniture ranges run the gamut from privacy panels to the innovative desks and tables of the Kitos collection. There's also the noted Haller collection, recognised as a design classic, a work of applied art and is part of New York's Museum of Modern Art Design Collection.
The range, launched in 1965 as a collaboration with Swiss architect Fritz Haller, has made itself a beloved fixture in offices, workspaces, public spaces and even homes. It utilises basic elements to create useful but stylish furniture, and now it's accessible on BIMobject.
Using USM on BIMobject
The USM products and files on BIMobject will allow designers who utilise software such as AutoCAD, Revit, 3ds, SketchUp, ArchiCAD, Vectorworks and more to factor them into their 3D models for current and future office projects. With USM modular furniture forming a key part of many major and noted architectural projects, it's no surprise that it's debut has proved popular – there were over 6,000 downloads worldwide in April 2020, the first month they were available.
To discover more about business information modelling with USM furniture, visit USM online.
Photographs courtesy of USM