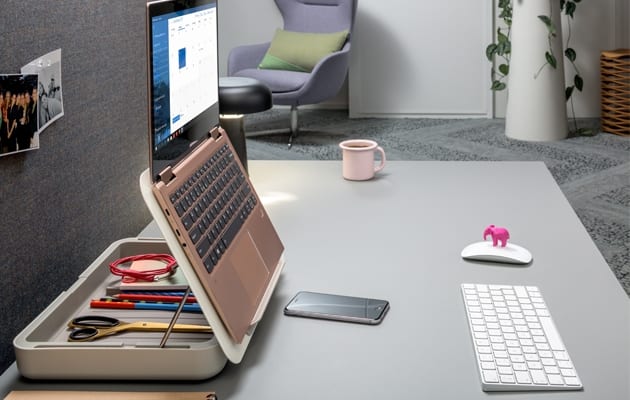 The Bento toolbox with a laptop|||
Agile working, hot-desking, activity-based working… It's no longer the future of workstations; for more and more people it's today's workplace reality. But besides the company culture benefits it brings, this new work environment also presents challenges, and even dangers, in terms of ergonomics, efficiency and productivity.
New ways without the old malaise
Creating the right physical environment for a new way of working requires more than just reconfiguring the desks and chairs and telling people to sit where they can work most efficiently. As most of us know, when working at those desks and chairs you need to ensure your posture is good in order to avoid aches, pains and more serious problems with your back, neck or shoulders.
That good posture is achieved through what Dataflex calls the ergonomic 'golden triangle'. The triangle's three pillars are made up of the chair, desk and monitor arm, with each pillar helping determine your posture in relation to the other two. Learn more about the golden triangle.
The bigger picture
Setting up workstations or offices ergonomically is a challenge, and though there are some excellent general guidelines available, like these on posture, how can staff ensure their workstations are set up right if they're constantly changing desks and working off laptops?
Dataflex tries to look at the bigger picture when it comes to office interiors, and has been developing products with flexible workstations in mind for years, earning awards in the process. The firm's ethos is all about providing for flexible working while protecting the health of the team using the space.
Good posture, even with a laptop
When hot desking, most people quickly set their chair to the right height, but then spend the day crouched over their laptop, which is obviously very bad news ergonomically. The Viewlite Plus monitor arm helps to overcome this issue because it can be continually adjusted and repositioned to suit users of any shape or size, and also has an additional optional mount for your laptop or tablet.
Plug and go
Another downside to hot-desking is the hassle of compatibility issues and the time it can take to get all your devices plugged in, working and charging. The Link desktop docking station is one simple solution to this. A plug-and-play USB-C docking station that connects any brand of USB-C laptop to both external displays and your office data network. Just grab a desk, plug in and you're fully connected.
Every workplace is your desk
Agile working is great in principle, but not if you can no longer make a space fit the way you like to work. The Bento set of office accessories has been designed to deal with that. The Bento toolbox is a notebook and tablet stand, in-line document holder and personal storage box in one — resulting in a very clean desk. Equally, the Bento monitor riser keeps your monitor stable and provides a storage space for your Bento toolbox.
"We have been selling products to improve workplace ergonomics for over 25 years and the need for individual adaptability has never been more significant. These products, and others from the Dataflex portfolio, address the requirements of agile workers and help us keep them comfortable, healthy and productive," says Guy Osmond, managing director at Osmond Ergonomics.
For more information, visit Dataflex online
Nicola Horn
Sales Manager
M +44 7730 1262 67
[email protected]