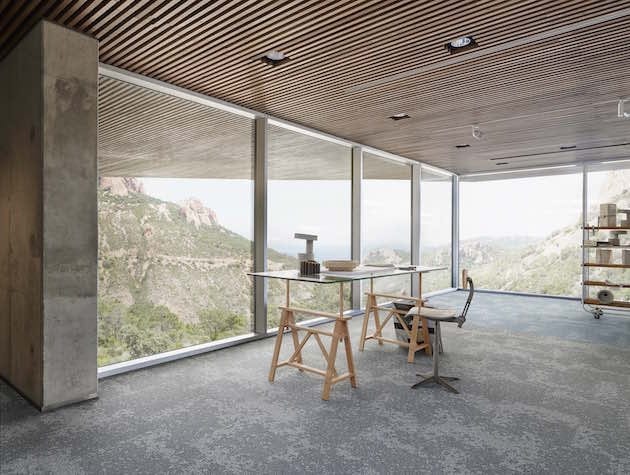 |||
From a panorama of an agricultural field to a flower seen from the perspective of the smallest insect, the planet's beauty and fragility serve as dual inspiration for Tarkett's latest DESSO carpet collection, Human Fascination.
Capturing abstract designs that echo the shapes and colours of nature – Arable, Breccia, Flores and Granite – are made to allow commercial designers to take the look of the natural world inside. Each range of carpet tiles within the flooring collection has a distinct identity, yet unmistakably draws inspiration from the great outdoors.
Breccia is inspired by the combination of marble and sea-weathered rocks, and Granite has a rawness inspired by the rock's surface, while Arable is grounded in sun-scorched agricultural landscapes and Flores mirrors fresh fields of flowers.

Image: DESSO Flores
Bringing the outdoors in
The concept of Human Fascination was born from Tarkett's extensive research into the benefits of bringing elements of the outdoors into commercial interiors.
In the company's report, Rethinking Workplace, indoor air quality was highlighted as being the biggest worry for UK office workers – placed above issues relating to aesthetics and noise. Nature-inspired decor was highlighted as the second most popular style. This has been a key consideration for Tarkett across all of its products, which seek to improve indoor environments with wellbeing in mind.
Ludwig Cammaert, design and technical development director for DESSO carpets at Tarkett, explained the inspiration behind the range: "Elevating the details uncovered in materials viewed both close-up and from an aerial eye – from raw rock and stone through to opulent, smooth marble – we've captured the planet's alluring and fragile qualities to produce abstract designs grounded in reality. The resulting flooring collection is the perfect addition to workplace interiors, thanks to its engaging design and impressive eco credentials."

Image: DESSO Breccia
Designed to preserve and protect
Offering a varied colour palette that ranges from rich tones to fresh, revitalising hues, the collection tries to combine the most appealing elements of both natural and man-made environments. However, Tarkett also understands that these qualities – unique to the natural world – must be protected.
With this in mind, all products within the Human Fascination collection are Cradle to Cradle® Silver Level certified and include Tarkett's 100% recyclable EcoBase™ backing, made from a minimum of 75% recycled chalk from the local drinking water industry.
In addition, the products are made with ECONYL®, a 100% regenerated nylon yarn made from recovered waste materials such as discarded fishing nets and carpet yarn from the Tarkett Refinity facility.
With its eco-conscious production processes and reusable materials, Tarkett aims to create healthier spaces with sustainable flooring that benefits both people and the environment.
Delving beneath the surface
Tarkett is inviting visitors to Clerkenwell Design Week to discover more about Human Fascination. Between 21 and 23 May, the Great Sutton Street showroom will be transformed into 'The Great Indoors'.
Offering a packed programme of panel debates, workshops and parties, Tarkett will bring to life the benefits of introducing nature into indoor spaces. Its team of expert designers will also be on hand to share the creative inspiration behind Tarkett's latest ranges and activity.
Sign-up to Tarkett's events at Clerkenwell Design Week here, and for more information, visit the Tarkett site.