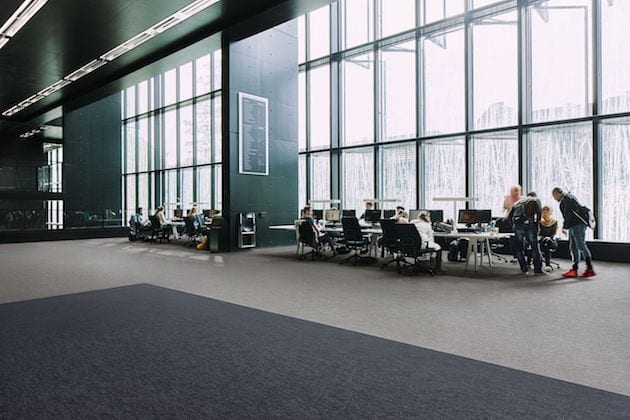 |||
The industry now places far greater emphasis on how buildings and interiors can improve the health and wellbeing of end users. As such, the introduction of smart products are helping to create more positive and sophisticated interiors.
Our knowledge and understanding of the way our buildings impact us has evolved tremendously. Ensuring a workspace includes the latest products and technology to improve productivity, employee satisfaction, health and wellbeing is vital – especially in offices, where employees spend hours each day sitting at their desk.
With this in mind, manufacturers are now designing products to enhance the performance and perception of interiors. For example, the new Flotex Colour collection from Forbo offers the warmth, comfort and acoustic properties of a textile, combined with the practical and hygienic benefits of a resilient.
There's a science to creating Flotex: it's a smart floor covering which is built to last, can enhance the performance credentials of any interior workspace and is even suitable for raised access floors. Inspired by smart cities and urban landscapes, it provides ultra-low VOC emissions, zero phthalates and has been awarded the prestigious Allergy UK Seal of Approval™.
Offices also require an uplifting and inspiring design to stimulate and motivate employees. The good news is that there is no compromising style for functionality when it comes to this revitalised collection. Available in sheet, tile and plank formats, it offers a vast spectrum of 96 shades and five unique designs to choose from: Metro, Penang, Calgary, Savannah and new to 2019, Canyon.
From softer, tone-on-tone shades to rich and vibrant colours, the hues found in the Flotex Colour collection have been inspired by the colours found in cities and urban landscapes around the world. Indeed, there is no denying that certain cities have their own mood and identity, whether it's the bright neon hues of Tokyo or the darker, more gritty shades of New York; every city has its own unique colour palette.
With the Flotex Colour collection, specifiers can draw on a floor covering portfolio that provides all the design freedom necessary to create beautiful and health-focused interiors that help people to thrive.
For more information, please visit Forbo Flooring
Chloe Taylor, Flotex Product Manager at Forbo Flooring Systems, explains why wellbeing is central to the company's new products