Forbo finds the key to a healthy working environment with their textile and resilient modular flooring solutions
As people begin to transition back to the office, the physical design of workspaces is being scrutinised; businesses are now wanting to blend the boundaries between work and home to help employees feel more relaxed and at ease, which in turn should positively affect an employee's productivity, health, wellbeing and satisfaction.
As such, taking a holistic approach to commercial office design is key for Forbo. From reducing impact sound, to improving air quality and thermal comfort, as well as being instrumental in the overall interior décor, floor coverings play a significant role within an office. What's more, as the open plan format of offices continues to evolve, floor coverings can also help to define and zone the various areas found within them, such as break out areas, kitchens, meeting spaces and workstations.
With this in mind, it is important to consider solutions that can be installed side by side without the need for transition strips, additional profiles or inconvenient sub-floor build-ups, to help create an integrated workspace design.
For example, in main office areas, carpet tiles not only provide comfort underfoot, but can also reduce impact sound and improve acoustics within the space. Whereas the use of high-quality luxury vinyl tiles (LVT) is perfect for areas that require a more sophisticated look and feel, such as in reception areas and breakout spaces. And luckily, the two of them can work side by side. In fact, the tackified installation of Forbo's Allura Flex LVT means that the high quality, dimensionally stable tiles can be easily installed alongside its Tessera carpet tiles.
Forbo's Allura Flex collection comprises 65 designs in material and realistic wood designs. Replicating the natural beauty of its genuine counterpart, the wood designs feature a natural colour variation and in-register embossing structure to emphasise the texture of the material for a truly authentic aesthetic. The special backing construction also offers extra comfort and improved sound reduction while proven technology, such as Forbo's PUR® wear layer, allows for easy cleaning.
Designed, manufactured and stocked in the UK, Forbo's Tessera carpet tile range is renowned for its aesthetic styling and its outstanding performance in the most demanding, heavy traffic environments. The range offers attractive and hard-wearing tufted carpet tiles in various pile constructions and textures, designed to deliver specific aesthetic and performance benefits.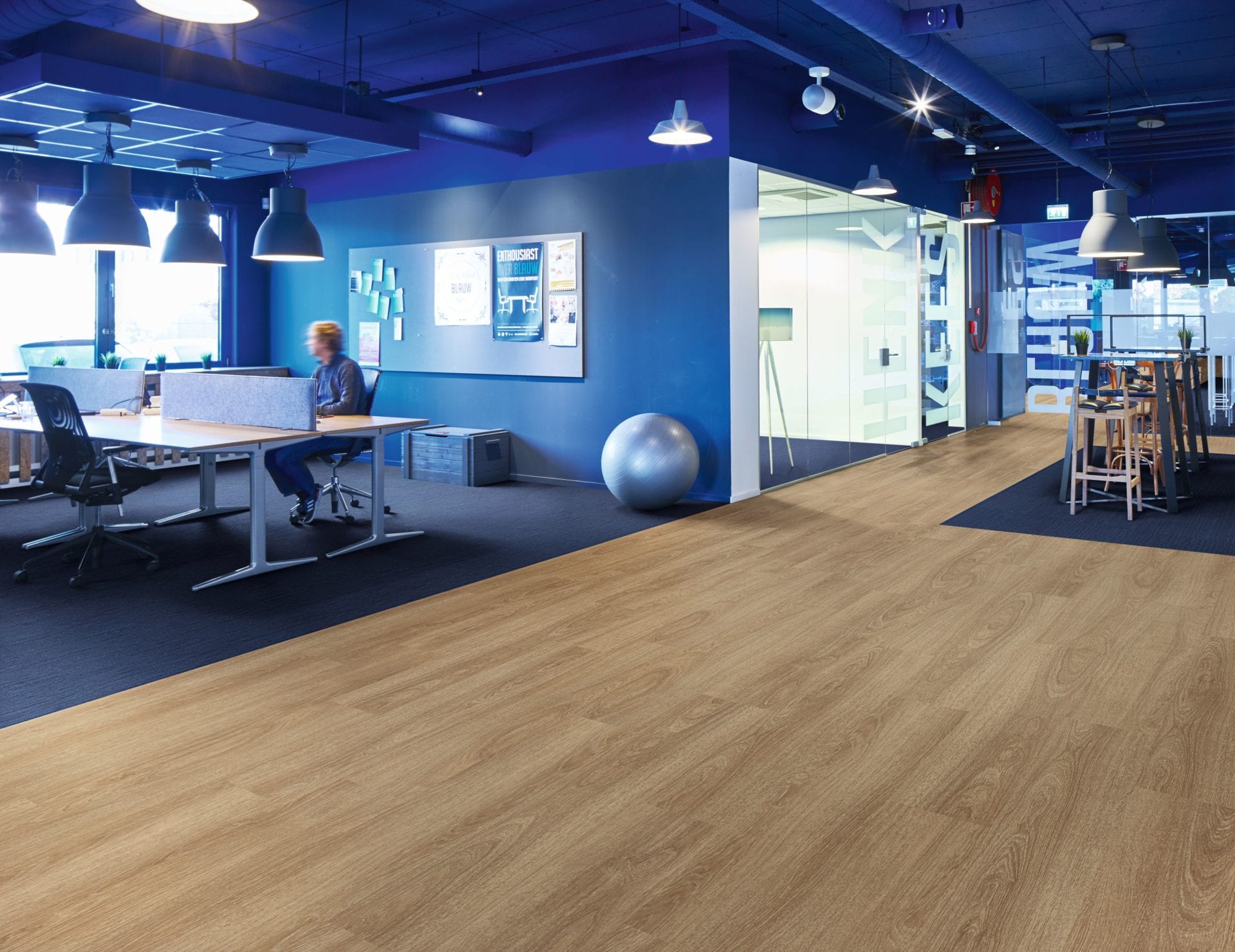 Forbo understands that a holistic approach to commercial office design is important, which is why its design team has created a comprehensive portfolio of textile and resilient modular flooring solutions to help specifiers create high-quality and fully functional spaces.
For further information about Forbo's office portfolio or to download its office brochure, visit forbo-flooring.co.uk/office
All images courtesy of Forbo