Bring teams together in-office and from remote locations with a freestanding, mobile, cable free unit with integrated TV mounting bracket
The latest in the ThinkingWall range of multi-function freestanding walls on wheels from Logovisual is the ThinkingWall Mobile Acoustic AV – now with battery power.
The ThinkingWall Mobile Acoustic AV features space to mount a TV of up to 50 inches that will run on the built-in battery for up to 6 hours. With no trailing cables, the mobile wall can be positioned anywhere, even where there is no power supply. A battery powered option is particularly useful in spaces where it is difficult to route electric cabling to the centre of the room, for example in historic buildings. No wall socket or floor box is required to use while running, and when the day is over it takes around 8 hours or overnight for a full recharge.
Surrounding the TV mounting space is 12mm acoustic panel made from a minimum of 65% recycled PET, available in a choice of colours. Built in USB and HDMI ports make it easy to connect a webcam, speaker, or external storage device. The reverse is drywipe and magnetic whiteboard, ideal for collaboration sessions or display.
The AV unit is designed to complement the rest of the ThinkingWall Acoustic range, which includes the Mobile Freestander, Acoustic Curve, and Acoustic Shelves. The design aesthetic is sleek and modern, with sculptural ridged acoustic panel and simple low-profile base with exposed ply edge finish. Each unit is fitted with sturdy, lockable castors making it easy to move into position to reconfigure space, and it will even fit into a standard passenger lift.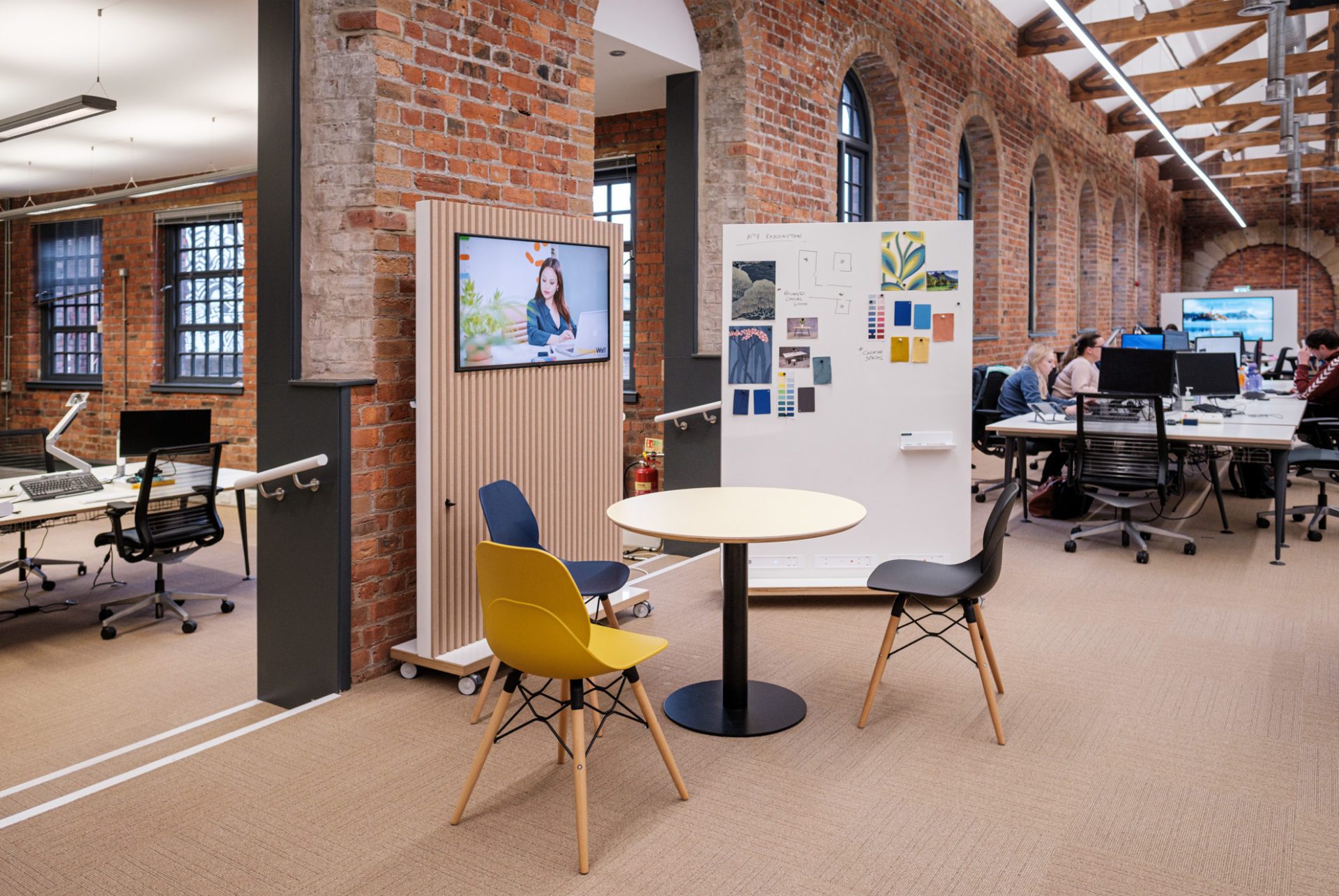 Logovisual have over 25 years' experience in designing and developing collaboration furniture including visual thinking and planning systems. The ThinkingWall® wheeled units are built to order to incorporate a host of practical features such as dry wipe surfaces, storage, full or part acoustic panels, shelving, and digital connectivity.
As a smaller company, Logovisual has always been able to be nimble, and design of a new product from concept to manufacture takes a few months, not years. Led by the needs of our clients, we have continued to develop visual thinking and planning solutions that support a wide range of processes, from time management to production planning to organisational transformation.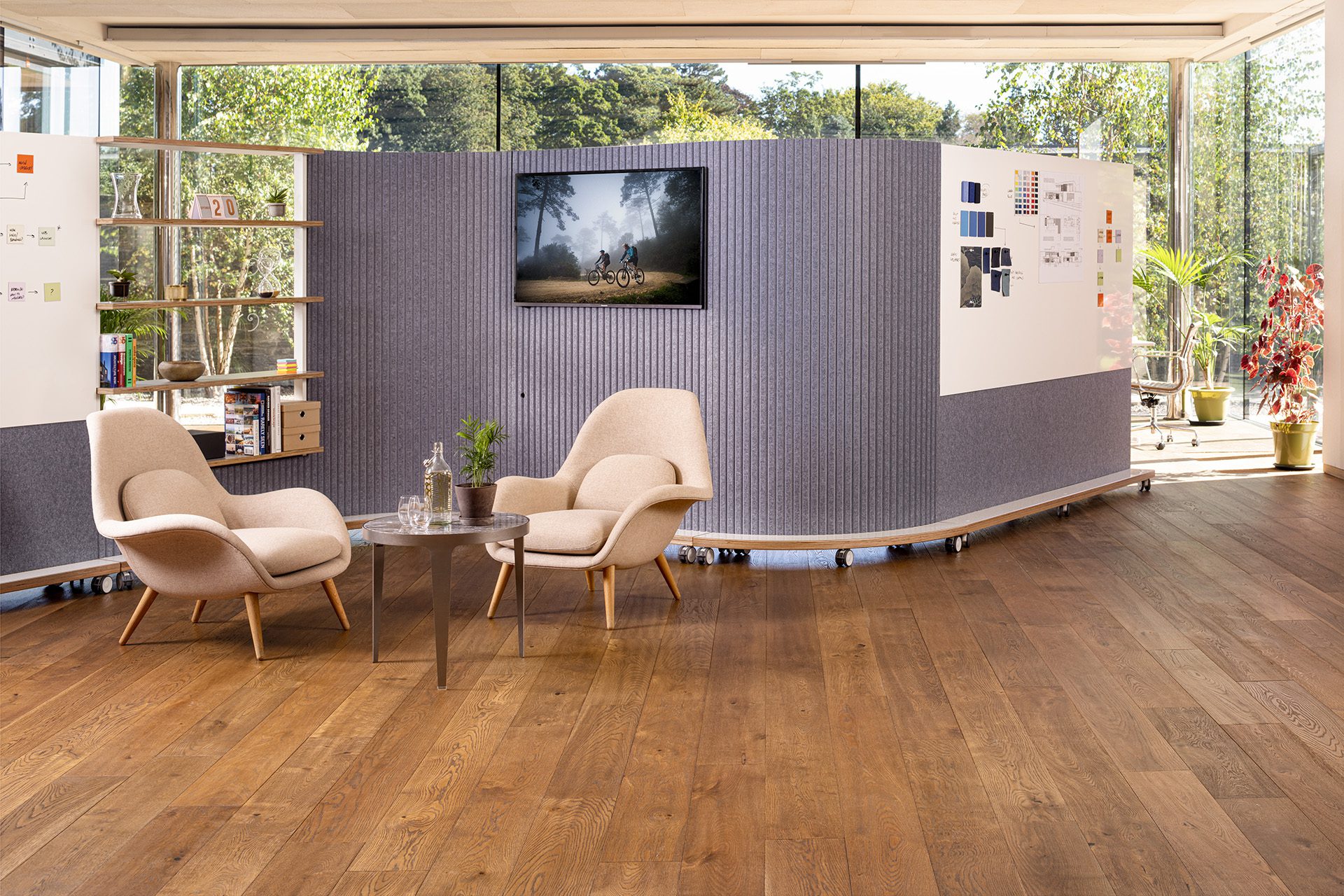 There is a real desire currently for flexible, adaptable furniture solutions that are quick and easy to move around by teams themselves. This includes options that are powered, whether it's a charging station that can move to where people are seated or something larger like a digital screen. One of the common challenges for teams is how to bring together those who are office based and those who are working elsewhere, and how to create collaboration zones that encourage interaction but maintain privacy. The ThinkingWall mobile acoustic range provides solutions to both problems as the units create a temporary wall, deliver acoustic privacy, and offer a digital connection to remote team members.
Logovisual will be showcasing the ThinkingWall® Mobile Acoustic AV alongside other products in the range at Clerkenwell Design Week in London from 24th – 26th May 2022.
For further information, visit Logovisual.com
All images courtesy of Logovisual