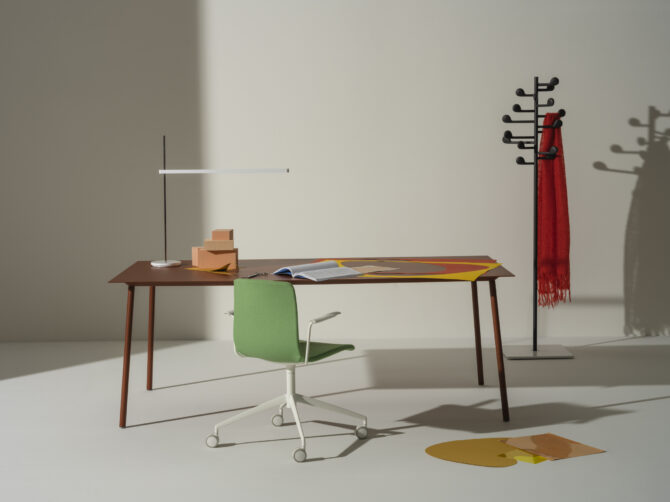 Italian design brand Arper presents its programme for the 14th edition of Clerkenwell Design Week from 23 – 25 May
Returning to celebrate the creativity of EC1, Clerkenwell Design Week will take over the area with a series of showroom events, exhibits, and unique installations.
This year, Italian design brand Arper presents its new 2023 collection by Ichiro Iwasaki, García Cumini, Doshi Levien and Antti Kotilainen, for the first time on display in its Clerkenwell Road showroom.
An engaging programme of events will bring the Arper showroom to life, offering visitors interesting insights and exciting networking opportunities.
Arper Roopa and Shaal. Photography by Salva Lopez
On Tuesday 23 May the Clerkenwell Road showroom will host its Opening Night Party, celebrating the start of Clerkenwell Design Week with an evening of drinks and music.
On Wednesday 24 May the Arper showroom will be home to From Concept to Client: The Sustainable Product Journey in Practice, a panel discussion exploring environmental impact in furniture moderated by OnOffice Magazine editor Kaye Preston.
The panel will feature Ana Rita Martins, Senior Associate and Sustainability Lead at Woodalls and Phil Towle, Head of Sustainability and Supply Chain at The Furniture Practice, in conversation with Arper Head of Sustainability Andrea Mulloni.
Arper Aava. Photography by Salva Lopez
The newly restyled Clerkenwell showroom will also explore today's life and its complexities, proposing solutions that inspire beauty, energy, and vitality, and offering a new perspective that is summed up in the concept of Life Is Beautiful.
Beauty is often misunderstood as superficial and secondary to today's challenges, yet it can also be a deep and rich quality that encompasses our hope for the future. For Arper, beauty is more than aesthetic; it is versatile, generous and enveloping. Beauty is living, and is what motivates the brand to make spaces and solutions that serve the project of living.
Visitors to the Arper showroom can discover Life is Beautiful while immersed in a selection of fluid settings designed to reflect everyday life activities in an energetic, vital and colourful way.
Arper Semiton. Photography by Salva Lopez
Latest 2023 collections on display include:
Ralik by Ichiro Iwasaki: Ideal for both commercial and residential settings, Ralik is a fully modular system with elements that can be used in conjunction or apart, as life demands. Available modules include pouf, seat with backrest, and bench, plus a family of side and end tables provide structure and surface for working or relaxing. Elegant and easy, Ralik celebrates how fluid beauty can be.
Semiton by García Cumini: Endlessly customizable and finished on all sides for nomadic use, Semiton is an adaptive piece that adds structure, surface, and storage to any space – from contract to home settings. Different shelving and storage modules along with a broad range of finishes provide almost infinite configurations, that can be expanded with further modules in order to adapt to different needs and demands. Whether used as a surrounding structure or striking centerpiece, Semiton offers beautiful possibilities.
Roopa by Doshi Levien: A simple, joyful form, the Roopa side table celebrates small, significant details. Essential shapes form a sculptural signature that can live comfortably with Shaal or other Arper collections in both public and private lounge spaces. Thoughtfully finished with an attention to surface and texture, the contrast between matte frame and high gloss table top is both playful and sophisticated. Its impact is simultaneously pragmatic and iconic, a beautiful companion for life.
Arper Semiton. Photography by Salva Lopez
Shaal by Doshi Levien: Beauty is the ability to relax. Structured and soft, Shaal was inspired by the feeling and form of a warm embrace. The Shaal sofa collection extends its comfort and capacity. With the addition of a chaise, daybed and ottoman, the modular Shaal collection is even more attentive to the ways we live. Whether watching a movie or connecting with colleagues, Shaal offers enveloping support for every situation.
Aava 02 by Antti Kotilainen: The classic minimalism of the Aava chair looks forward with new sustainable materials. Made from both a durable and beautiful post-consumer plastic and virgin polypropylene in a new palette of colours designed to complement other Arper collections, Aava 02 offers a responsible model that has our future at top of mind, creating beauty for the generations to come.
Find out more and RSVP here
Photography courtesy of Aper