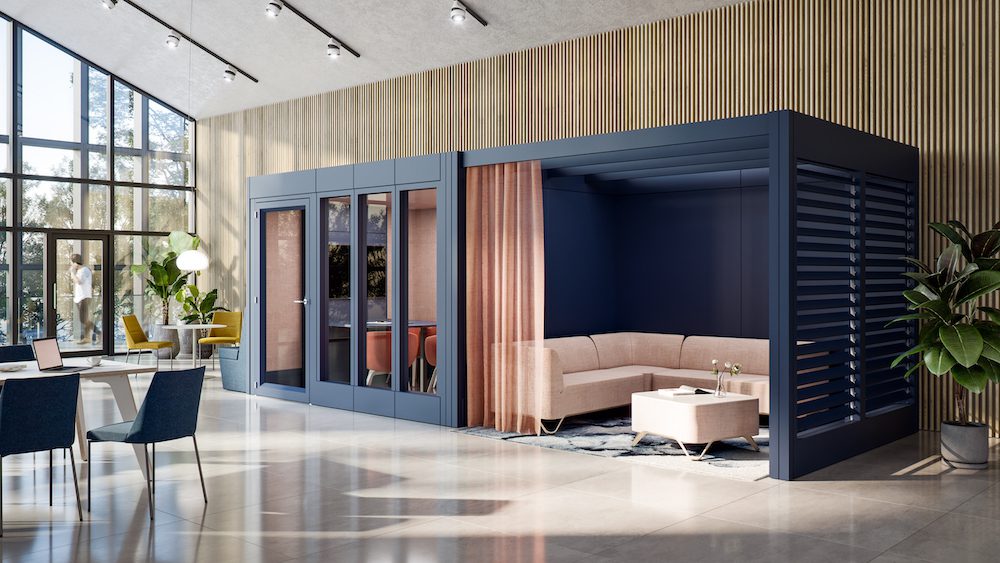 Spacestor's Verandas workspace system is the meeting room of the future
Verandas is an engineered architectural room system that is inherently sustainable, incorporates massive design choice and is curated for the future. Materials have been sourced carefully and innovation has been applied to create unique and patented sustainable solutions.
Over the last year, Spacestor has been speaking to global leaders and gaining insights through their Insights live panel discussions into the needs of the future workplace. These included remote and hybrid working, more collaborative spaces, provisioning for individual needs, more sustainable and inclusive products, and flexibility. Verandas was born out of these needs to address the meeting room problem of today, providing a highly flexible, sustainable and design-focussed solution.
As we're investing in our future, our traditional meeting rooms are becoming a challenge; they are expensive, fixed, full of materials which are difficult or impossible to recycle and are totally single-use – when dismantled, the meeting room is simply thrown away. Along with this, leases are getting shorter, spaces are changing faster – it's as if we are living out one giant workplace experiment! What's more, top talent is influencing this new agenda and a clear demonstration of responsible sourcing and due diligence is required to meet expectations of the most environmentally conscious workforce ever.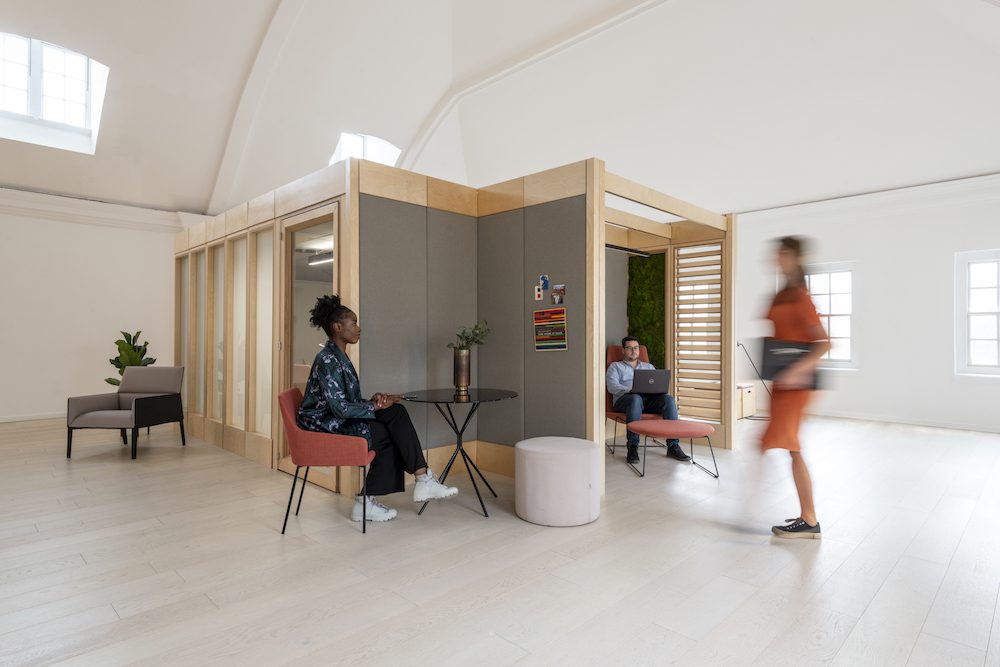 With Verandas, every single element apart from the acoustic seals can be reused again, not only reducing wastage and therefore money, but saving anything from going to landfill. The construction is a highly adaptable and modular way of creating space division, collaborative and social settings, as well as incorporating accessories and customisation. High levels of modularity are integrated into the construction of the product, meaning each room variant can be dismantled and rebuilt with ease and at high speed by the in-house facilities team. The entire assembly process can be completed using only hand tools.
The room design is based around a 600mm/24 inch modular frame, which forms the foundation of the build. At each joint, intermediate vertical structural posts allow cross-walls to be built off at any point. Verandas boasts a patented flexible acoustic seal technique, unique to Spacestor, which allows for installation on uneven floor surfaces without losing the acoustic integrity of the room. Avoiding the need to level out the subfloor means Verandas can be deployed in all existing buildings without disruption and construction work.
Verandas' electrical solution has been designed to be as flexible and future-proof as possible, and the unique frame and cable route design allows for power and data points, or third party devices such as smoke detectors (wired or wireless) to be accommodated in almost any area of the room, inside or out. In addition, the modular plug-and-play 'power plinth' enables the standardised location of power sockets at skirting level throughout the room.
The Verandas kit-of-parts is so much more than a meeting room. By activating the external walls using additional architecture and add-on accessories, you can really maximise the possibilities it brings to your workspace, catering to multiple working styles and needs. Spaces for focus-working, meeting privately, brainstorming, scrum working, chilling out or catching up informally are all catered for with the Verandas system.
Easy customisation using the Spacestor customiser in addition to a huge array of finish options and design choices allows you to create a look that is totally bespoke and yet built on a scalable framework. We'll meet you on the Veranda, wherever the Veranda is today.
Find out more about Spacestor, here.
All images courtesy of Spacestor