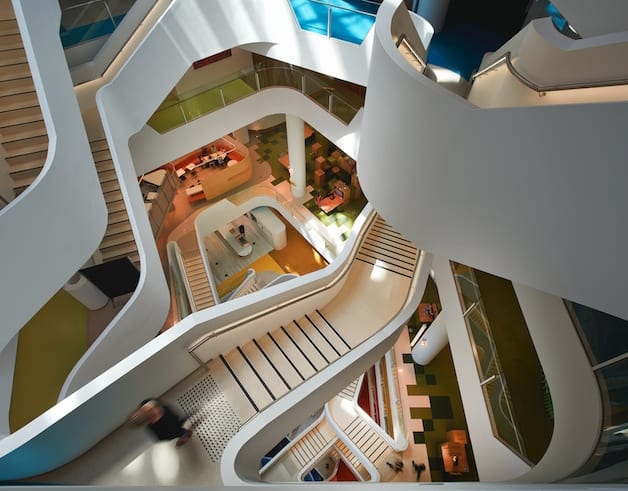 Medibank Place, Melbourne|||
What designers can learn from getting an international perspective on design.
Having worked in office design across the globe including Asia, the Middle East and Europe, I've found Australia to be a decade ahead in its attitudes towards workplace design compared to the rest of the world. 'Agile-working' became a trend in Sydney and Melbourne in the 2000s and today around two-thirds of Australian organisations work in this way.
There are a combination of factors that contribute to Australia's innovative approach to workplace design, some related to the built environment landscape, and others cultural. In terms of the built environment, shorter leases in Australia reduce long-term risk, and allow a more willing approach from tenants. Australian corporate businesses tend to have relatively flat hierarchies, and a direct style of communicating, whereby designers and decision makers are able to have frank conversations about the brief, make decisions that can be actioned swiftly, and, crucially, avoid getting too bogged down in bureaucratic processes.
The LendLease office uses biophilic design to provide a sense of nature. Photo by Nicole England
As an island nation, I also like to think we are outward looking, early adopters, keen to see what design innovations are taking place elsewhere in the world and looking at how to make these our own. At Hassell we strive to deliver the large-scale innovations that will give an organisation an edge in the way that it operates and constantly look at ways to incorporate relevant thinking from around the world. For example, with the demand for new ways of working in the UK on the rise, we apply the combined strategic insights from projects like these with creative design to unlock the social, cultural and economic value of projects for clients in the tech, legal and finance sectors.
In Australia it's not the tech companies or the startups necessarily leading the way in workplace design but instead Australia's largest employers, where wellbeing plays an important role in their corporate culture. Below are two examples that demonstrate Hassell and Australia's approach to workplace design in a corporate setting, showing what an open-minded approach to workplace design can achieve for a business and the wellbeing of its employees.
Medibank Place, Melbourne
Medibank Place uses colour in inventive ways throughout. Photo by Earl Carter
This new workplace was part of a major cultural change programme for Australia's largest health insurer Medibank – its aim was to live its purpose to the core and create better health outcomes for its members, employees and the community. That aspiration drove Medibank to create one of the healthiest workplaces in the world, one that goes beyond conventional Activity-Based Working (ABW) to create Health-Based Working (HBW) – an approach that places the mental and physical health of people at its heart.
The outdoor games area is one aspect of the focus on health at Medibank Place. Photo by Earl Carter
Medibank employees have real freedom to choose how and where they work. With laptops and mobile phones in hand, Medibank's people can now select from more than 26 types of work settings, ranging from indoor quiet spaces and collaborative hubs to Wi-Fi-enabled balconies and places to stand and work. Circadian lighting in certain areas of the workspace mimics natural daylight patterns supporting people's biorhythms. Employees who want a more vigorous workout within the workplace can also make use of a multipurpose sports court at ground level.
Lendlease, Sydney
Lendlease Global wanted to create a dynamic, high-performance workplace that exudes energy; a place where people want to be, where they feel inspired and where collaboration comes naturally each day. Hassell was engaged to design a new, agile workplace for the international property and infrastructure group, facilitating greater connectivity and team-based working for 2,000 people from five different locations, while prioritizing health.
The LendLease office uses soft furnishings and breakout spaces to help provide a sense of wellbeing. Photo by Nicole England
Within the workplace, employees are not tied to an individual desk. Instead, they belong to a 'team studio' or 'neighbourhood' of 15 to 20 people. Each of these zones has immediate access to a wide range of functional spaces for everything from group brainstorms to tasks requiring quiet concentration. Diverse spaces include 'working walls' for visual communications and 'pods' for quiet work. Health is also a priority throughout the project; dual internal stairs through all 11 floors promote constant movement and interaction, garden zones at the perimeter of every floor form a working 'retreat' full of greenery and natural light, and the project features Australia's first breathing wall, with 5,000 plants, literally forming the heart and lungs of the office.
Matthew Blain is Principal and Regional Leader at Hassell
Getting an international perspective can help inform workplace design for the better