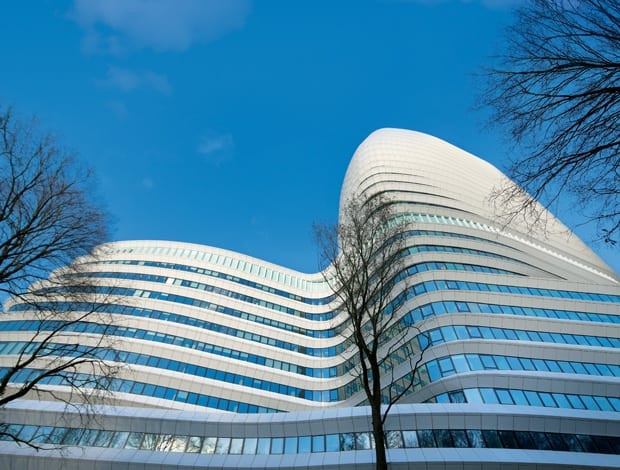 UNStudio's energy-efficient landmark|The circular ceiling elements are acoustic dampeners, and also integrate sprinklers and lighting|Sharing common space between the two government agency occupants reduces costs|Curvy interiors bring inside some of the soft lines of the building's exterior|Flexibility was key to the brief: this could be converted to housing in 50 years' time|Stuttgart's Mercedez Benz Museum: "People love to stay here and they love to come back"|La Defense offices in Almere, the Netherlands|Galleria Centercity, a recently completed South Korean retail space||
UNStudio's curvy new public sector building for Groningen has been called the greenest in Europe – but its creator still doesn't want to call it "sustainable architecture"…
Nestled in a patch of parkland in Groningen, the Netherlands, sits a new office building that has been touted as one of the greenest in Europe. It's certainly one of the most flamboyant. The 92m-tall tower, designed for the city's Education Executive Agency and Tax Office, has the sort of aerodynamic expression generally reserved for pavilions, museums or modern churches – not sensible offices built during straightened times. The structure's undulating curves, accented by horizontal fins flowing across the facade, do their bit to liven up Groningen's skyline, no doubt. But there is a lot more going on here than a pretty series of shapes.
Commissioned by the national buildings service as part of an expansive public-private partnership initiative, the complex provides 31,000sq m of office space for a whopping 2,500 employees as well as parking facilities for 1,500 bicycles and 675 cars, and a public garden.
"It's more about the organisation of the building than the form," clarifies architect Ben van Berkel, co-founder of UNStudio, the prolific Dutch practice that has delivered contemporary classics like the Mercedes-Benz museum in Stuttgart and the Galleria Centrecity in Korea.
"Who cares about whether it's a box or a blob?" he asks.
Well, arguably it would be easier to ignore if it was just another box.
According to the press materials, part of the idea was to soften the image of the two institutions housed within the building, to make them appear more "human".
But even though some of van Berkel's work echoes the fluidity of Zaha Hadid, his portfolio of buildings is not so obviously connected by one architectural language. A lot of it is sculptural but there isn't a visual brand, so to speak.
"You can find it in the work," he says. "When I say 'who cares about the box or the blob', it's because it's the transformative aspect of the architecture that is much more fascinating. It's not minimalist or highly expressionist or organic, it's playing with connection."
Van Berkel is on the phone from New York – he's there for the public opening of UNStudio's New Amsterdam Plein & Pavilion, another sculptural number, albeit on a much smaller scale.
"Of course in Groningen we wanted to make a less square-y office building, but it was the elements we used for technical and sustainability reasons that granted us the opportunity to make a softer building," he explains.
For example, the exterior fins – a defining feature of the design – provide shade during the summer and then bounce light back inside during darker months. They also stop the wind from free-flowing down the building and damaging the surrounding woodland. But the overall softness of the design is down to the asymmetrical base, which echoes the landscape with its subtle twisting and turning. Van Berkel says the challenge was to create some sort of connection to other high-rises in the heart of Groningen at the same time as being sensitive to the natural surroundings on the site.
"I wouldn't like to say it's a natural form, but it's picking up some of the principles of the aerodynamics of the wind in its natural context and its urban context, so it's a lot of things coming together," he says.
A number of design innovations inside the building have helped to lower energy costs and material consumption, which, along with flexibility, was the foundation of the brief (and is also at the heart of UNStudio's general design ethos).
For a start, the floor-to-ceiling height has been compacted from 3.6m to 3.0m (meaning a total reduction of 7.5m on the entire building) – made possible by ditching the typical raised floor, suspended ceiling set-up; instead, services are embedded in the concrete core, teamed with underground long-term energy storage. Light sensors respond to daylight, and natural ventilation is circulated via a high-pressure system.
"We learned from hospital design that this is a much healthier way of circulating air. It's not person-to-person but floor-to-ceiling, so it's very clean," says van Berkel.
The fact that the building accommodates two different agencies meant there was also scope for a bulk of shared common space at the junction between the two – another advantage in terms of reducing materials and construction costs.
But what really stands out about this project is that it's flexible enough to be adapted into housing with hardly any structural change – stairs and lifts have been carefully thought out and a structural grid of 1.2m (versus the usual 1.8m for offices) has been used. It's a building model more developers should consider, says van Berkel.
"It's been a concern in Holland over the last five years. We have millions of empty offices. UNStudio has been involved in rethinking existing office buildings but it's almost impossible to do," he says. "The regulations around fire escapes are so badly organised in the way they're connected to housing that it becomes cheaper to demolish the whole building than to renovate."
Still, despite so many green victories achieved with the EEA & Tax building, van Berkel is reticent to label it "sustainable architecture".
"Sustainable architecture has been fragmented. There might be a green roof or a green facade, but we wanted a fully integrated, intelligent system," he explains, siting the ventilation system as an example of what he means. "It isn't solely driven by energy reduction. It shows how the intelligence of nature, healthy strategies and the economics of the energy cost can be combined in a full system. That is where the key to the design is to be found."
"I've always wanted to create architecture that fascinates, that you want to come back to"
In some respects, the industry needs more research before "sustainable architecture" becomes a completely redundant phrase.
"Right now, I find it difficult to convince a client that it's more economical to be sustainable," says van Berkel, "but I can prove that if you bring down floor height by 30 per cent, you will lower costs by about 20 per cent," he enthuses. "There needs to be a full understanding of the technological possibilities, otherwise you can't make sustainable architecture work."
Van Berkel, 52, has been honing his approach to buildings since he started his Amsterdam-based architecture practice in 1988 with colleague Caroline Bos (they met while both studying in London). Since then the firm has grown to more than a hundred people (after changing its name to United Network Studio in 1998 as a celebration of what could be achieved with computer technology) and has developed an architectural language all of its own, although van Berkel might call it more of a philosophy that keeps shifting and changing.
"I've always wanted to create an architecture that fascinates, that you want to come back to, so it's difficult to give it a style or a language," he says. "If you look at the development of our work, there is a phase where we used colour; there was a phase we were geometrical or mathematical; now it is a more operative and technologically innovative phase celebrating science and art. Its very difficult to put your finger on it, funnily enough," he chuckles.
This is evident in the diversity of UNStudio's portfolio – from museums, bridges, houses, office buildings, masterplans and theatres through to furniture and exhibitions.
The philosophy running through them all, says the architect, is innovation, as well as an equal dose of pragmatics and intuition.
"In the modernist era, we said functionality and aesthetics make good architecture. Today it is more technology and utilities that make the architecture connect to the new. It can also flirt with art and production design and fashion, science and philosophy. We can extend the profession so much more because of the new tools and techniques we have," he says. "The turnover of what we produce is high," van Berkel continues. "But often architects don't take the responsibility to communicate, and architecture needs to communicate. Take the Mercedes Benz building – people love to stay there and they love to come back. It means communication and interaction," he asserts. "Architecture needs to make social public constructs, it needs that to be successful."