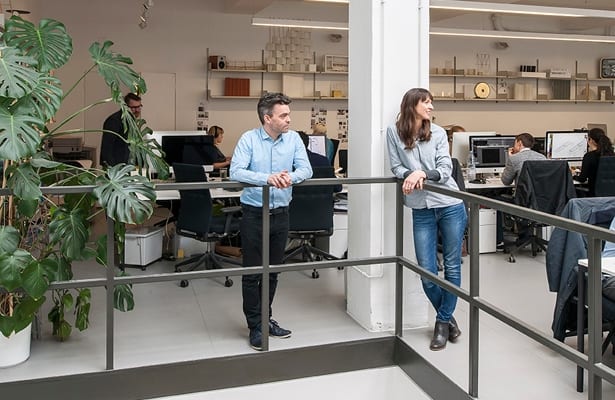 Jason Holley and Hannah Carter, owers at Universal Design Studio's recently remodelled HQ||
You can always find a story somewhere, you just have to go looking for it," says Hannah Carter Owers, summing up her nose for history and narrative. It's a skill that Universal Design Studio (UDS), the interiors and architecture firm Carter Owers co-directs with Jason Holley, has tuned to a fine art over the last 14 years for clients such as The Science Museum, fashion brand Mulberry and Ace Hotel (which she's describing above), designing spaces that tell tales of heritage and personality through materials. Holley puts it down to the company's own roots in furniture design, having been founded by Edward Barber and Jay Osgerby in 2001.
"That influence of making and materiality flows throughout. We make things at a human scale. Even if it's a big building, it starts with the things people touch, the details."
Staff from the three companies are separate, yet with some shared resourcesRecently the firm has expanded its London headquarters in Shoreditch, which it shares with sister firms Barber & Osgerby (the original product and furniture studio) and Map (a strategy-led industrial design firm, also founded by Barber and Osgerby), and in doing so has created a labyrinth-like workspace – complete with a secret tunnel – befitting the idiosyncratic firm.
The building faces on to Charlotte Road and Curtain Road, arteries at the heart of the east London district, itself steeped in furniture-making history. Inside it is the physical opposite of a single-storey, open-plan office, with a warren of rooms – big, small, light, dark – all joined together haphazardly. Yet it works.
The three firms under its roof are keen to exist independently to avoid being seen as a one-stop-shop, but there's a lot of unofficial knowledge-sharing and dialogue between them, says Holley.
Still, some projects inevitably see the firms working together; for example, Map and UDS
Russian super-computer BESM-6, in the Science Museum's Information Age gallery collaborated on The Science Museum's Google Web Lab exhibition, a digital laboratory of interactive instruments and robots connected to the internet. The two firms worked with interactive design studio Tellart, digital agency B-Reel and graphic designers Bibliothéque on the year-long show.
This building creates division while allowing for interaction, meaning the different disciplines can pick up tips from a wider pool of expertise.
"I think this building has really helped communication," says Carter Owers, "because you're forced to move. You go to find a material or make a tea, meet people you don't sit next to, and talk about projects. That has a knock-on effect on your own work.
'Warm' materials such as copper have been used in the Information Age gallery
Around 40 UDS staff occupy a newly extended ground floor space on the Charlotte Road side, with a huge skylight and tall glass doors bringing lots of natural light. Open stairs lead to a materials archive in the basement, crammed with remnants of projects gone by and trials for works in progress, which is a constant source of inspiration for designers in all three companies.
This adjoins a small kitchen/diner and a prototyping workshop, also shared by everyone – but used by UDS particularly to mock-up smaller details or models of a project, to make its ideas tangible to clients.
When pitching for a landmark museum facade renovation, which they recently won (but is still very hush-hush), Carter Owers says other architects came with "big visions and large gestures" while UDS made prototype door handles and "got totally distracted talking about how a door handle feels in your hand," she laughs. "But that was our clincher, because it was thinking at a human level, the immediate experience for the individual."
Behind a door in the materials library, a tunnel leads to the Curtain Road side of the building where Barber & Osgerby and Map are based in smaller studios, connected by a new glazed facade. Back on the Curtain Road side, the upper floors house large, light-filled meeting rooms, characterful in their exposed brick walls, wood floors and large original windows. Every inch has been squeezed to make this building work hard for its inhabitants.
"It was really important for us to stay here, it's where we feel most creative," says Holley of the renovation, "so it was about trying to find a way to make the most of it."
Space, light and craftsmanship in Mulberry's office
UDS established its name with Stella McCartney's stores in London and New York, and is known for working with handbag purveyor Mulberry since 2008, designing its stores worldwide as well as its London headquarters. Meeting the demands of these luxury fashion brands can be no mean feat, but UDS' obsession with the intricacies of materials and small-scale crafted details has proved a worthy match.
Looking through past work, the directors point out tiny features – leather drawer pulls, the stitching on a door, butterfly joints on timber shelves – that demonstrate the minutiae they go to. On a larger scale, Carter Owers refers to Mulberry Bond Street, where, to convey the brand's British provenance (particularly Somerset, where the factory is based), the practice commissioned West Country builders to construct a dry stone wall in store.
Likewise the Mulberry headquarters employs rich leathers, wood and brass to express Britishness, craft and heritage in a modern way. Though retail dominated the portfolio early on, and continues to flow in with recent projects for Hardy Amies, H&M and Selfridges, after a few years the team made a "concerted effort to diversify".
Exhibition design seemed a natural step, and many design devices were transferable, Holley says, such as storytelling and how to guide visitors through a space. UDS won several temporary exhibition commissions for the Natural History Museum, the British Library and the V&A before scooping its first permanent installation, the Information Age gallery at the Science Museum, which The Queen famously opened in October 2014 with her first ever tweet.
The Science Museum's interactive Google Web Lab
The gallery explores the history of modern communications, a vast subject matter that entailed sifting through thousands of items and picking out the ones that told the best stories. Its spatial design follows a town square concept centred around the huge Rugby Tuning Coil (an instrument in 1920s radio transmission that resembles a giant spider's web) surrounded by a landscape of architectural elements intended to "try to slow people down," says Holley. Warm materials such as wood, rubber and copper are used, to give a natural feel and defy expectations of how a technology exhibition should look.
A few years back, the practice also starting gunning for hospitality work, which eventually arrived in
Ace Hotel is a place to work as much as a place to stay the form of the Ace Hotel, now a Shoreditch landmark. As Carter Owers was explaining earlier, the "faceless" original building offered little inspiration in materials or architectural detail, but after some digging UDS revealed it was once the Shoreditch Empire, which gave the project "new foundations".
Thanks to Ace, the hospitality sector is now opening up too, with small outlets for Fortnum & Mason recently completed, and a hotel in Stockholm (in which Barber & Osgerby is also involved) in progress. Next up is the workplace.
Ace Hotel is a place to work as much as a place to stay"Some people would describe Ace as a workplace with rooms attached," says Holley. "Because the way people use the city is changing, we're now having very interesting conversations with developers behind mixed-use workplaces."
Soon to complete is a massive new workplace development in Portugal (also top secret, but the list of collaborators is star-studded), where UDS is creating a communications lounge – a multi-functional space where people can connect and interact in a variety of settings.
Though the project is fairly new territory for UDS, the practice has applied its same dedication to materials and storytelling, aiming to capture those intangible feelings that have defined the atmosphere in many previous projects.
"It's difficult to measure but you start to understand what makes a great space, what speaks to you and has a strong character," says Holley, "and the effect that has on everything you do. You have to have that emotional connection."
Storytelling and a focus on materials at a human scale have won Universal Design Studio clients such as the Science Museum and Mulberry.
From the expanded HQ that the interior design firm shares with sister companies Barber & Osgerby and Map, it is writing its own compelling narrative