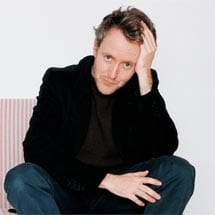 Celebrated as the whizz kids of European design, Ronan and Erwan Bouroullec will have eagle eyes watching their every move in Milan next month. Kerstin Zumstein visits the brothers in their Paris studio to uncover a new direction and the mystery of their simple complexity.
The meteoric rise of French designers Ronan (35) and Erwan Bouroullec (30) has earned them a remarkable reputation and ongoing commissions from the most stylish design brands. Only last year they launched the beautiful Facett chair for Ligne Roset, the experimental North Tiles showroom for Kvadrat, Vitra's new office products at Orgatec and a transparent container for Kartell. It was in 1997, a decade ago now, that the brothers first met Italian design manufacturer Giulio Cappellini at the Salon du Meuble in Paris. Collaborations followed, as did attention from international design masters. Today they are a permanent fixture on the industry's hot list.
When viewing pictures of Ronan and Erwan, my impression was that they were very similar, but on meeting the brothers I found them to be completely different to each other. Ronan is dressed smartly and comes across as self-assured and a little cheeky; Erwan is pale, thin and thoughtful – and smokes like a chimney. It's only when holding a camera up to them that they morph into that natural ease between siblings that brings the family resemblance to the surface.
"Hmm, workplace design," broods Erwan, considering the term that is also the strapline of our magazine. "Our aim is to de-specify furniture, create multi-task products. Take Joyn for example." When the brothers designed the Joyn office furniture system for Vitra (manufactured in 2002), they found that most office interiors were dealing with technology in the workplace by replicating its image with shiny metallic surfaces, "looking like machines". "Like robots," continues Erwan. "We wanted to reset the iconic language of workplace design by saying we are designing a table, not a table for work."
The brothers' early experience working with Cappellini and fashion maestro Issey Miyake – for whom they designed a shop interior in Paris in 2000 – played a part in their introducing fabrics such as fluffy wool to traditionally grey and flat worktops. "We were virgins," Ronan says. "We had never worked in an office ourselves or designed anything for that environment, so we followed our intuition. Creativity blooms with a fresh perspective. We simply felt that the reality of work requires a variety of situations facilitated in a similar way to a living space." Virgins? Maybe then, but three Orgatecs later is that freshness still there or are they through with workplace design?
"Not at all," Ronan laughs. "I love designing offices because they are not as conservative as the other sectors." Now that's a first – usually office design is considered the least sexy. "Domestic interiors may look flashy in the magazines," Ronan continues, "but in reality homes in each culture are fitted out in the same conservative way, as is healthcare and education. Big corporate names are now investing in workplace design because of the prestige attached to it. They want to show they're cutting edge so they encourage designs that are innovative." The Bouroullecs rejoice in challenges, and for them the challenge with workplace design is to organise work. Despite the visual impact of their products, their objective is primarily structural.
The Vitra products shown at Orgatec 2006 pursue the same vision that the Bouroullecs initially developed for Joyn: to address the different needs that people have during work, and their communication patterns. Whereas Joyn was about diversity, the new maxim is creating privacy without closing spaces. "Offices should never seem claustrophic," Ronan explains, "but sometimes you do want to have your own space, be in a bubble. That's the idea behind the Bubble chair." The hooded chair received mixed responses at the show (onoffice, issue 02), but ultimately, Ronan says, "It was only a prototype meant as an illustration for the overriding theme of privacy – not a finished design."
"The thing with office design," he adds, "is that we don't believe in recipes. Like from nine to 12 you sit here, then staff do this here. We're humans, formulas don't work." He continues to explain how they try to find the natural body of a product. Then it can function as a multitask element in any environment. "Like the Alcove sofa, all we did was add a huge back, which people can still see over but also makes someone sitting on the sofa feel concealed."
"What do people find comfortable?" asks Erwan, deep in thought. "Often it's not comfort itself but a picture, an image that they perceive to be comfortable." He explains how they want to create a new typology. "What we do is propose," Erwan continues. "We don't always know if it's right." Looking around the workshop, there are prototypes everywhere. The new Vegetable chair for Vitra, a possible sofa for Kartell, shapes, materials … all spread across three floors. We can't take pictures of the confidential objects but the brothers are keen to ask my opinion and get feedback. They are still uncertain about some of the pieces themselves. "We act as conductors, on a theoretical level," Erwan says. "We engage in an open discussion with the manufacturers, but it's for them to say if a product is meant for the market."
They both spurn the media system that expects confidence from designers and applauds arrogance. "I myself am not fascinated by Karim Rashid or Philippe Starck, the way they get in front of their products. The media have turned designers into marketing tools," says Erwan, taking a drag from his cigarette. "Admittedly, Starck knows how to push cultural buttons, his designs appeal to the known, the sentimental, they touch something you remember. I like his hotels because they evoke emotionally charged memories. I guess he is very efficient in that way. And even though we also strive towards efficiency, we refuse to recreate old designs. It's impossible to erase such influence but we're about that new typology I mentioned – a new, deep language, a different logic to the known."
Suddenly Constance, one of the pair's few colleagues, enters the room with fresh bread, cheeses and a sliced meat that I'm encouraged to have, only to discover later it is intestines. Anyhow, it is late, Ronan has to leave and none of us have eaten all day. "I often need to remind them to eat," Constance says. We watch Ronan cycle off on an old shabby bike and Erwan shows me around the workshop. "The sewing machine is mine," he says. "I got it for my 30th birthday." He makes mock-ups all the time. "I need to do things myself, and the sewing machine is one of the fundamental tools," he says. This is the fashion experience shining through. "When I went to Japan to meet Issey Miyake, I found a man who listened. A good creation seems to get you carte blanche with him. He didn't try to impress or patronise. In that way he's like [Vitra's] Mr Fehlbaum – they trust." Erwan says both Issey Miyake and Rolf Fehlbaum are his "Confucius", people of knowledge who accept human mistakes, embrace genuine ideas and never use their authority. "Like I said, often we're not sure about things, so working with industry figures that listen, rather than demand certainty, is a privilege," he adds.
We sit down at a large table and have a coffee. The prototypes I've seen today distinguish themselves clearly from the old forms the Bouroullecs became famous for. Their clean simple shapes have been replaced with intricate patterns and colour schemes of orange, green, brown and earthy tones. Heavy felt fabrics in foam-padded cushions have banished the white or transparent plastics from the past. On the drawing boards I see tree trunks and natural shapes. So is nature central to their new inspiration? Erwan draws on his cigarette and looks at the ceiling. "I started re-thinking design dogmas, such as Mies' 'less is more'. I had always trusted that dogma's sharp shapes and simplicity. The industry pushes us to use less colour, minimal shapes, design products that are quick to produce. But we have started searching for a deeper language." He tells me about his fascination for diversity, fantasy: "Like Art Deco! It intrigues me to design something with such a degree of detail that can be transferred into today's technology."
"We are currently looking to design with complexity, not as a pattern but as a starting point," continues Erwan. "It's about following an inner logic. Take a tree, for example. Nature has its rules of how to grow, a logical structure that is nonetheless complex. We want to go about designing in a similar way." This drive towards natural forms and structures was showing its first signs in the Algues for Vitra (2004), an algae-like partitioning material that is both flexible and elastic. "It has a readable logic," Erwan says. "We want to develop an idea until it reaches a logical result."
And indeed, their current prototypes show organic forms that negate any geometry of strict rectilinear or curvilinear forms. Vitra's Vegetable chair, for instance, evokes images of tree twigs entwining – sitting on it is like being embraced by a chair. And not one shape on the seat is the same as another. This sounds similar to other patterns currently on the market, such as Mark Newson's Voronoi shelf (2006), which also has irregular shapes. But while Newson's honeycomb structure looks planned, prearranged and almost hectic, the Bouroullecs manage to create objects that look rhythmic and comforting at the same time. Their mystery lies in shaping these diverse forms without straining the eye.
But the Vegetable chair – and this is what makes it distinctive – will sit in a workplace context, a design sector that is usually dominated by clean surfaces and straight lines. Of course, the association of these new forms with interweaving branches is a visual representation of Vitra's Net 'n' Nest, a new concept for the workplace (see onoffice, issue 02). And this is mirrored in the mock-ups in the Bouroullec studio, which resemble a nest, a place to nurture ideas – a dream workplace if this effect is achieved. But isn't there also a risk that these ornaments will prove too busy in an office environment? (see FAT project profile on page 42). "Less is more" remains a fail-safe approach to design, whereas these organic shapes will only work on a clean, monochrome backdrop. However, in light of the current zeitgeist which is calling for environmentally friendly design materials and methods, the new Bouroullec style of eco-shapes is the visual embodiment of these trends.
The Bouroullecs' vision for the future is to design products for the mid-market, simpler to manufacture and cheaper to produce. "My consumer behaviour is still similar to the way I grew up. We don't come from a family background of money, so I'd like to design products that are available to the masses." (Currently their sofas go for around 3,000 euros!). When I ask if he could imagine ever working separately from Ronan, Erwan gives me a confused look. "It would be dangerous psychologically if we couldn't work apart but to think about it is hurtful. Our work is part of our personalities, it's formed our identity and we're brothers! I mean, Ronan's not just my business partner, he is my brother. Truthfully, I find it scary to think about, on a personal note."
Blood is thicker than French wine and the Bouroullec bond is stronger than ever. In terms of Milan, they both seemed pretty relaxed. "It's quite typical that we don't know weeks beforehand what will be at the show," Erwan says. "And the show has got a lot noisier lately. People don't focus. Of course we'd never forget about Milan. If things are ready they'll go, if not they won't. Nowadays you thankfully have many other ways of promoting a product." Well, my guess is there will be quite a bit and it will be striking – look out for a rounded, very flexible storage unit – but, as they said, "if it's not ready, then c'est la vie!"