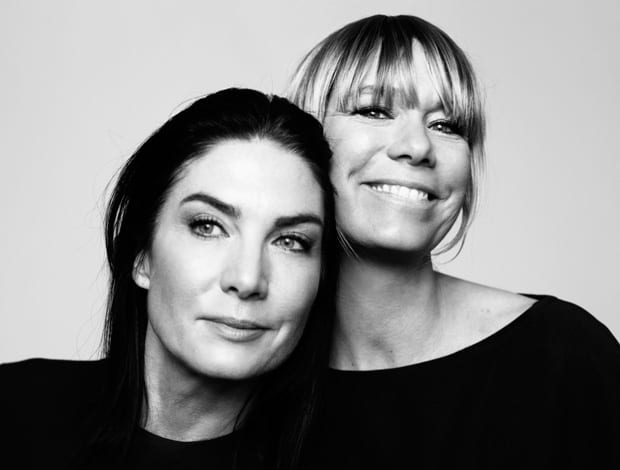 Marie and Annica Eklund|The Flow Collection is made from 33% recycled material|The Flow Collection|The Flow Collection|The Flow Collection|The Flow Collection|The Flow Collection|The Lake House, Bolon's inaugural hotel|The Lake House|The Lake House|The Lake House||
Bolon's Marie and Annica Eklund turned a family firm that made camping mats into the purveyors of 'fashion for floors' – and now, they're expanding into hotels
In a sleepy corner of southern Sweden, the small town of Ulricehamn is an unlikely home for one of the industry's best-known brands; but then the Eklund sisters are prone to the unexpected.
Together Marie and Annica run Bolon, the flooring company their grandfather started in 1949, which they took over from their parents in 2003 with the idea to, essentially, make woven vinyl flooring tiles cool.
No mean feat, yet they have managed to turn around a company that was, at the time, focused on producing camping mats into a global brand with an A-list bunch of collaborators including Jean Nouvel, Paul Smith, Giulio Cappellini and Rosita Missoni.
Next, with a sturdy reputation established and eyes on broader horizons, the company will launch Bolon Hotels, a small group of luxury properties initially reserved for visiting 'friends' (architects, designers, industry partners).
"Our father was happy to produce and sell, but we saw potential to change the concept of the brand, invest in innovation and challenge the possibilities," says Marie Eklund, speaking to onoffice at the Lake House, Bolon Hotels' inaugural location – a very Scandinavian rural retreat done out in white and wood with Bolon floors in pale grey.
"Our children want to do music and fashion," Annica smiles, "so we say, why not open a Bolon studio or label?" Enduringly ambitious, it's easy to see why nothing seems to stop these two.
The follow-up 'hotels' will be Annica's former apartment within a 700sq m industrial building in the town centre; and their parents' former home, an early-20th-century mansion in the countryside. Meanwhile, the company has also recently initiated its own in-house design studio, headed up by Marie and lead designer Petra Lundblad; and established an in-house plant for producing recycled textiles.
The first product of both ventures, launched at this year's Stockholm Furniture Fair, is Flow. Comprising 33% recycled material, the flooring design has watercolour-like gradients of pale colours and subtle reflective qualities. As Lundblad explains, this effect is created by weaving in a transparent thread, adding – characteristically – "an unexpected quality".